Tom Andry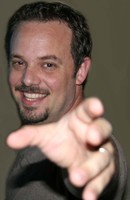 Tom's love of surround sound and Home Theater started early in life as chronicled in his own words:
"One day, early in my college career, I found out that a classmate from my high school had been living in my apartment complex just around the corner without me knowing. I was taking out the garbage when I ran into him. I told him that I had just purchased (and watched) Jurassic Park (at least I had enough sense to buy the letterbox edition) and he invited me over to watch it at his place. I politely informed him that I had just finished watching it not two minutes earlier but he insisted. So off I went vowing that I would excuse myself halfway through the movie because I had homework or some other excuse. Little did I know that all three of these guys (my high school classmate and his two roommates) worked at a local Big Box Electronics' Store and were home theater nuts! They plugged in the movie and WHOA!!!! I couldn't tell you what set up they had and frankly it doesn't really matter. All I know is that I heard sound coming out of their system that rivaled most (and bested many) of the theaters I had been to in the greater SF area! I was floored. Of course I stayed through the movie, and the next, and the next..."
Tom assembled a mish mash of Home Theater equipment which took him through his college years until the he could finally afford to (read: wife let him) upgrade all his equipment. Of course, the next logical step was to begin reviewing products for Audioholics giving him an excuse to stay up late enjoying his new system.
A Psychology degree focusing on research methodology and program evaluation has provided Tom with the specific tools he needs to review both AV hardware and software while reducing bias. His reviews focus on audio performance as well as usability and features and his focus spans from CDs, DVDs and high resolution audio software to media centers and source components target towards the custom installation market.
Tom's Commitment to Audioholics
As Associate Editor at Audioholics, Tom promises to the best of his ability to give each review the same amount of attention, consideration, and thoughtfulness as possible and keep his writings free from undue bias and preconceptions. Any indication, either internally or from another, that bias has entered into his review will be immediately investigated. Substantiation of mistakes or bias will be immediately corrected regardless of personal stake, feelings, or ego. Tom strives to hold himself to the highest personal and professional ethics.
In addition to being the snarky Associate Editor of Audioholics, Tom has expanded his writing to include three new ebooks - Bob Moore: No Hero and two sequels Bob Moore: Desperate Times and Bob Moore: Hostile Territory. Download them and check them out. You won't regret it.
For more information on Tom, visit www.tomandry.com
Follow me on Social Media
Latest content created by Tom Andry