Denon AVR-X3600H 9.2CH IMAX Enhanced AV Receiver Offers Best In Class Features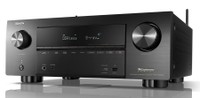 With CEDIA just around the corner, audio manufacturers are scrambling to get their newest products ready for fall releases. Denon has one upped them by not only releasing information on their newest receiver, the AVR-X3600H, but also that it's shipping now! At $1,100, the new AVR-X3600H has 9CH of amplification and 11CH of processing to do a full 7.1.4 speaker system with the addition of a 2CH external amplifier. This is one of the least expensive AVR's on the market with 11CH of processing making it a compelling product to use as an inexpensive prepro with all the latest in HD audio and video processing.
Denon's newest AVR-X3600H 9.2 Channel IMAX Enhanced AV Receiver. At $1,100, it has 9CH of amplification and 11CH of processing, HDCP 2.3, etc, and closes the gap to the costlier AVR-X4500H.