Anthem Releases New 7 CH, 11 CH, & 15 CH AVM A/V Processors and MRX Receivers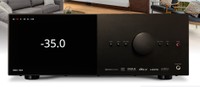 Anthem released information on their newest upgradeable Atmos/DTS:X Imax Enhanced AV processors and receivers. The AVM Series of AV processors include the AVM70, a 15.2 channel pre/pro and the AVM90, a 15.4 channel pre/pro. The new MRX receivers include three new models ranging from 5 to 11 channels of amplification with preamplifiers built to handle substantially more processing channels. Anthem did a LOT right with these new products from a technical standpoint, read on to how see how.
Anthem released information on their new upgradeable 15CH Atmos/DTS:X IMAX Enhanced AVM AV processors and MRX 7CH to 15CH receivers. Anthem upped their game both in performance and functionality. Read on.