Definitive Technology BP9080x, BP9060, CS9060 Dolby Atmos Speakers Review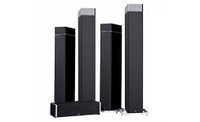 High end audio stalwart Definitive Technology is back with a Dolby Atmos system that will make even the most demanding home theater enthusiast salivate. This 5.0.4 Dolby Atmos setup is perfect for spaces that can't fit dedicated subwoofers or discrete height speakers but still want the full slam that you'd expect from a premium home theater setup. Our review explores the full capabilities of this Atmos speaker system to determine if it has all you need to achieve a fully immersive experience.
Definitive Technology's 5.0.4 system is perfect for installations that can't fit dedicated subwoofers or in-ceiling height speakers yet demand an immersive audio setup with stand-alone sub performance.