It Is Time For AV Enthusiasts To Rack Mount Their Gear?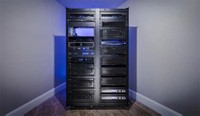 From prebuilt equipment rack options that include adjustable rack shelves, ventilation, and AC power to custom built walk in closets that rival google data centers, we're going to look at some of the options you have to safely store your gear. Isn't it about time for your AV electronics to get their own area with clean cable management and organization?
Isn't it time for your AV equipment to get its own space? We'll look at some rack mounted options for your electronics to enhance functionality, organization and appearance. Read on.