$1,500 5.1 Channel Expandable Recommended Home Theater System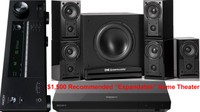 Do you want to build a respectable and aesthetically pleasing home theater, but only have $1,500 to spend on the whole kit and caboodle? Forget that HTiB system from your local big box: while the prices of such setups are usually attractive, their performance typically leaves a lot to be desired. Instead, take a peak at the Audioholics $1,500 5.1 recommended home theater system. We built a setup on a shoestring budget that will provide better than HTiB performance, with future expandability into a fully immersive surround experience.
Recommended System: Drop that home theater in a box. Today the Audioholics build a high performance home theater system on a $1,000 budget. Click to find out which components we picked.