Entertainment Centers: Destroyer of Good Sound Systems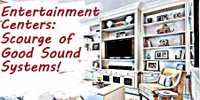 A great way to ruin a good audio/video system is to place it in those large entertainment centers that are so popular these days. In this article, we go over some of the ways that fancy entertainment centers can wreck an otherwise good system. Read on to learn what to avoid when shopping for cabinetry for your audio/video system.
Fancy home theater entertainment centers can wreck the fidelity of a good sounding hi-fi system. We discuss what to avoid to maintain the best performance of your audio equipment when placed in furniture.