Home Theater AV Cable Prewire Basics 101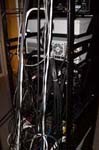 Pre-wiring homes for today's complex home theater systems can often times be a very frustrating task even for the highly skilled A/V professional. There are many factors that need to be considered before a home is wired for video and sound. This basic tech tip article may help guide you through the rigorous process, thus turning this project from daunting to fun and educational. We will give you guidance on how and where to route your cables, as well as tips on the proper cables to use for your installation. Get your home ready for tomorrow's state of the art home theater systems today. Read our article and watch our Youtube video.
Prewire your home theater with the right AV cables, HDMI, speaker cable, audio and video interconnects. Get ready for a Dolby Atmos home theater if you follow our guidelines.