Advertising with Audioholics Online AV Review Magazine
Advertising with Audioholics Online AV Review Magazine
Audioholics is the LARGEST Audited Home Theater Review publication - online or in print
We have grown over the past decade from an AV hobby site to the most influential website in the marketplace. Stressing objective measurements and a concern for our readers' pocketbooks, Audioholics has proven itself to be a place for unbiased research, reviews and information.
With almost 1 million  monthly readers and almost 3 million page views (editorial site + forum) we are in tune with the AV industry targeting both the consumer and pro installer markets.  Factor in our social media presence (Facebook, YouTube, Twitter) and we reach over 2 million monthly home theater enthusiasts!

In addition to our traffic audit from Google Analytics, Nielsen Media Research has also conducted their own study of our traffic, confirmed the Google Analytics results and has reported their findings to Cision database which is a paid membership service that gives demographics and traffic reports of websites.
Very few A/V based websites use Google Analytics either because they aren't savvy enough to implement this industry standard tool on their site, or they fear since the tool is standardized and treats every website fairly and accurately in traffic reporting, they can't goose the numbers to appear bigger than they are.  Even fewer sites will actually show you a screen shot of their traffic data or allow client access to their data. 
We offer full disclosure of our traffic data to any of our clients or potential advertisers.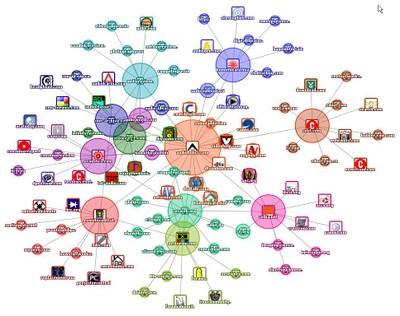 What Audioholics looks like to the Internet

Audioholics is Forbes' Favorite Home Theater Website this year!
This is no small feat - Forbes Magazine voted us their #1 Home Theater website for excellent reviews news and technical articles. Says Forbes: "Don't let the title fool you; audio's just the start. Come here for extensive equipment reviews and elaborate system set-up guides on everything from amps, receivers and DVD players to rear-projection HDTV. Staff reviews are extraordinarily detailed with crisp pictures that include rear views and sections on system set-up, calibration, connection and performance."
Contact Us Now for an Advertising Quote

The Freefall of Print Media in the Marketplace
There is something amiss in the world of print magazines. Advertising in print is on a decline and the print media and publishing world is under mass consolidation and restructuring just to stay afloat in a world increasingly dominated by online media resources. Not convinced? Read our article below for more information and direct quotes from analysts and the large media outlets themselves. From the Times to your local newspapers and magazines, the industry is changing and Print media is playing "catch-up" in a new world where established communities and websites have been dominant for years.
Read Our Article on the Freefall of Print Media Advertising for more information.
News: Online news overtakes Print Media according to Pew Research
How We Compare to the Competition
Very. Well. Using third-party auditing tools such as Google Analytics and the Amazon.com-owned Alexa traffic tools, we are an exponentially more highly-trafficked website than any other online home theater review publication - online or in print.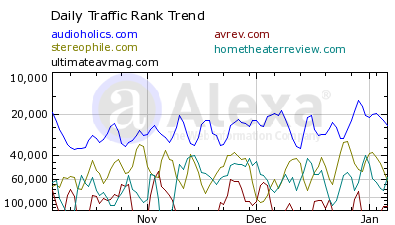 Biggest A/V Website

Publication
Alexa Ranking
(lower=better)

 Reported Monthly Traffic

Audited Source

Mobile Friendly Compliant

1
Audioholics
23,243
 1.2 million readers

 Google Analytics

 Yes

2
Stereophile
44,960
 74k (print subscription)
web traffic not reported

ABC
 Yes
3

Sound & Vision Magazine

61,142
 not reported

Omniture
 Yes
4

home theater review

85,812
 300k

Google Analytics

 Yes
5

6 Moons

121,466
 not reported

 
 No
6

 Secrets of Hometheater Hifi
 151,769
 300-350k

none
 Yes
 7
 Enjoy the Music

 183,568
 not reported

none

 No
 8
 Soundstage

 253,568
 not reported

 
Yes
9

AVREV
390,000
 not reported

none

 No
10

Stereotimes

590,722

not reported

none

No

Source: Alexa.com, March 2012
Audioholics is the blue line at top. A lower Alexa number is better and the higher you are on the exponential traffic ranking graph, the more popular your website is in comparison and the better positioned it is on the search engines. Please note that this is not a linear graph, but rather an exponential one, with each rank becoming harder and harder to achieve and maintain over long periods of time. If you notice a website on this list touting high traffic #s but subsequently has a high (poor) Alexa ranking, take their reported numbers with a grain of salt. 
As you can see Audioholics.com also has the highest reported monthly readership with over 1.2 million monthly readers.  We actually show a screen shot of our Google Analytics report (something none of our competition does).  We also offer a customized Google Analytics login to our advertisers that want to more closely examine our traffic and site demographics absolutely FREE!  Can your publication do this?  We think not!  If you're not getting an audited traffic report from the A/V publication you are thinking about advertising on, and they have a mediocre Alexa ranking (>80k), you should think really hard before placing your valuable marketing $$$ towards advertising with them.
A recent exploration (May 2021) of similar website rankings using Semrush Website Audit tool shows Audioholics is crushing the competition.

Audioholics Full Compliance with Best SEO Practices
Audioholics.com is FULLY compliant with Google Penguin, and Panda algorithms as well as Google's latest mobile friendly protocol. This ensures we receive top SEO placement on all desktop and mobile platforms and our readers get the best possible user experience with easy readability on ALL mobile devices.
Audioholics on Wikipedia
Audioholics reach is so visible on the web that even Wikipedia has a page about our publication.
Social Media
Audioholics has built its social media network from the ground up.  Unlike some publications that simply purchase facebook likes, people subscribed to the Audioholics forums and Facebook page are actual participating members.  We shoot Video Previews of new product releases at our own HD production studio which gets posted on the Audioholics website and our official Youtube channel. 
Tabulated below are some stats on our social connections:
Our Facebook page is taking on a life of its own reaching over 50k people per week and growing!   We produce fresh and unique content that our followers are seeking and the results are producing incredible growth and reach.  Our facebook page alone is read by more people than most of our competitor editorial print magazines and online A/V review publication websites.

Audioholics Facebook Statistics (www.facebook.com/audioholics)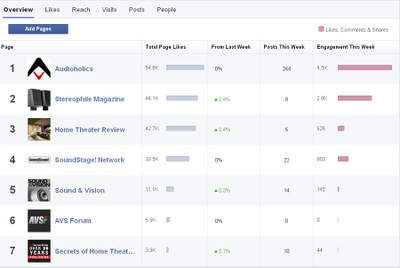 Facebook Likes and  Engagement Comparison

Audioholics has the most likes out of of ANY home theater / AV review publication.  Notice how the engagement on the Audioholics Facebook page is MUCH higher than our competition.  Unlike some of our competition, our likes are organically grown and hence our page has real sustainable engagement.
When you consider the fact that Home Theater is such a niche market and  that we are able to sustain an audience of over 2 million enthusiasts a month across all 5 of our platforms (Editorial Site, Forum, Facebook, YouTube, Twitter) one can't help but realize that's quite an accomplishment!
For more information, see: Audioholics Ranked #1 in Social Media Presence
Client Testimonials
Don't take our word on it - listen to our clients tell you how effective advertising with Audioholics can be. Excerpts:
RSL Speakers has valued the high quality of Audioholics' content for quite some time. A uniquely impartial publication that doesn't subscribe to myth or hype is essential to our industry. It's for that reason that RSL Speakers began an advertising campaign with Audioholics earlier this year.

If the start of this venture is any indication of its future, then RSL Speakers and Audioholics will have a very long-standing relationship. The campaign is off to a successful beginning and we are tremendously impressed with the service we have received from the entire Audioholics team. Gene, Hugo, and Theo have gone above and beyond to share our products and philosophies with Audioholics' subscribers.

There are a lot of advertising options in our field, but few if any bring the level of passion and dedication to their advertisers and audience that Audioholics does.
- Joe Rodgers, President, RSL Speakers
"I have been delighted with the partnership between Audioholics and SVS.  Gene and his team are a pleasure to work with, and the bottom-line results for our brand have been impactful and measurable. Most importantly, we are very aligned with Audioholics pursuit of "Truth in Audio," as we are doing the same!"
- Gary Yacoubian President and Managing Partner Specialty Technologies, DBA SV Sound
"Audioholics' demographic IS the Aperion Audio customer — enthusiasts who share our goal of high performance audio at tremendous value.  Our promotional partnership with Audioholics.com has fulfilled our objectives of perpetuating Aperion's brand awareness while delivering to our site an abundance of well-informed and curious audio enthusiasts— VERY COOL!"
-
Ed de la Fuente, for Aperion Audio
"The weekly statistic reports are very encouraging. We are seeing 51% of the traffic to our site coming from Audioholics. Nice!"
- Linda Ferguson for Summit Wireless
"Our on-line advertising program with Audioholics has been the dominant factor in our amazing sales growth over the last four months. We entered into our advertising program with a certain degree of skepticism, but Gene was right! Our sales growth has exceeded our most optimistic expectations by a factor of two to three times. We directly attribute the stunning increase in our on-line sales to the effectiveness of Audioholics' advertising, product reviews, reputation for honestly, and strong presence in the web based audio community.
Audioholics' frank editorial policy and fact based review process is a welcomed voice in an industry where hype and pseudo science all too often prevails. We plan on expanding our advertising program with Audioholics over the next several months."
- Dan Laufman, President of Emotiva Audio
"...I certainly plan to continue my advertising on Audioholics. With a 3.71 ROI on advertising cost directly attributable to Audioholics driven sales, and an excellent effect on brand awareness, advertising with Audioholic has been a winning marketing strategy. Thanks for maintaining such an important and valuable resource for both the A/V community and for businesses like ours."

- Joseph Cornwall, Impact Acoustics
"Axiom has been advertising with Audioholics for several years, from when they were a 'hobby' site right up through to the present incarnation as the web's leading pursuer of 'truth in audio'. Gene DellaSala and his whole team are a pleasure to work with - focused, receptive, flexible and prompt. They genuinely care about how each new marketing initiative performs for advertisers - a too-rare find these days. Top notch service, qualified audience, timely topics and a consistent attention to quality of both content and delivery make this marketing buy an easy choice for Axiom."
- Amie Colquhoun, Axiom Audio

"I have seen Audioholics evolve from a fledgling website to a premier interactive web magazine. They have been very patient and deliberate with their growth plans, and this is evident with their ongoing dedication and commitment to their clients. A high degree of technical knowledge and the ability to communicate this to their forum readers is only one of the reasons that Yamaha has chosen Audioholics to provide online advertising and marketing support through their "Silent Partner" program. We have received numerous accolades about their service, and many people have bought Yamaha products based on user experience information provided by their forum members and Audioholics staff."
- Bruce Bernstein, Manager CRM/Operations

Yamaha Electronics Corporation, USA
"Partnering with Audioholics.com has been one of the best marketing decisions RBH Sound has made. It seems as if we hear weekly from prospective buyers how they saw an advertisement or article about our products on Audioholics.com. Many of these people are in the United States, but more frequently we're hearing the same from people in Europe and the Far East. Try getting those results with a U.S. based print publication!"
- Daren Egan, RBH Sound
Read More Testimonials from our Clients
For all advertising/sponsorship related inquiries please call us at:
Toll Free:  844-964-3700 x100
or email: [email protected]