SVS 3000 Micro Subwoofer Breaks the Small Size Barrier with BIG Sound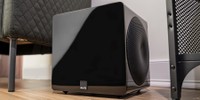 SVS has broken the small-sized subwoofer barrier with their 3000 Micro subwoofer. The 3000 Micro powers two 8" woofers with an 800-watt RMS amp but packs all of this into an 11" cube. The 3000 Micro also has all the bells and whistles of SVS's usual gamut of technology including app control, high-powered DSP, ultra-efficient class-D amplification, and the ICI interface. If you need a really big sound from a really small package, SVS now offers an interesting new choice to the marketplace of microsubs and at only $799 shipped!
The SVS new 3000 Micro subwoofer breaks the small sized barrier with BIG sound from dual 8" drivers, 800 watt RMS amplifier, all packed into an 11" cube for only $799 shipped!