Paradigm Defiance X12 and V12 Subwoofers Review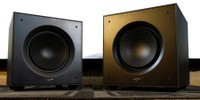 Some other speaker manufacturers look at subwoofers as "accessory" products, high in price, but low on precision and design. Paradigm though has always given us high performance subs at reasonable price points. Will they continue this tradition with their affordable V12 and heavy hitting X12? Read on to find out what our detailed product review and precision measurements had to say and be sure to also check out our YouTube video overview of the Defiance series of subwoofers.
We reviewed and compared the new V12 and X12 Defiance 12" powered subwoofers from Paradigm. Do they have what it takes to live up to the brands reputation of excellence? Read on to find out.