Polk Audio HTS 12 Ported Subwoofer Review
Polk Audio HTS 12 Ported Subwoofer Review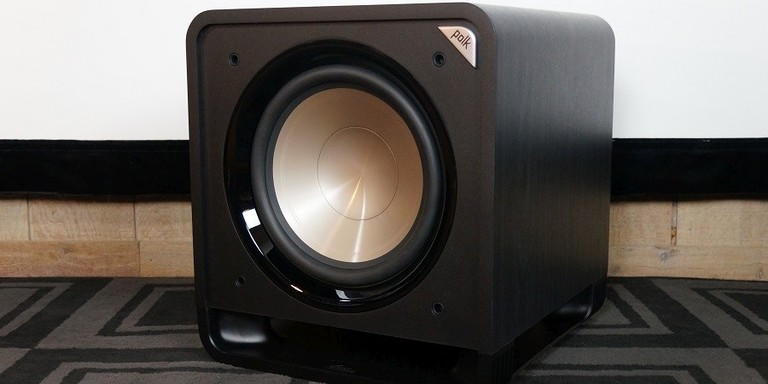 Polk Audio HTS 12 Subwoofer
Product Name: HTS 12 Subwoofer
Manufacturer: Polk Audio
Performance Rating:
Value Rating:
Review Date: January 26, 2023 12:30
MSRP: $ 549
Design: Power Port Bass Vented
Power: Class D Amplifier, 400 Watts Peak Output, 200 Watts RMS Continuous
Frequency Response: 22 Hz - .180 Hz
Driver: 12" (30.48 cm) Polypropylene Dynamic Balance and Klippel optimized driver
Audio Inputs: LFE (Unfiltered), Stereo Line Level - (2) RCA
Dimensions: 18.5˝H x 17.1˝W x 18.1˝D
Shipping Weight: 49.9 lbs (22.63 kg)
Warranty: 5 years woofer, 3 years on amplifier
Pros
Excellent mid-bass headroom
Low distortion
Bulletproof self-protection
Very good build quality
Nice industrial design
Cons
Doesn't dig as deep as other subs in same price class
While Audioholics has reviewed many loudspeakers from the popular brand Polk, we have never reviewed any subwoofers from them even though Polk subs are one of the most common and widespread brands out there. One reason for that is that most of the subwoofers from Polk are relatively entry-level models, and we don't normally deal with the lower-end models since our readership is more interested in higher-performance audio equipment. However, Polk does have a model that, on paper, looks like it could have fairly good performance, and we have decided to give it a closer look since we have been dealing with a plethora of subs around the same price range. The HTS 12 subwoofer was released around 2017, so it isn't exactly a new model, but it is still very relevant because it is still being bought in large quantities and has found its way into thousands of homes. It is a popular sub, but what does it bring to the table amidst this highly competitive price range? Let's now dig in to find out…
Polk HTS 12 Appearance
As ~$500 subwoofers go, the HTS 12 is fairly nice-looking. The basic shape is a black cube, but it takes steps to soften up any blockiness. The longitudinal edges on the top and bottom are heavily rounded, so there are no hard corners. The inset for the front baffle has rounding similar to the outer shape, and it carries into the base platform that the sub rests on. The base platform is a single large plastic molded piece that perfectly contours with the cabinet's shape. With the grille on, the front baffle is a featureless black fabric plane with the exception of a Polk badge in the upper right corner. With the grille removed, we can see the platinum-esque luster of the driver that matches the Polk badge. It is surrounded by a black gloss trim ring and is set in a black textured vinyl front baffle. The whole effect is unexpectedly stylish for a budget subwoofer. Of all the subs in this price range, I have to say this one looks the nicest.
Design Analysis
The Polk HTS 12 is not a very complex subwoofer. Much about it is fairly typical subwoofer design albeit with one major exception. What really separates it from other subwoofers is the implementation of Polk's patented 'Power Port.' This is a port that is heavily flared on both sides and also has spikes entering both sides of the ports (the spike on the inner end of the port is obviously not visible unless you take the sub apart). The goal of the Power Port design is to reduce port turbulence.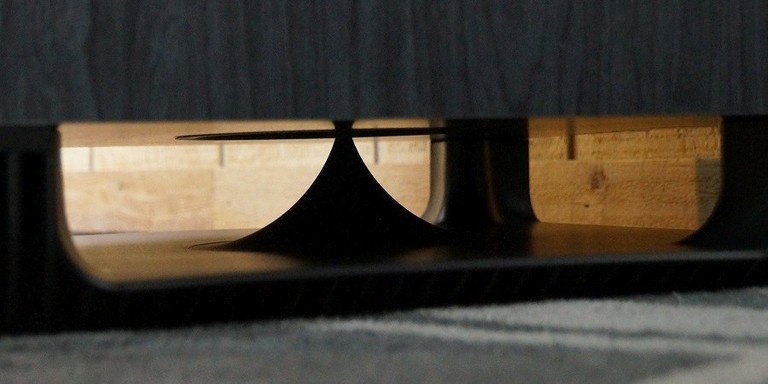 For novices to loudspeaker design, the function of ports on speakers and subwoofers is to produce sound more efficiently in low frequencies than the drivers are able to by themselves. They do this by using the backward motion of the woofer into the cabinet to resonate the air mass within the port. This resonance is called Helmholtz Resonance and uses the same principle to produce sound as when someone blows air over the top of a bottle and a clean note can be heard. In a loudspeaker or subwoofer port, the air mass has to remain uniform and stable when being vibrated in order for this resonance to work. However, after a certain point of high excursion, the woofer moves so much air in the enclosure that the air mass within the port cannot maintain cohesion and instead becomes disrupted so the airflow in the port becomes chaotic. Instead of producing a clean signal, the port now generates wind noise that we call port turbulence. This, of course, is an unwanted distortion that can sound pretty bad.
Much research has been undertaken over the decades in finding optimal port geometries in order to maximize the stability of the port air mass at higher drive levels, and Polk's Power Port is their effort at satisfying this design goal. The idea is that the spikes sandwiching both ends of the port help to guide the ends of air mass to make a more orderly entrance and exit of the port thereby maintaining cohesion for higher levels of oscillation. It's hard to tell how well it really works versus standard port designs, and only Polk's engineers know that much, but I doubt that Polk would go through all of that expense and effort for a technology with only negligible returns. It seems to work in practice; when I ran test tones through the HTS 12 at maximum volumes, I didn't hear anything that sounded like port turbulence, so I think that Polk is probably on to something with their Power Port design.  
Outside of the port and the industrial design of the HTS 12, the remainder of it looks fairly standard, but that is good so long as it is executed competently. The driver uses a polypropylene cone that is affixed to a stamped steel frame by a 1" thick surround. The motor doesn't look huge, but without knowing the magnetic flux, we don't know its true strength. Ventilation is done in the frame underneath the spider. It does have a slightly bumped-out backplate for longer excursions before bottoming out.
The HTS 12 is powered by a 200-watt class-D amplifier (400 watt peak) with a basic feature set. Controls consist of a volume knob, low-pass filter knob ranging from 40Hz to 160Hz, power/auto-on switch, and a 0-180 degree phase switch. Connectivity only consists of a left and right RCA inputs set as well as an LFE RCA input. The amp board itself has four aluminum heatsinks, and that combined with the class-D design bodes very well for thermal control. In electronics, heat is the enemy of long-term reliability, and the HTS 12 has taken serious measures for heat dissipation.
The enclosure is unexpectedly well-built for this price point. While the side paneling is only ½" thick MDF, there are two windowpane braces, corner bracing, and double-layered paneling for the front-baffle. The interior is also chocked full of acoustic stuffing. The structure of the cabinet combined with the beefy plastic base make this a fairly sturdy subwoofer. 
Listening Sessions
The best placement for a single sub in my room gives me a relatively flat response for an un-EQ'd single subwoofer, with a window of +/- 4 dB from 25 Hz to 100 Hz with no broad dips in important ranges. This location trades low-end room gain for a relatively flat response, a worthwhile trade for my tastes. The receiver used was a Marantz AV7705. The crossover was set to 80Hz. The speakers used were some PSB Synchrony B600s powered by a Monoprice Monolith 5x200-watt amplifier.
As always, I will note here that since room acoustics have a huge effect on low frequencies, the way these subwoofers sound in my room at my listening position is not necessarily going to be the way they sound anywhere else for anyone else, so readers would do well to keep that in mind, and not just for this subwoofer in this review but for any subwoofer in any review.
Music Listening
the HTS 12 was able to provide an authoritative low-frequency foundation...
One of the more dazzling modern pipe organs is the Rosales organ in the Walt Disney Concert Hall, which was inaugurated in 2004. With 6,134 pipes including some 32' ones weighing in over 800 lbs. and capable of a subsonic 16Hz note, it is a formidable construction with stylish pipe designs that have earned them the name 'French fries' on account of their appearance. "Once Upon a Time… at the Walt Disney Concert Hall" shows off the capability of this organ with some appropriate fantasy and fairytale-themed pieces by the likes of Chopin, Ravel, Durufle, and Dupre, among others. Some of these tracks do lean pretty hard on the lower registers of the organ and so also can lean on the bass section of any sound system that attempts to reproduce it. This 2020 release comes from the label Brilliant Classics, and I streamed it from Qobuz.
From the first track onward, the HTS 12 was able to provide an authoritative low-frequency foundation for "Once Upon a Time…" The bass was given some real muscle. This was one of those pipe organ recordings that was not afraid to touch on powerful bass, and the HTS 12 was able to express that. A couple of aspects that were evident from the recording was that the Walt Disney Concert Hall was a very large auditorium and that the Rosales Organ installed there was very powerful. While I could hear that the reverb was light, I could also tell it had a long decay time, so the facility was massive, yet the low frequencies had an imposing presence, and I could hear it energize that huge space. While the bass produced by the HTS 12 was powerful, it was not boomy or overbearing, so the sub was able to do more than just rumble the proceedings. Softer notes were given subtlety, and I could hear the low-frequency decay of the reverb. One example occurs on track 7, "Suite bergamasque: III. Clair de lune," where the bass gently underpins the lead melodies of this classic composition. In fact, the softness of "Clair de lune" led to a shock by the following track, "Deuxième esquisse, Op. 41 No. 2 in B-Flat Minor," which explodes off the line with fire and brimstone, surely a deliberate choice by the recording artist to startle the listener. The HTS 12 handled the contrast between "Clair de lune" and "Deuxième esquisse" with aplomb, providing delicacy when asked for and thunder when needed. After listening to the album, I am sure that pipe organ enthusiasts would enjoy the force and control that the HTS 12 could exert over the lower registers of the 'king of all instruments.'
the bass produced by the HTS 12 was powerful, not boomy or overbearing.
Another acoustic instrument that frequently dips into subwoofer-band frequencies is the double bass, and a good example of this occurs in the album "A Closer View" by jazz bassist Gary Peacock and guitarist Ralph Towner. This album is fairly relaxed jazz, and, as such, doesn't bang hard on bass, but it does enable the double bass to dance in the lower notes abundantly throughout its running time. Even though it is a slightly older album, being released in 1998, the recording quality is superb, and this could easily be an audiophile staple. What makes it a good demonstration of subwoofer performance is the transient nature of the double bass playing. A sloppy subwoofer will smear the sharp attacks of the string plucks and muddy up the more rapid notation in Peacock's double bass artistry. I had a feeling that the Polk HTS 12 wasn't going to be sloppy, but how well could it handle this album?
Albums like this aren't just a good demonstration of a sub's transient response; they also serve as a test of how well the sub is integrated with the main speakers. Any sense of low-frequency lag could be due to poor subwoofer calibration rather than the sub itself. Thankfully the HTS 12 didn't need any special treatment to sound right with this album. Aside from adjusting levels, it is a plug'n'play sub, and the simplicity and predictability can be a real advantage. Peacock's double bass strumming sounded cohesive and singular. The HTS 12 gave the double bass a real sense of mass and presence. Much of the double bass sound was being relayed through the main speakers, but there was no disconnect between the spectrum of sound between the sub and speakers. The plucks had a sharp attack and mutes had an immediate halting. The HTS 12's pitch definition was terrific, and this can be heard especially well in the notational complexity in track 6, "From Branch to Branch," a virtuoso display of double bass mastery. The subsequent track, "Postcard to Salta," also let Peacock get fairly busy with his double bass, and it sounded great on the HTS 12. The HTS 12 might not be a super high-end sub from a dedicated subwoofer manufacturer, but I had no complaints with its performance on "A Closer View." Some people might think that a higher-end sub is needed to do justice to an audiophile album like this, but I don't think so. I think the HTS 12 could hang with far more expensive models for this type of music. It surely has its limitations, but they weren't evident in this music.  
For a subtler use of bass, I found an atmospheric album titled "Remnants" by Randall Collier-Ford. This 2015 release from the Cryo Chamber label has nearly continuous low-frequency content, but it isn't bombastic bass. Rather, it is understated, but it is present and underlines the unfolding soundscapes that depict a ruined husk of a world. Field recordings blend with electronic tones to create a dark haze of sound that induces a feeling of dread and apprehension. Low-frequency playback needs a system with a light touch in order not to overdo the bass thereby turning the sound into an indiscriminate rumble, but it also needs enough power to produce a convincing environment of sound.
"Remnants" opens with a complex layering of sounds that usher the listener into its psychosphere, among the sounds is a massive kettle drum thump along with a soft underfoot crunching as if we are trundling into its realm. The HTS 12 gave the drums a solidity which lent them realism, but the low-frequency crunching sound was not lost amidst the pounding drums. The following track, "Horns of Eden," unleashed a very deep guttural bass sound that the HTS 12 used to shake my room. It was unexpectedly powerful bass from a 200-watt 12" sub. Subsequent tracks used a variety of deep bass sounds to construct Collier-Ford's dystopian vision. Mutating machine drones, earth-trembling rumbles, distant thunderstorms, and titanic cathedral bells; the HTS 12 deftly reproduced all of the low-frequency sounds with fine delineation, and it never confused or blended different bass sounds together when they were being used simultaneously. It's possible that there was bass that plunged deeper than what the HTS 12 was capable of, but if that was the case, I didn't notice it. I don't expect that the HTS 12 would be doing a lot at or below 20Hz, and I don't know if "Remnants" had anything that dug that deep, but the sound that I heard seemed full, and the HTS 12 was certainly touching some deep frequencies on this album. This subwoofer provided a solid bedrock to this album and helped to make its nightmare world a tangible reality. The music might not be everyone's cup of tea, but HTS 12's performance cannot be faulted and seemed to defy its modest pricing.
For something to see what the sub could do when pushed hard, I selected "Contrasts" by Maere. This is an electronic music EP that goes heavy on the bass but easy on the tempo. It is simultaneously heavy-duty but also laid-back. Maere's unique sound elevates "Contrasts" well above the standard monotonous electronic music. Despite coming from the famed drum'n'bass label Division recordings, it isn't really danceable, but it is very imaginative and loads of fun to listen to on a capable sound system. At higher volumes, it will give any subwoofer a serious workout.
I cranked the volume and ran the bass a bit hot, and off we went. At moments of heavy bass, the HTS 12 did not have any trouble keeping up. Indeed, it managed to belt out a fairly beefy bass sound that had no problems energizing my medium/large space with open hallways. Notable tracks with some serious bass include "#Cursed" and "Rotten Glitter." The HTS 12 brought a visceral thump to the fat basslines and kick drums in these tracks. I do think that I was able to touch its limits in brief moments of very high volume, but I was surprised at how high those limits are. At the limits, the sub did not complain- it simply stopped getting louder rather than producing any audible distortion. Clearly, the limiter was keeping the driver on a short leash. Polk knew that some buyers would probably run the sub pretty hard, so they opted to make sure the sub could not beat itself to death in order to lessen the rate of returns, which was certainly a wise choice. Nonetheless, this inexpensive ported 12" somehow had some real punch and was a lot of fun. Buyers looking for a sub for louder electronic bass music definitely have a great choice in the HTS 12 for the money.     
Movie Watching
the HTS 12 helped to make my viewing experience a truly cinematic one.
A family member strongly recommended the film "Everything Everywhere All at Once" and foisted their copy of the Blu-ray into my hands, and so in watching it, I had little choice in the matter. That is ok though since this effects-heavy film should have a lot of bass in it to serve as a good demonstration of what the HTS 12 can do for a big-budget action movie. "Everything Everywhere All at Once" concerns an older Chinese immigrant who is having a midlife crisis. Her laundromat is failing much like her marriage, her relationship with her father and daughter is strained and she is facing an audit by the IRS. In the midst of all of this, her reality fractures, and she sees what might have been in alternate timelines. However, all of these timelines are threatened by an entity that only she has any chance of stopping.
"Everything Everywhere All at Once" turned out to be a madcap and boisterous movie with a similarly madcap and boisterous sound mix. It had an abundance of bass-heavy moments, including many wild fight scenes, turbulent transitions from different realities, and the ominous hum of the 'everything bagel.' The HTS 12 animated all of this low-frequency content with gusto. The thuds of punches and kicks were delivered with a palpable impact, and the roar of the 'everything bagel' seemed to emanate from everywhere. Certainly, a more powerful sub could have rendered these elements with more force and violence, but few people would need that outside of a dedicated home theater room. For a sub to complement a system in a family room or bedroom, I am sure that the HTS 12 is more than sufficient for most people's use. It can get loud, although not really 'commercial theater' loud, but very few people rock their movies at that sort of loudness level. I am sure that the vast majority of buyers will be satisfied with its dynamic range. "Everything Everywhere All at Once" was a fun movie and surpassed my expectations, and the HTS 12 helped to make my viewing experience a truly cinematic one, which is what this film deserves.
One movie that I had not yet seen which promised a whole lot of bass was the 2013 fantasy-actioner "Jack the Giant Slayer." This medieval fantasy concerns a young farmhand who unwittingly opens a gateway between the land of men and the land of legendary giants. The giants begin to invade and conquer the humans' domain, and our protagonist must close the portal before humanity's home is completely destroyed. While this $200 million movie was not a commercial success, it did look watchable, so I decided to see what the HTS 12 could do for a sound mix for a large-scale Hollywood epic while it was still available on HBO Max's streaming service.
"Jack the Giant Slayer" did indeed have a lot of heavy bass, and the HTS 12 was able to reproduce it all with enthusiasm. Much of the last half of the movie is a bass buffet with the resounding footsteps of the giants marching across the land and attacking a castle. The HTS 12 brought an earth-quaking rumble to their colossal efforts. Even though it isn't the biggest or most powerful sub I have used, it still provided a satisfying oomph to much of the sound mix when the giants were onscreen. The scene with the most prodigious use of bass didn't involve the giants at all and instead was the collapse of the gigantic beanstalk onto the land. Its impact on the ground was thunderously announced by the HTS 12, and its effects were felt as well as heard. Its cone was probably being pushed to the limit, but it gave this fantastical scene a concrete realism and a sense of true weight. "Jack the Giant Slayer" was a passable Saturday afternoon matinee film. As an effects-driven film with a formulaic story, it really needs a high-quality AV system to shine. The HTS 12 helped to make it watchable and even enjoyable at moments. That serves as high praise for the HTS 12 since "Jack" is pretty routine and thus forgettable Hollywood fare otherwise.
Danzilla31 posts on February 04, 2023 20:16
stansbca, post: 1589961, member: 53418
Just the L12. Speaking to the ethics of the company, I called them and asked about the L12 vs. F12 for the reasonably small room it's in. He told me I'd never hear a difference at any reasonable (or even unreasonable) listening volume. I've measured flat response (after DIRAC) into the high single digits Hz range with it corner-loaded. Practically, in that room, it has unlimited power and extension regardless of the music I feed it.

Yeah I'm in San Antonio about an hour and a half from them so I picked my FV18's up from they're store. I totally know where your coming from on they're good character.
When you have one of the company owners climbing on top of your truck and the boxes to secure extra straps in after I thoroughly strapped them in and helped me load them up even though I was good. I knew I made the right choice
stansbca posts on February 04, 2023 18:47
Danzilla31, post: 1589958, member: 85700
I love my Rythmiks which model did you get?

Just the L12. Speaking to the ethics of the company, I called them and asked about the L12 vs. F12 for the reasonably small room it's in. He told me I'd never hear a difference at any reasonable (or even unreasonable) listening volume. I've measured flat response (after DIRAC) into the high single digits Hz range with it corner-loaded. Practically, in that room, it has unlimited power and extension regardless of the music I feed it.
Danzilla31 posts on February 04, 2023 18:38
stansbca, post: 1589952, member: 53418
I have the HTS-10 in a very small living room. I got it from a work rewards program after initially getting a definitive technologies sub (from the same program– only two available) which was atrocious beyond words.

Having sold the old Polk PSW subs a lifetime ago while employed by Circuit City, I wasn't expecting much. That is doubly true with the sub on my reference system being a DIRAC-controlled Rythmik, which I believe to be the best sub I've ever heard at any price, period.

I was quite shocked by how good this Polk is. It is not the Rythmik, but it is more than adequate for this little room, doesn't call attention to itself, and looks nice. It's a very notable step up from budget friendly subs, like the Dayton 10s I used to have. I wasn't expecting that.

I love my Rythmiks which model did you get?
Danzilla31 posts on February 04, 2023 18:37
lovinthehd, post: 1589956, member: 61636
Then again, @Danzilla31 could part of it be they just make the ports somewhat inaccessible for your fetish?

I like a challenge
lovinthehd posts on February 04, 2023 18:35
Then again, @Danzilla31 could part of it be they just make the ports somewhat inaccessible for your fetish?
Post Reply
Confused about what AV Gear to buy or how to set it up? Join our Exclusive Audioholics E-Book Membership Program!