MartinLogan Motion 35XTi Bookshelf Speaker Review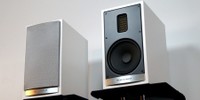 MartinLogan, famous for their curved panel electrostatic speakers, has recently revamped their Motion line of loudspeakers that use a more traditional enclosure. While the cabinet may be more conventional than their higher-tiered loudspeakers, the Motion speakers are still not without design distinctions that set them apart from other speakers in the same class. In for review today, we have the Motion 35XTi, the larger bookshelf speaker within the Motion series featuring a 6.5" woofer and AMT tweeter. Read our in-depth review to see what MartinLogan does to retain their signature electrostatic sound within a box-enclosure loudspeaker.
The Motion 35XTi bookshelf speaker has updated cosmetics and employs a 6.5" woofer and AMT tweeter. Read our review to see if MartinLogan keeps their signature sound in a box speaker.