JBL L82 Classic Bookshelf Loudspeaker Brings Retro Back In Smaller Form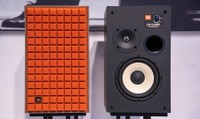 A year after releasing the L100 Classic, JBL Introduced their L82 Classic Bookshelf Loudspeakers at CES 2020 in Las Vegas, Nevada. The new L82 Classic's 8-inch, 2-way system design is more compact than the L100's 12-inch 3-way design, but still looks to deliver a premium hi-fi sound experience with an attractive retro aesthetic.
JBL released information on their new L82 Classic Bookshelf speaker at CES 2020 Las Vegas. The 2-way design features a smaller 8" driver but the same 1" tweeter as their acclaimed L100. Read on.