Kali Audio LP-8 Powered Monitor Loudspeaker Review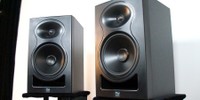 Can you use pro-audio equipment for home audio applications? We ask that question in our review of the Kali Audio LP-8, a studio monitor. If the purpose of a loudspeaker is to reproduce accurate sound, the resultant sound of a studio monitor shouldn't differ from a home audio speaker. With this in mind, let's see how the LP-8 fares for recreational listening rather than monitoring. Should you consider them for your stereo or home theater system, or should they stay in the studio? Read our in-depth review of the Kali Audio LP-8s to find out.
We reviewed the Kali Audio LP-8 powered studio monitor loudspeakers to determine if pro-audio equipment can be used with excellence in home audio applications.