RBH Sound 61/AX Active Monitor Speaker Review
RBH Sound 61/AX Active Monitor Speaker Review
by
Don Dunn
—
October 31, 2023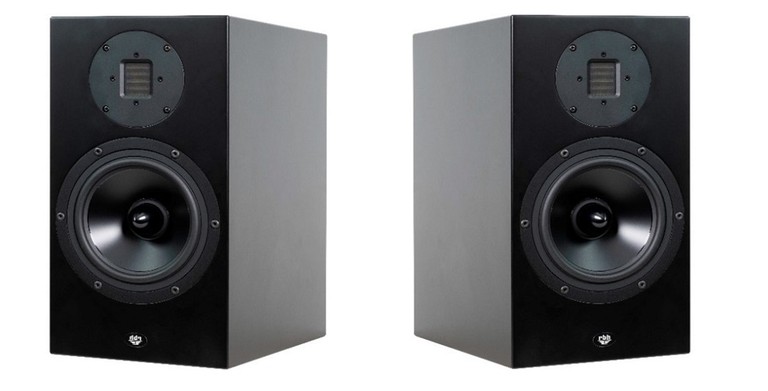 RBH Sound 61/AX Active Monitor Speakers
400 Watts total amplification power per speaker (150 watts Tweeter) (250 watts Woofer)
1 x 1.4" AMT Tweeter 1 x 6.5" Aluminum Woofer
1 x 6-1/2 "(165mm) cast aluminum basket, aluminum cone woofer
Frequency Response 50-20k Hz (+/- 1.5dB)
Dimensions 7-3/4" x 14-13/16" x 12-3/16"

Weight 25lbs ea.
Pros
Wide dynamic range.
Very Neutral Sound.
Room placement flexibility.
State-of-the-Art DSP and amplifier technology.
Plays extremely loud without strain.
Cons
Needs a sub for full range sound.
Spartan all business look.
Why Active Speakers?
Active speakers have been for around a long time in the audio industry. From studio monitors to sound reinforcement speakers built for large venues, they are a staple in the professional industry. I like to group these into two categories: powered speakers, where the amplifier is built into the speaker cabinet itself, or active speakers, where the amp can be built in-or it can be outboard using some kind of digital DSP driven amplification, run directly to the drivers with no passive crossovers. Most powered speakers now are active where all drivers have specific amplification optimized for each transducer.
In recent years we have seen several manufacturers releasing active speakers for home use. These "Active" speakers have advantages over traditional passive types; they allow for less equipment since they omit the need for an external amplifier. Another advantage is that they enable designers to match the amplifiers to the drivers, which takes away the guess work involved in matching with amps and allows for more precise control and driver integration.
Many of these new types of speakers can even eliminate the need for a preamp/DAC by allowing the consumer to stream music directly through the speaker internally. This is a great convenience for end users, many even have a generous "Jack Pack" allowing for connection from external sources such as HDMI ARC/eARC so that audio from video can be played.
Over the years, I have been able to listen to several types of active speakers, from studio monitors to some of the latest active speakers designed for consumer use. Most of the pro studio monitors I have used were very revealing, by design, they were dynamic and played loud, but could lean towards being harsh. Higher end monitors from companies like Focal, Genelec and PMC sound more refined, but these are on the very high side of the cost spectrum. Most studio monitors are not well suited for home use without calibration and room treatments.  
Introduction to RBH Sound 61/AX
RBH is no stranger to active speakers. Over their 47 years in business, RBH has built many custom studio monitors for discerning sound professionals. In fact, RBH speakers are used in a few Hollywood executive movie screening rooms. Traditionally, studio monitors have been built to be dynamic and revealing, enabling professional sound mixers and producers to get every ounce of detail out of the sound mix they are crafting. This works great for the intended use, but what makes them great for the studio can sometimes translate to a somewhat overly revealing sound in the home. Also, most are optimized for "Nearfield Monitoring" where the listener is very close to the speakers sitting at a workstation.
Shane Rich, the chief engineer at RBH Sound has been working on in-home active speakers for some time now, most notably the active reference UNRIVALED SVTRS flagship speaker system. I first heard this system at Gene DellaSala's home theater. To say I was blown away is an understatement. In fact, after hearing these, I installed the lower cost SVTR tower system (passive version) into my own reference system.
Shane Rich decided that he wanted to build a series of lower cost active speakers that could function as both a robust high-end studio monitor, and as an audiophile grade home speaker for both two channel and multi-channel systems, which is no easy task.
When RBH Sound approached me about this project last year, I jumped at the chance to review them. In fact, they sent me early prototypes of this new speaker line, so I was able to live with them for some time. I was also able to give them feedback on the speaker's performance. After a few months of daily use, I returned these beautiful prototypes, dressed in a world class cabinet of Ferrari yellow and black auto paint. The new pair they sent me in black matte, that I am now reviewing, are the final production model. The 61/AX is available for sale currently through our channel partner Dreamedia.
Design of the RBH 61/AX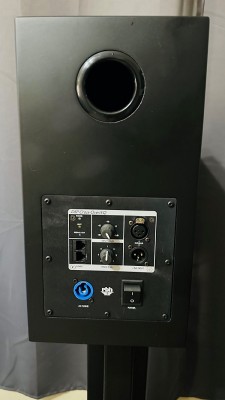 The 61/AX speakers are of average size, they are finished in a somewhat industrial looking matte black finish that screams "all business". They will also be offered in a matte white finish as well (more exotic finishes available soon.) The speakers I received have black anodized woofers, although they are also available in the traditional silver aluminum finish RBH is known for. After unboxing I could not help but notice the build quality. The cabinets are built in-house in Utah, out of HDF, and are as solid as any speakers I have ever encountered. I would say after the traditional rapping knock on the top, they are brick like.
They use a 1.4" AMT tweeter along with RBH's signature 6.5" aluminum woofer. Both drivers were designed in-house by RBH and these are used in their top-of-the-line UNRIVALED signature series speakers.
The AMT has more surface area than a traditional dome type tweeter and offers a wide horizontal dispersion with a controlled vertical dispersion. In recent years we have seen many speaker manufacturers move the AMT tweeters because they offer extended frequency range, fast response time, and improved micro dynamics. I have experienced that many well engineered AMTs have more output than traditional dome tweeters without strain. The AMT tweeter has improved greatly over the last decade, and I have personally come to love the sound that they produce.
The aluminum 6.5" woofer features a composite metal phase plug that reduces on axis beaming at higher frequencies and can help reduce heat-related problems like thermal compression in the voice coil. This is an excellent and proven driver.
The heart of this active system is a state-of-the-art Marani DSP that features FIR filtering optimization and a fully active crossover network. The system is bi-amplified with a very robust amplifier (built for the demands of commercial use) that uses the heralded Pascal class D amplification modules. These modules are known for both their high-power and audiophile sound quality in-fact, these modules are used in many modern ultra high-end amplifiers.
The power is rated at 150 watts for the tweeter and 250 watts for the woofer. This is a lot of power for a small speaker and Rich explained to me that he wanted to drive these speakers to their full capability by using a very robust and powerful amplifier to achieve the type of dynamics his design required.
The secret sauce here is the DSP, with 96/24 DAC's that feature FIR filtering. FIR filtering allows for a little digital magic as it handles the crossover duty, time alignment and improves linear phase characteristics (as you will see in the measurements section of this review). This also includes an optimization filter that linearizes frequency response. The 61/AX has built in limiters for speaker protection, so don't be afraid to let them sing with confidence.
There is a lot of technology packed into these monitors, and tech of this level is not usually found in speakers in this price range. Rich explained to me that each component of these speakers, from the ground up, were matched for maximum sound quality and dynamic performance.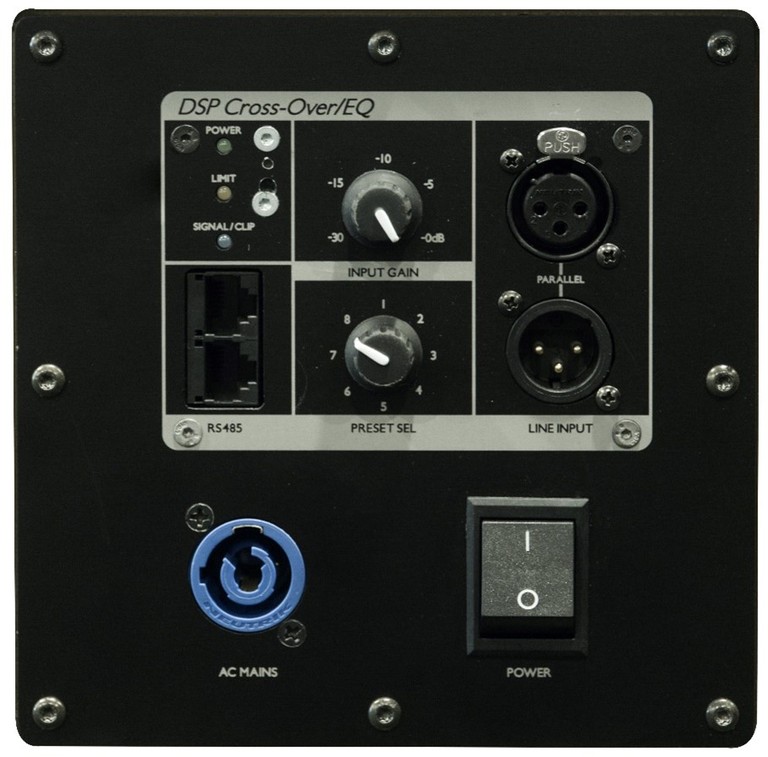 A simple plate on the back of the speaker has power, XLR input/output, volume control, and an 8-position switch to select different frequency response curves in the DSP (see measurements section).
The 8 factory DSP's offer a wide range of frequency response profiles, two of the settings are optimized for "Nearfield" use when the speakers will be used as studio monitors. I found these DSPs to work as advertised in my office/studio where I sit about 30" from the speakers. The other six allow for optimization in a variety of larger room placements. RBH can even build custom DSPs (for an upcharge) for any application one may need. Again, these are very robust speakers built for day-in /day-out use in a studio application.
System Setup of RBH 61/AX

I am fortunate to have a few separate listening rooms, so I was able to test these speakers in some of the typical environments that they may be used in. I have found this a great way to really hear how speakers behave in rooms of different sizes, acoustically treated…or not treated at all.
Office System

For the last several months, I have had the 61/AX setup in my office/studio. They live on Isoacoustics monitor stands on top of my desk that place the tweeters about an inch below ear height, and 30" from my listening position (I cannot recommend the IsoAcoustics products enough.) The speakers are slightly toed in about 5-degrees because they are so close to my listening position. They are connected by balanced ¼" to XLR cables running from my Focusrite 4i4 USB audio interface, my PC as the source.
I have used these as monitors for some time by themselves. Recently, RBH Sound sent me one of their excellent new 12P-SF/R powered subwoofers to review with the 61/AXs. This subwoofer uses their signature reference 12" woofer with an 800-watt DSP driven amplifier. This subwoofer is a perfect match for the 61/AX speakers since it has dual XLR input/output for flexibility. The DSP in this subwoofer allowed me to "blend" the subwoofer perfectly with the monitors taking advantage of the subs DSP.
Great Room System
In this much larger room, I hooked the 61/AX to the excellent Eversolo DMP-A6 DAC that RBH had supplied to me for this review. RBH is planning on selling the 61/AX, Eversolo DMP-6 streamer and 12P-SF/R subwoofer as a complete package soon. The DAC was connected via XLR to the sub, then looped back into the monitors.
Master Bedroom System

I wanted to try the system in a 3rd room, so I connected the monitors to a NAD t778 main L/R pre-out, since the NAD t778 does not have balanced outputs, I used the provided RCA-XLR adaptors and crossed them over at 80Hz. They were used as main L/R replacing the Focal Kanta No2 for this review.
RBH Sound 61/AX Listening Tests
Music on the RBH 61/AX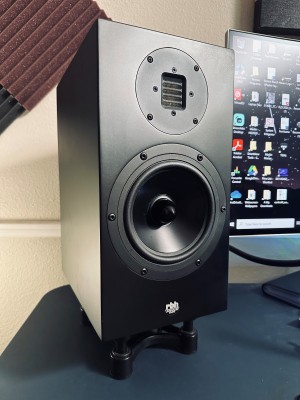 I started off the listening test in my office, the DSP on the speakers was set to setting number one FIR Flat. Going straight to one of my favorite speaker demos, "Helplessly Hoping" by Crosby, Stills and Nash. This is one of the best classic folk remasters-the multiple guitars and amazing harmony of these three legends truly test a speaker's ability to image and reveal complex layers and detail. Lesser speakers I have tested somewhat smear the various layers of sound the recording has to offer. This was not the case with the RBHs. Listening to this song through 61/AXs rewarded me with a rock-solid centered image where I could completely hear each element and layer of this song. I could separate and place each artist and their position on stage, and I was absolutely floored at how wide the soundstage was, with the sound clearly transitioning from right to left during the melody. I was impressed by how clearly defined each artist was presented, and the sound seemed to come from well outside the speakers. This song has very little information below 60Hz, so the roll off at around 50Hz really did not come into play here without a sub.
Listening to this song through 61/AXs rewarded me with a rock-solid centered image where I could completely hear each element and layer of this song.
For my next listening demo, I played something quite different. Ghost Rider is one of my favorite electronic artists, featuring some amazing, pulse-pounding and extremely well-recorded electronic music. The track "Make Us Stronger" is an exercise for the senses and a workout for any system. I started off listening without the RBH 12" subwoofer. The sound was controlled, and the dynamics were great, especially in this near field listening position-but the bass produced by the monitors alone could not deliver the full experience of this EDM track.
I connected the RBH subwoofer and WOW! The music literally came alive. It was so incredibly clean and clear. Getting caught up in the moment, I kept turning the volume up and up, and the more I did, the more my 12' x 13' office sounded like a nightclub but without any shrillness. As I turned these up to levels peaking more than 110db (something I only do in very short bursts,) I observed the absolute lack of dynamic compression. As the volume increased the speaker did not change tonal character at all. Literally, it felt like I could keep going up to 11. The dynamics of these speakers are insane, especially when paired with the RBH 12P-SR/R subwoofer. Another thing I noticed, is that as loud as I was playing these, there was no harshness whatsoever…I had to catch myself and turn these down before I damaged my hearing. The nearest comparison to this is driving a supercar on a closed racetrack, something I have had the pleasure of doing. You can be driving well over 100mph in a Porsche 911 turbo on a straight away and not really notice the speed- that's what these speakers are like!
I then moved these speakers to my Great Room. This is a somewhat large room, 26'w x 19' d with a 12' ceiling. I connected the 61/AX to the Eversolo streamer via XLR to the subwoofer then again back to the monitors. I decided to rock it out here, why not right? I fired up "Kashmir" by Marcin (this has become an audiophile favorite when you really want to demo what a system can do.) So, I sat back and was rewarded with a truly visceral experience. This setup filled this large room like no other bookshelf speaker system I have tested. It's certainly not up to the level of my 5ft tall 200+lbs RBH SVTR speakers, few systems can come close to matching the power of this system, but it was darn impressive given the 61/AX's size. It filled to room enough to please almost anyone. Again, the soundstage was massive. it almost sounded like I had a center channel and surrounds engaged. If I had not experienced this myself, I would certainly have my doubts. But I did experience it, and yes, it performed that well. The Eversolo is a phenomenal streamer, and it may be one of the best values in all the audio world. I was shocked at how good this source sounds for the cost.
I sat back and was rewarded with a truly visceral experience the RBH 61/AX monitors provided.
Next, I moved the 61/AX into my master bedroom system. This is a medium sized room at 16'L x 13" W x10' H. I replaced the main L/R Focal Kanta No2 with the RBH monitors on steel stands, hooked up from the L/R Pre-outs on my NAD T778 receiver. Since the NAD does not have balanced Pre-outs, I used the RCA-XLR adaptors that RBH conveniently supplies with the 61/AX. After connecting the monitors, I did some calibration, level matching the RBH with the Focal center channel. This room has a pair of excellent SVS SB-3000 subwoofers. These eventually turned out to be a good match with the RBHs.
I first played the monitors set too large, in stereo with the subs turned off. I chose "Strange Fruit" by one of Audioholics favorite artists, Dominique Fils-Aime. Dominique has an incredibly rich and smooth voice. This song starts with her humming the intro, then blends her voice into the mix, creating multiple layers of sound. The RBHs were able to present a wide sound stage once again. I could also clearly define each layer of this world-class mix. With tremendous range in her voice, the RBHs were able to capture every detail. They filled the room with an airy and immersive presentation, almost haunting.
This is not a bass-heavy track, so I never felt like I was missing the subwoofers. The limited range of bass they did put out was delivered with great authority. This fullness extended down to around 50Hz, which is what allows these speakers to integrate so well with subwoofers.
This sound was so good I poured myself a bourbon, turned on the subs, and listened to the entire "Nameless" album. If this is not what this hobby is about, I'm doing it wrong. This was a very enjoyable experience.
Movies/Spatial Audio on the RBH 61/AX

After completing a good amount of stereo listening, and since the 61/AXs were now hooked up as mains in a multi-channel system, I decided to give them a listen in surround. Crossing over the RBHs along with the Focal center channel and surrounds at 80Hz, I was rewarded with a solid presentation, as the sounds played all around my room. Although the RBH sound blended quite well with the $4,000 Focal center, it understandably did not have quite the same full and cohesive sound as the $11,000 matching Focal towers. It was a lot closer than I had expected, given the size of the monitors. This is a testament to the dynamic output of the RBHs. To put this in perspective, the pair of 61/AXs are about the same price as the Focal center channel alone!
For multi-channel music I started off with Pink Floyd's "Dark Side of the Moon" 40th anniversary in Spatial Audio (Atmos) sourced from my Apple TV.  Kicking it off with the classic song "Breathe", I found that the RBH monitors held their own with the rest of the Focal system. The RBH AMT tweeters turned out to be a better match than I had expected to the Focal's inverted dome Beryllium tweeters. Both are very dynamic and accurate drivers that play well beyond 20k. If pushed, I would say that although both were extremely detailed, the AMTs may have a little more of a laid-back sound, but this was a very minor difference. The RBHs did a great job anchoring the multi-channel audio in lieu of the much larger (and more expensive) Focal towers.
Matching speakers, especially the LCRs, is the best way to immerse yourself in a multi-channel experience. RBH will soon be releasing an active center-channel version of the 61/AX. RBH also has plans for a dual driver "MTM" LCR version. I hope when these are available, I will be able to review a full multi-channel system using all RBH powered monitors.
For my movie surround listening, I decided to fire up the bombing scene near the end of "Top Gun Maverick". This video is now a staple played on probably every home theater in America, and with good reason…It rocks! First, I placed the NAD into stereo with the RBHs and subwoofers online. Even in stereo, I could clearly hear the dialogue and experience sounds flying all around my room. This is a testament to anchoring any surround system with great stereo speakers, as Gene has always advised. It's amazing how good a movie can sound in stereo alone, but when I engaged the Dolby Atmos, the real fun kicked in.
Once again, the RBHs held their own, giving me true cinematic experience at reference level. So much so, I listened to the end of the movie forgetting that I was "working". I have listened to this movie on this Focal system several times. With the RBHs replacing the normal mains, I did not feel I was missing much in the output department. This was amazing given the price and size difference.
Measurements of the RBH 61/AX

All measurements of the 61AX were conducted outdoors at 2 meters in an open parking lot by RBH Sound's facility.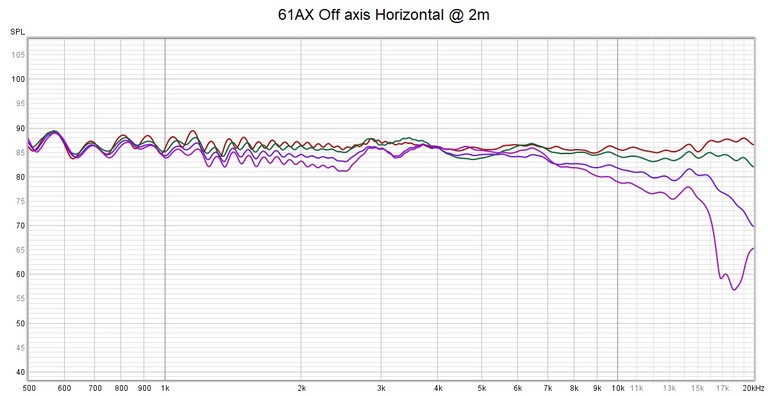 This graph shows the On Axis (Brown) and Horizontal Off Axis Frequency Response from 500 to 20kHz; 15 degrees (Green)), 30 degrees (Purple), 45 degrees (Magenta)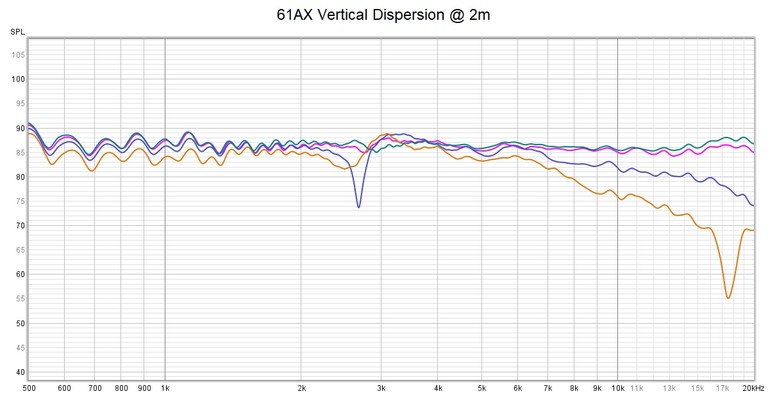 This graph shows the on axis (Green) and  vertical off axis frequency response above the tweeter axis of the speaker: 15 degrees (Magenta), 30 degrees (Blue), 45 degrees (Orange).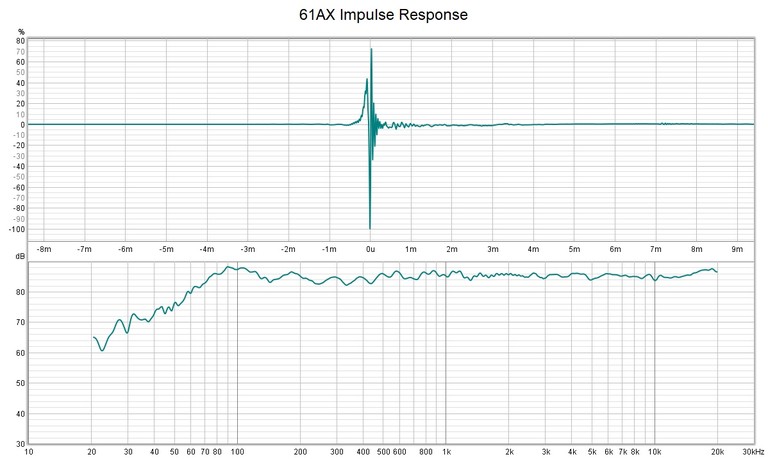 These measurements show the on Axis Frequency Response of the speaker (setting 1) from 20Hz to 20kHz as well as the speakers impulse response which is very clean.
This group of measurements shows the on axis frequency response of the 61AX taken at 2m with each of the 7 available DSP settings. The following is a description of each of the selectable DSP settings:
     Setting 1: Full Range (Provides Maximum Bass Extension)
     Setting 2: Full Range (Tweeter +)
     Setting 3: Flat Response (No EQ)
     Setting 4: 80Hz HP filter  (for integrating with subwoofer)
     Setting 5: 80Hz HP filter (Tweeter +)
     Setting 6: Near Field (Tweeter-, for Near-field/Desktop use)
     Setting 7: Near Field (Tweeter- Bass+, for Near-field/Desktop use)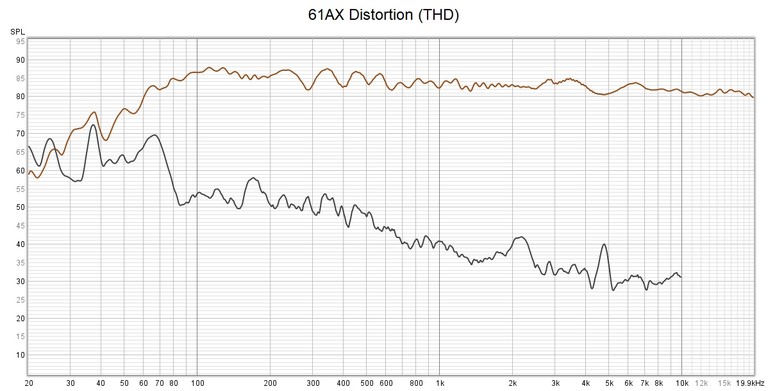 Measurement showing low Harmonic distortion levels (black)  of 61-AX taken at 2m on axis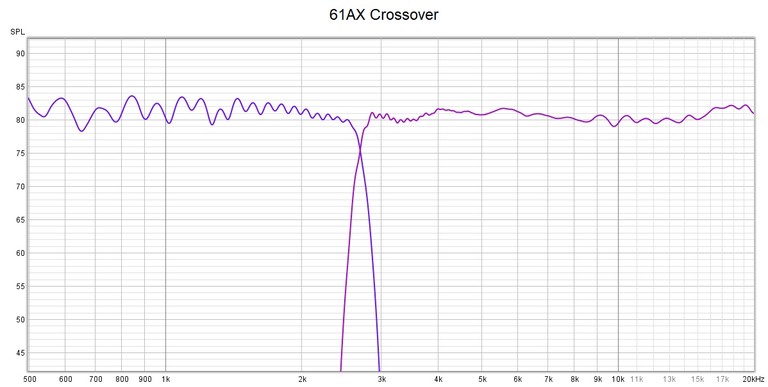 This measurement shows the separate frequency response of the woofer and tweeter as well as the extremely high order FIR Filters (108dB/Octave) of the crossover made possible using a powerful DSP. 
This level of filtering cannot be achieved using passive networks and one of the biggest advantages offered by active speaker designs.

Conclusion of RBH 61/AX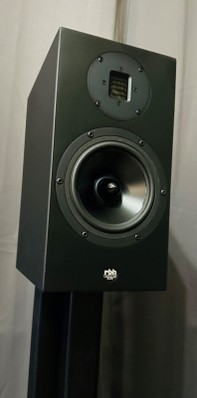 Active bookshelf speakers are a growing and competitive genre. KEF, JBL, Totem, B&W and many others are producing some great speakers in this category, and it is growing fast. I am excited to see what other speaker manufacturers will be introducing in the near future. The RBH Sound 61/AXs are a prime example of what is possible with today's new digital DSPs and efficient Class D amplifier technologies.
We like to say here at Audioholics that "RBH Sound is one of the best kept secrets in audio". These speakers certainly live up to this statement. After living with the 61/AX for some time, I can say that they are among the most flexible and best sounding speakers I have ever reviewed at any price point. Add a quality sub and great streamer, you will be rewarded with world class, full-range sound that would satisfy almost any audiophile. Whether you are a working studio professional or a home audio enthusiast, the 61/AX's ability to play any genre of music in a multitude of environments, with incredible fidelity and seemingly unlimited dynamics will make you smile. Anyone looking for this type of speaker should put these on their short-list to audition. Highly recommended!

The Score Card
The scoring below is based on each piece of equipment doing the duty it is designed for. The numbers are weighed heavily with respect to the individual cost of each unit, thus giving a rating roughly equal to:
Performance × Price Factor/Value = Rating
Audioholics.com note: The ratings indicated below are based on subjective listening and objective testing of the product in question. The rating scale is based on performance/value ratio. If you notice better performing products in future reviews that have lower numbers in certain areas, be aware that the value factor is most likely the culprit. Other Audioholics reviewers may rate products solely based on performance, and each reviewer has his/her own system for ratings.
Audioholics Rating Scale
— Excellent
— Very Good
— Good
— Fair
— Poor
| Metric | Rating |
| --- | --- |
| Performance | |
| Value | |