Five Things You Should Know About WiFi Performance and Reliability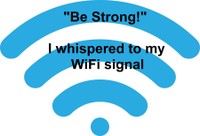 One of the most frustrating and often overlooked components of your home theater system can be the lowly WiFi network. By following these 5 tips from seasoned professionals you can make sure you have a reliable network that will make your home theater A/V and smart home tech shine.
Frustrated with your wireless WiFi network? We give you 5 pro tips on how to get a rock solid WiFi signal to your home theater to create a stable network throughout your home.