Joe Cornwall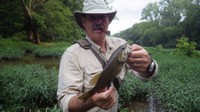 Joseph Cornwall grew up in Bridgewater, Massachusetts and moved to Cincinnati, Ohio in 1984 where he resides today. A sales and marketing professional, Joe holds degrees in Electrical Engineering and in Applied Business. He has been honored several times within the consumer electronics industry, being selected to serve as a judge for the prestigious Consumer Electronics Association "Mark of Excellence Awards" and having served on the Board of Directors of the Satellite Broadcasting and Communications Association. Joe has also lectured at the BICSI national and regional conferences on audio/video technology and installation trends. Joe currently hold the position of Business Development Manager for the Impact Acoustics division of Lastar Inc.
Joe is an active conservationist and amateur naturalist. He is an active member of the Outdoor Writers Association of America, the Outdoor Writers of Ohio, the Federation of Fly Fishers, the Buckeye United Fly Fishers, the International Game Fish Association, and Trout Unlimited.
As an outdoor sports communicator, writer and author, Joe is the recipient of both the 2004 & 2005 1st Place Awards for Best Magazine Column from the Outdoor Writers of Ohio. Joe was also awarded the 2005 Media Achievement award for his book Fly Fishing Warm Water Rivers. Joe is an accomplished motivational speaker and presenter. He has lectured at many Midwestern fishing clubs and regional events on topics including fly fishing and resource conservation.
Joe currently has a personal website, www.FlyFishOhio.com that discusses all aspects of fly fishing and has a particular focus of the fishing in Southwest Ohio and the Midwest.
Follow me on Social Media
Latest content created by Joe Cornwall