Cool and Lyrical, Four by Getz
Cool and Lyrical, Four by Getz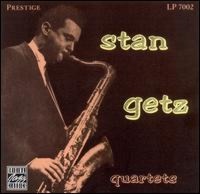 Cool and Lyrical, Four by Getz
Stan Getz was a study in contrasts. A man with an unsurpassed talent for melodic beauty and understated musical elegance, he none-the-less fought viciously with his personal demons. Addicted to heroin for decades, Stan Getz also suffered from alcoholism and problems with other intoxicants. His addictions lead him to live a life of Jekyll and Hyde, pushing him through three marriages marked by familial violence, abuse and one of the most bizarre and long-lived divorce cases this author has ever heard of. Through all of this Getz's musical voice, as filtered through his preferred axe - the tenor saxophone, remained sweet, soft and romantic. Clearly Getz's music was the calm eye of his personal storm. Knowing this makes listening to the sound of Getz an even more amazing experience today.
Stan Getz first achieved notoriety with his legendary solo on the ballad Early Autumn recorded in 1949 with Woody Herman's Second Herd. At the tender age of twenty-two Mr. Getz found himself on the road to success as a cool-school jazz giant. Shaken by a freak accident while touring with Woody Herman's group, Getz left the band in March of 1950. Propelled by the popularity of the just released Early Autumn , Getz began recording as a leader with several small ensembles. His preferred format was the quartet.
Stan Getz Quartets
Prestige LP7002 (reissued OJC-121)
From June of 1949 through April of 1950 Getz waxed a series of sides for Bob Weinstock that show us the young virtuoso stretching his legs for the first time as a small group leader. Pianist Al Haig accompanies on eight of the tunes with various combinations of Stan Levey, Roy Haynes and Don Lamond on drums, Gene Ramey, Tommy Potter and Percy Heath on bass. On four of the cuts Tony Aless takes over on piano. The quartet format works perfectly for Getz, allowing him plenty of room to solo, and fine rhythmic and melodic support that really lays the structure of the songs out in the open.
The first cut, There's A Small Hotel , sets the pace for the album. That pace is mid-tempo be-bop. Detail in the mono sound is sadly lacking, as is dynamic contrast, but this does not seem to take away too much from the music. The playing surface is admirably flat and noise free. I was unable to secure an original pressing (I looked, I looked!) so I can't comment on any comparisons in that vein.
Getz lets go on a lovely version of What's New that is very breathless and soft-spoken. Al Haig is restrained but brilliant, adding color and body with Potter and Haynes keeping the tune moving. On You Stepped Out Of A Dream we hear Percy Heath lay down a spirited bass solo that is commendable for its efficiency - each note propels the joyful tune forward without stepping on its spirit and romance.
There is no mistaking the voice on this work. It is as instantly recognizable as is the New York skyline. It is a voice that Getz would refine and perfect over the next forty years. Get this album for the music, not the sound. It makes a fine adjunct to a refined single malt and a hand-rolled Dominican torpedo.
Stan Getz - Focus
Verve Master Edition V6-8412
CD 314 521 419-2
By 1961 Getz had established a deserved and powerful presence in the jazz community. Although his label was pushing for more commercial 'product' Getz longed to explore a music more in line with a classical aesthetic than contemporary jazz. Perhaps Getz was a great salesman; perhaps Verve let him record 'Focus' just to get it out of his system. Either way it stands today as a singular work. It is not the only fusion of the jazz and classical idioms (Claude Bolling put forth a significant effort in this direction) but it is arguably the best.
Eddie Sauter wrote and scored the seven movements that would evolve into the songs on this album. The Beaux Arts String Ensemble was brought into to record the written music with Hershy Kay conducting. This music, with the strings alone, could easily stand on its own; it was written to do exactly that. Getz and drummer Roy Haynes improvised over the finished string parts. This is where the magic happens. According to the liner notes and numerous other materials, it is doubtful that Getz had the written music for more than a few days, and probably only had very limited exposure to the taped string parts. Recovering from the emotional shock of the death of band-mate and bassist Scott LeFaro, and then a week later of his mother Goldie, Getz entered the studio and recorded all of his improvisations in a single day. Without doubt his improvisations stand, each note as perfect as a pearl, as THE definitive reading of this heartfelt and beautiful music.
On careful listening it is easy to hear that Getz's horn is in a different acoustic than the strings. The sound of the recording booth brings Getz's sax forward into the mix and provides the listener with a wealth of detail. Everything from finger work to valve clacks is laid bare. All of this adds a wonderful layer of intimacy to the music.
On the original Verve release, I hear a significant difference, tonally speaking. The original release is laid-back through the midrange, blending Getz into the string quartet at the expense of lost detail and subtle dynamics. My original is a mono copy so I can't compare stereo sound staging. Regardless, this new Verve release is so good, and so significantly less expensive than a mint original LP pressing, that it almost doesn't make sense to hunt that hard. Dynamically and in terms of deep bass the Verve CD is a winner, beating the original vinyl easily. The string sound is silky with just the right bite. The percussive sound of Roy Haynes' drum kit has a wonderful impact and decay that adds to the feeling of real music happening in a real space.
'Focus'is a modern jazz classic and deserves to be in any serious music collection. It is also a top-notch recording that will showcase each strength (or weakness) of an audio system. Verve has done a fine job with this and their other Master Edition releases. The packaging is first rate with a triple gatefold cover, the original album art in the accompanying booklet and greatly expanded liner notes. Even the CD itself mimics the original Verve silver and black label almost perfectly. I highly recommend this album to anyone who loves jazz, strings and chamber music. It is unique, entertaining and fascinating. To think that it was a one-off improvisation done in the studio still makes my jaw drop!
Jazz Samba
Verve Master Edition V6-8432
CD 314 521 413-2
Donald Maggin, in his excellent book "Stan Getz - A Life In Jazz," describes Antonio Carlos Jobim defining bossa nova like this:
"In Portuguese, a bossa means a protuberance, a hump, a bump. And the human brain has these protuberances - these bumps in the head… So if a guy has a bossa for something, it is literally a bump in the brain - a talent for something. To say that he has a bossa for guitar would mean he has a genius for guitar. So it has come to mean a flair for something. And bossa nova was a "new flair."
Hot on the heels of 'Focus', 'Jazz Samba' was recorded in a two-hour session during February of 1962. The result of a lunch meeting between Getz and Charlie Byrd, 'Jazz Samba' is really a bossa nova style of music, full of life, seduction and compelling rhythms. Even if you have never heard a Getz album you are likely to recognize the first cut Desifinado . Once again Verve has done a masterful job with the re-mastering and packaging of this disc. You get the stereo LP version of this delightful cut, and the 45 single version at the end of the LP sequence. Sound quality is outstanding with great acoustics and a detailed soundstage. Listen to track 4 - Samba Triste for some outstanding guitar work by Byrd as Stan and Charlie trade licks. The sound is spacious and airy without losing intimacy. On a speaker system capable of large scale staging you can literally feel the size the of the Pierce Hall recording venue.
It should be noted that Getz's sax is placed left on the stage and Byrd's guitar is placed to the right. The separation is a bit unnatural at times with the percussive work of both Buddy Deppenschmidt and Bill Reichenbach taking stage center. The use of two drummers/percussionists allows for an intricate and propulsive beat that keeps the entire work quite interesting and entertaining. Soundstage depth is only fair, yet I find it hard to sit still and listen because bits of me keep wanting to dance about and groove to the tunes.
Keter Betts takes a fine bass solo on Samba De Umu Nota ; one of the more interesting pieces on the disc. Betts rock solid bottom-support also opens the final cut of the original LP sequence Bahia , a classic and well-known tune. Played softly with plenty of reed, this is Getz at his romantic best. The tune bounces and weaves its magic through two outstanding Byrd solos before returning to Getz for the finish. Listen carefully for Getz's brief quotes from Scheherazade .
I recommend this album less for its sound than its music, but excuses do not need to be made for either. This is a great disc to get lost in on a Saturday night or - even better - very, very early on a Sunday morning!
Getz/Gilberto
Verve Master Edition V6-8545
CD 314 521 414-2
The bossa nova as a musical movement was far from dead after Getz created Jazz Samba. The fact is that seminal piece of wax was just the tip of the Brazilian iceberg. The public was seduced and enchanted by the exotic rhythms and rich orchestrations. The easy swinging beat was sophisticated, sensual and sexy. Seemingly within weeks other jazz practitioners, both giants and unknowns alike, had tapped the well of Brazilian culture and released their own versions of cool-jazz influenced samba and bossa nova. On March 18 and 19 of 1963 Getz entered the studio with Joao Gilberto and Antonio Carlos Jobim, the two heavyweights of the bossa nova movement in South America. Sitting in on drums and percussion was Milton Banana, a long time associate of Gilberto's. Tommy Williams played bass. What they created is now the stuff of legends.
Is there anyone in the United States who has not heard The Girl From Ipanema ? What is even more telling is how many people have heard the song, but how few have really listened to it. It is a sad ballad about unrequited love - or at the very least unanswered attraction. The words are first sung in Portuguese by Joao Gilberto, then translated into English and sung by Astrud, Joao's wife and translator. Amazingly, this is the first professional performance by Astrud; who was not, at that time, a professional singer. It took repeated urging by Getz, and Getz's then wife Monica, to convince Astrud to perform on the recording. The album 'Getz/Gilberto' went on to achieve gold record status and The Girl From Ipanema topped both the jazz and pop charts.
Sonically this disc is a charmer, but not without its faults. Compared to the original vinyl release, Getz's saxophone seems to have been brought forward in the mix. It sounds larger and louder than the other instruments. Too, placement of performers on the soundstage has been subtly altered. On the original vinyl release, on Ipanema , Gilberto sings just right of center and Astrud sings the lyrics again in English just left of center. On the Verve CD Joao is full left and Astrud is full right. The original release also has a warmer foundation; Williams' bass has a more realistic "purr." Don't take this wrong - without direct comparison to the original Verve pressing, the CD is mightily impressive. Even with direct comparison there is nothing to complain about. The differences are subtle and do not take away from the impact of the music. They are there, however, and for a perfectionist or historical collector they could be material.
Between the strength of the music, the accessibility of the performance and the shear quality of the recording and re-mastering I have to give 'Getz/Gilberto' highest marks. Everyone should have this album in his or her collection, even if it's only to wax nostalgic about public taste in changing times. I doubt jazz will ever have an opportunity to conquer the pop charts again the way this album did thirty-five years ago.
Stan Getz was a prolific recorder and a jazz giant. During his lifetime he brought the music of Horace Silver and Diane Schurr to the public, as well as that of a score of other jazz practitioners. His own music evolved constantly and this was reflected in his choice of sidemen and arrangements. Stan Getz died of cancer in 1991 but his music and musical sensibility lives on. We are all the richer for that.
Many thanks to Joe Cornwall of Impact Acoustics for sharing his music reviews with us.
Confused about what AV Gear to buy or how to set it up? Join our Exclusive Audioholics E-Book Membership Program!