ADAM Audio T7V Powered Monitor Speaker Review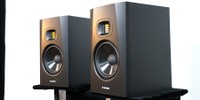 ADAM Audio has long been known as pioneers in bringing AMT drivers to pro-audio loudspeaker design. They have traditionally occupied a somewhat higher price-point than major monitor brands, but that has changed recently with their T series monitors which use the same design principles in a more affordable package. The ADAM Audio T7V's are near-field monitors that use ADAM Audio's AMT tweeters in a sophisticated waveguide along with class-D amplification in an unusually attractive cabinet that looks a lot nicer than it needs to for studio purposes. Can a monitor this sleek-looking also be used for home audio? Read our in-depth review to find out!
The ADAM Audio T7V Active Speakers are nearfield monitors ($500/pair). We reviewed them to determine IF they sound as good as they look and IF they serve home audio applications as well as the studio.