Anthem's MDX Audio Distribution Systems Promise Audiophile Performance In Every Room Of The House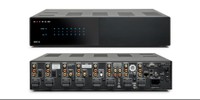 Anthem has launched a new series of advanced, multi-zone audio distribution systems aimed at audiophiles who want great-sounding music all around their homes. The MDX Series features Anthem's ARC Genesis room correction as well as the ability to add subwoofers with custom bass management settings for every zone. The series includes the 8-zone, 16-channel MDX-16 ($2,999) and the 4-zone, 8-channel MDX-8 ($1,999). Both units are shipping now; read on to learn more.
Anthem's 8-zone MDX-16 and 4 zone MDX-8 audio distribution amplifiers are designed to provide high quality music all around your home boasting ARC Genesis room correction and bass management.