Dayton Audio MK442T Transmission Line Tower Speaker Review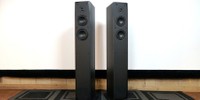 Dayton Audio has followed up their enormously popular MK402 bookshelf speaker with a floor-standing speaker version: the MK442T. The MK442T is more than just the MK402 with an extra woofer and larger cabinet. Dayton Audio decided to try something different and has used a transmission line enclosure to shore up bass frequencies instead of the standard vented design used by virtually every other speaker in this category. Transmission line designs are not very common, and at Dayton Audio's asking price of $228/pair, totally unheard of. Read our full review of the MK442T to see how Dayton Audio managed to pull this off.
Dayton Audio's new MK442T tower speakers at $228/pair feature a transmission line enclosure for bass. Read our review to see how they managed to produce a quality speaker at a ridiculously low price!