THX Launches Onyx, Portable MQA-DAC/AAA-Headphone Amp Review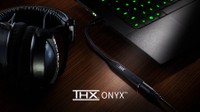 THX has launched its first product: A portable USB headphone DAC/Amp featuring its innovative AAA amplifier technology that promises high power and extremely low distortion. But, wait… did we say THX? You got that right! THX, the audio certification standard founded by George Lucas, is now rolling up its sleeves and building its own consumer audio equipment. This portable USB headphone DAC/Amp packs enough power to shatter cobalt at a price that will make the competition sweat. The first-ever THX audio hardware has arrived, could this be a sign of things to come?
THX has launched its first consumer product! Onyx is a portable DAC/Amp featuring MQA and THX's AAA amplifier topology in a portable USB-powered package. Read on to see how it compares to Audioquest.