How to Install a Home Theater Projector and Screen from Start to Finish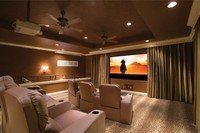 If you've never installed a projector or screen before, the process can be quite confusing. The general idea is simple, and you probably already have a good idea of where you want each piece to go, but the specifics are unclear. Which is mounted first, the screen or the projector? How far back should the projector be from the screen? How high should the screen be? How do you fine tune the projector's position to fill the entire screen? This guide answers all of those questions, and hopefully any others you have about how to mount a projector and screen as well.
Everything you need to know about mounting a projector and screen, from placement to mounting to fine tuning the picture! This guide will help you install your home theater like a pro!