Elite Screens Starbright7 First Look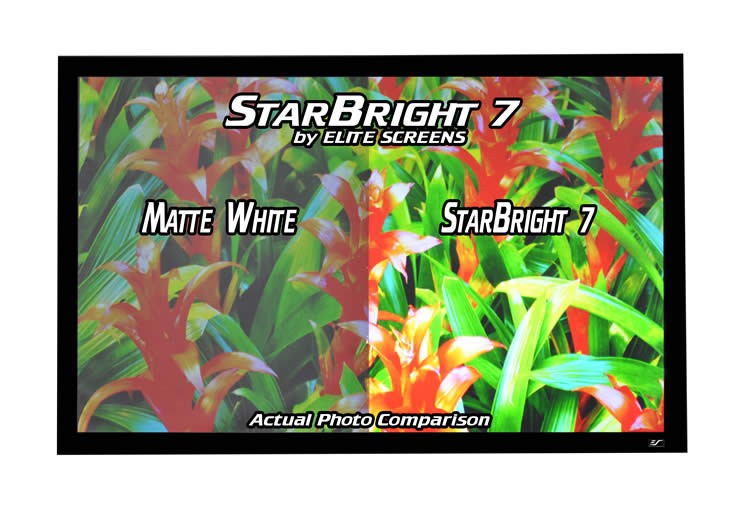 Elite Screens Starbright7
Summary
Award winning ultra High 7.0 Gain angular reflective front projection material for well lit commercial applications
HCF (High Contrast Filter) enhances bright image reproduction with aided contrast while absorbing ambient light
Advanced reflection layer provided a highly reflective surface suitable for high levels of incidental light
Ideal for ProAV/Commercial Applications
Finished surface coating maintains the color balance while eliminating "Hot-spotting" artifacts
Available in diagonal sizes ranging from 88" - 206" in 4:3, 16:9, and 16:10 aspect ratios
Custom sizes are available

StarBright 7 Frame Series

#

Model

Diagonal Size

Ratio

View Height

View Width

MSRP

Net Weight

Gain

Screen Material

Case Length

Type

1

R76GH-G7

76"

16:9

36.9

65.5

$819

22.0

7.0

StarBright7

70.9"

Fixed Frame

2

R88GH-G7

88"

16:9

42.8

76.0

$899

25.4

7.0

StarBright7

81.4"

Fixed Frame

3

R103GH-G7

103"

16:9

50.5

89.8

$1269

27.6

7.0

StarBright7

94.5"

Fixed Frame

4

R121GH-G7

121"

16:9

59.0

59.0

$1649

29.8

7.0

StarBright7

110.2"

Fixed Frame

5

PVR110GV-G7

110"

4:3

65.4

87.3

$1589

30.1

7.0

StarBright7

92.7"

Fixed Frame

6

PVR126GV-G7

126"

4:3

75.0

100.1

$1829

34.5

7.0

StarBright7

106.3"

Fixed Frame

7

PVR146GV-G7

146"

4:3

87.0

116.1

$2579

39.6

7.0

StarBright7

121.5"

Fixed Frame

8

PVR182GV-G7

182"

4:3

108.7

144.9

$3999

48.8

7.0

StarBright7

150.3"

Fixed Frame

9

PVR119GX-G7

119"

16:10

62.6

100.2

$1829

32.0

7.0

StarBright7

105.6"

Fixed Frame

10

PVR144GX-G7

144"

16:10

75.9

121.4

$2289

38.5

7.0

StarBright7

126.9"

Fixed Frame

11

PVR170GX-G7

170"

16:10

90.4

145.0

$3079

45.1

7.0

StarBright7

145.0"

Fixed Frame

12

PVR206GX-G7

206"

16:10

108.9

174.3

$4819

54.1

7.0

StarBright7

179.4"

Fixed Frame
Executive Overview
Maybe it is just us being cynical, but we are rarely surprised these days. When you've been around gear as long as we have, you kind of get a feel for it. For price points, for features... it's the sort of intuitiveness that only long term exposure brings. Some of us spend more time around speakers. They can practically look at a speaker, it's specs, and have a basic idea of how they'll sound. They can see through the marketing BS and know, almost preternaturally what is the truth of the design. All by looking at the speaker or the receiver or the amp. One thing about projection screens is that we've come to expect them to cost more than we'd expect. So if we glance at a screen, it's features, and a number pops into our head, we usually double or triple it. Usually, we're in the ballpark when we do that. 
Screens can have a lot of different features. They can be electric or manual or fixed. They can come up from the floor or from inside a cabinet, can drop from the ceiling, or be fixed to a wall. The can have any number of materials for the screen with varying degrees of viewing angles, reflectivity, and color. They can have all kinds of masking including masking that can be used to change the aspect ratio of the screen on a whim. All of these features (and more) go into the price.
One of the newest kinds of screens out there are extremely high gain screens. These screens are popular at tradeshows because you can place them outside of your booth, in the harsh florescent lights, and still have an clear and colorful picture. This is sure to draw interested attendees. While we are sure there are those that are extremely worried about light control that might consider one of these screens for home use, that isn't really their intended venue. Generally, high gain screens are used in professional settings where light control isn't just difficult, it's impossible and unwanted. You don't exactly want to dim the lights in you store or church so that people can see the screen. But they do need a crisp, clear image.
Elite Screens' Starbright7 is a 7.0 gain fixed screen. This means that the light that is reflected is 700% of the light that would be reflected from a standard white (magnesium oxide) board. In contrast, screens used in most home theater applications will vary from 0.8 to as high as 1.3 gain (some higher as well). While there are plenty of well documented reasons for using more modestly gained screens in the home, in a professional setting, the high gain screens are a must. Some of the problems with high gain screens are hot-spotting and inaccurate color. Elite Screens has addressed both of these issues by utilizing a proprietary surface coating which maintains the color balance while eliminating "hot-spotting" artifacts. The Starbright7 screens have a multi-layered matrix for increasing brightness and contrast in rooms with high levels of ambient light.  Sizes of the screens range from 76" to 206" in either a 4:3, 16:9, 16:10 or 2.35:1 aspect ratio.
But, of course, none of this is all that shocking. While the Starbright7 has all the technology we'd expect, it doesn't have the expect pricetag. While larger sizes are of course pricey, the Starbright7 starts off at a reasonable $819 for a 76" 16:9 screen. Remember, these are fixed screens so they don't roll up or anything. If you want to hide them, you'll have to install some sort of removable cover. But with a 7.0 gain, you might as well keep projecting on it with your logo or something. Prices increase dramatically as you go up in size with a 206" 16:10 screen running $4,819. Of course, custom sizes are available to fit any application. While these aren't exactly pocket-change prices, they are very reasonable for a business-targeted product.
Conclusion
You may not want a 7.0 gain screen in your home theater, but you would in your church or store floor. Elite Screens has put a lot of technology in the Starbright7 screens without charging an arm and a leg. Of course, if you need the gargantuan 206" monster, you're probably thinking sub $5000 is a pretty good price. For a comparison that the general consumer can better identify with, the 76" 16:9 screen is only commanding $819. That seems very reasonable for a fixed screen with a multi-layered matrix for increasing brightness and contrast in rooms with high levels of ambient light and a surface coating to maintain color balance and fight "hot-spotting" artifacts.
For more information, please visit www.elitescreens.com.

Unless otherwise indicated, this is a preview article for the featured product. A formal review may or may not follow in the future.
Confused about what AV Gear to buy or how to set it up? Join our Exclusive Audioholics E-Book Membership Program!
Recent Forum Posts: