Legacy Signature SE Floorstanding Speaker Review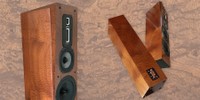 As a follow-up to our extremely popular recent article, An Audiophile's Realization: My Last New Speakers, the least we can do is take a close look at the object of that article, the Legacy Audio Signature SE floorstanding speaker. Will this story have a happy ending? Will the audiophile ride off into the sunset with a smile on his face? Read our review of the 4-way Legacy Signature SE Towers to find out.
Will the 4-way Legacy Audio Signature SE floorstanding speakers allow me to achieve my audiophile realization of my last new speakers? Read our review to find out.