Legacy Audio Valor Loudspeaker Overview & Demo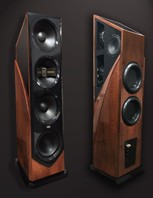 Legacy's latest flagship product, the Valor, is a speaker that pushes the state-of-the-art in high-fidelity further than ever before as a 2,750 watt, 11-driver behemoth that is packed with the latest advances in audio engineering. The sound from the Valor is tightly controlled so interference from room acoustics is greatly reduced, and imaging from the original signal is preserved with greater clarity. The methods used by Legacy to reconstruct the original stereo image go well beyond traditional room correction equalization. Read our overview and watch our YouTube Video of the Legacy Valor to find out more.
The Legacy Valor speaker system is an all-out attempt to push the state-of-the-art forward with few compromises, and it is priced as such at $80k. Check out YouTube Video and preview for full details.