Revel PerformaBe F226Be Tower & C426Be Center Loudspeakers Review
Revel PerformaBe F226Be Tower & C426Be Center Loudspeakers Review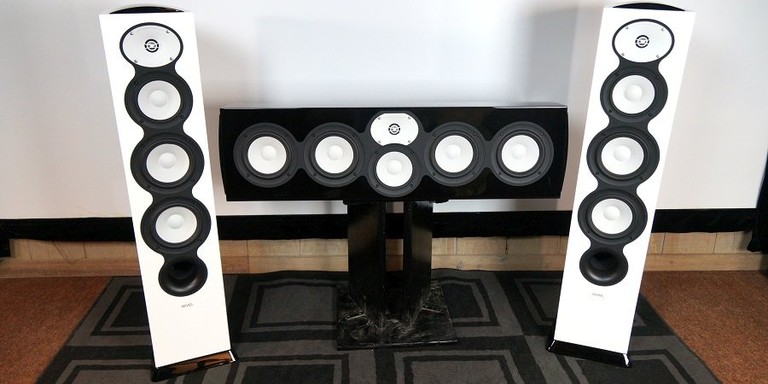 Revel F226Be and C426Be
F226Be:
Type: 3-way dual 6.5" floorstanding loudspeaker
Low-frequency transducer: Two 6.5" (165mm) Deep Ceramic Composite aluminum cones, with cast frames
Midrange transducer: 5-1/4" (130mm) Deep Ceramic Composite aluminum cone, with cast frame
High-frequency transducer: 1" (25mm) Beryllium dome, with acoustic lens waveguide
Recommended amplifier power range: 50 – 200 watts
Frequency response: 44 Hz - 40 kHz (-6dB)
Low-frequency extension: 33Hz (–10dB); 36Hz (–6dB); 48Hz (–3dB)
Nominal impedance: 8 ohms
Sensitivity (2.83V/1m): 90 dB
Crossover frequencies: 260Hz; 2.1kHz
Enclosure type: Bass-reflex via front-mounted port
Inputs: Dual gold-plated binding posts with shorting straps
Available high-gloss finishes: Black, White, Metallic Silver, and Walnut
Dimensions – with grille (H x W x D): 41.3" x 9.8" x 13.7" (1050mm x 249mm x 347mm)
Cabinet Weight: 58.0 lb (26.4 Kg)
C426Be:
Type: 3-way quadruple 6.5" center channel loudspeaker
Low-frequency transducer: Four 6.5" (165mm) Deep Ceramic Composite (DCC) aluminum cones with cast frames
Midrange transducer: 5-1/4" (130mm) Deep Ceramic Composite (DCC) aluminum cone, with cast frame
High-frequency transducer: 1" (25mm) Beryllium dome with acoustic lens waveguide
Recommended amplifier power range: 50–300 Watts RMS
Frequency response: 46Hz–40kHz (-6dB)
Low-frequency extension: 37Hz (-10dB) 46Hz (-6dB) 52Hz (-3dB)
Nominal impedance: 8 ohms
Sensitivity (2.83V/1m): 90dB
Crossover frequencies: 210Hz; 2.1kHz
Enclosure type: Bass-reflex via 2 rear-mounted ports
Input type: Dual gold-plated binding posts with shorting straps
Available high-gloss finishes: Black, White, Metallic Silver, and Walnut
Dimensions (H x W x D): 10.4" x 38.6" x 14" (263mm x 979.7mm x 358mm)
Product Weight: 61lb (27.7kg)
Pros
Extremely linear and accurate sound
Good dynamic range, especially for the C426Be
Very nice-looking
Wide and even off-axis response
Reasonably easy-to-handle electrical load
Good build quality
Revel F226Be & C426Be Introduction

We were mightily impressed last year by Revel's PerformaBe M126Be bookshelf speaker in our review which showed outstanding sound quality married with a high-end luxury styling. It wasn't the most inexpensive bookshelf speaker we have come across, but we found it to be worth the $4k/pair asking price. In light of our experience with the M126Be, we were excited to see that Revel added more members to the PerformaBe family, a new flagship tower in the F328Be, a more affordable tower in the F226Be, and a center speaker in the C426Be. In for review today we have the F226Be and C426Be towers and center channel speakers, respectively.

What interests us about the F226Be is that it should grant the same sound quality, sans bass response, as its bigger brothers but at a much more affordable price. The larger bass drivers and enclosure sizes of the F228Be and F328Be should grant them greater bass headroom and deeper extension, but the F226Be share the same midrange driver of those models and also the same tweeter as the F228Be, so the sound outside of the bass response should be largely the same (The F328Be uses a somewhat more advanced tweeter and waveguide). Not everyone listens so loud that they need the bass headroom of the larger PerformaBe towers, and if you don't intend to crank the system to volume 11, the F226Be should keep the same sound character at lower loudness levels. What is more, the bass advantage of the F228Be and F328Be can be partly negated by simply employing powered subwoofers to the system.

The C426Be interests us because the specs for it suggests that it is doing everything right for a center speaker. It uses a three-way design where the midrange driver has crossed over at a low enough frequency to the bass drivers that there should not be many if any lobing artifacts in the horizontal plane, which is a problem with so many center speaker designs. We will get into this more in the design analysis section of this review, but the driver layout and crossover frequencies suggest a highly-optimized design that avoids many of the traditional pitfalls of conventional center speaker designs. Given what we know of center speaker design attributes, the C426Be could be an extremely good center speaker, but that still remains to be seen when we do our listening tests and objective measurements. With that being said, now take a closer look at the F226Be and C426Be speakers to see if they keep the promises made by their design…
Appearance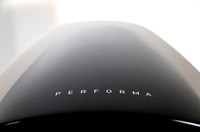 As with the M126Be speakers, the F226Be and C426Be are very attractive speakers. The only people who would think they are ugly are those who just hate the appearance of speakers, period. I received gloss white F226Be speakers and a gloss black C426Be center, but the PerformaBe speakers can also be had in metallic silver and Walnut as well. The gloss finish on the PerformaBe speakers is pristine. While the speakers I received wasn't quite a matched set, the way in which they mismatched played very nicely off of each other. The white cones are surrounded by black trim, with the rest of the speaker having a solid color gloss. The cabinets are gracefully curved and end in a rounding in the back. The F226Be speakers have a high-gloss 'top cap' on them that, as I had said about the M126Be speakers, gives them an almost automotive styling. The center has these 'top cap' pieces mounted on its sides. Everything on these speakers has a gleaming polish except for the cones and trim around the drivers.
 Revel F226Be Towers & C426Be Center Channel Speakers (no grilles left pic; grilles on right pic)

If the whiteness of the drivers is too aesthetically loud for some folks, they can just use the grilles to blank out the front baffle. The grilles attach magnetically, so there are no grille guides to blemish the front baffle. These speakers look so much better without the grilles though, in my opinion. The grilles should only be used to protect the drivers in situations where children (or clueless adults) could potentially push in the dustcaps of the cones. One unavoidable visual aspect of the C426Be is that it is a big center speaker. At nearly 40" wide, it is just about as wide as many tower speakers are tall. It isn't likely to fit in the shelving slots of many entertainment centers (however if you intend to place a speaker of this caliber in a location as bad as an entertainment center shelf slot, shame on you!). Potential buyers will want to be sure that the C426Be's size can be accommodated.

The F226Be and C426Be speakers are expensive speakers, and they look like it. Let's now take a look at the design to see if the level of engineering matches the price as well as the aesthetics…
Design Analysis
In their very general design description, the F226Be and C426Be are both three-way speakers that use a 1" beryllium dome tweeter, 5.25" midrange cone, and 6.5" bass drivers. The F226Be is the PerformaBe version of Revel's Performa3 F206; it is largely the same speaker in design, but the components are all of a higher grade and have been more heavily optimized. The C426Be does not have an analogous center speaker in the Performa3 series. It is a new design, and I would guess that the reason for such a beefy new design is that Revel wanted a center speaker that could keep up with their new F328Be which should have pretty serious dynamic range given its three 8" bass drivers. To start with a more detailed description of these speakers' design, let's begin at the top, with the tweeter.
The use of beryllium for the tweeter diaphragm is heavily touted as a selling point by Revel. Revel's desire to bank on their use of Beryllium likely comes from the fact that it is quite expensive to use, but it does have ideal properties for use as a tweeter dome.
To quote from our review of the M126Be which uses the same tweeter and waveguide:
This is on account of its low weight combined with its very high stiffness; this Audioholics article on how to identify high fidelity loudspeakers discusses the matter of diaphragm composition and Beryllium's advantages. It is three times stiffer than conventional diaphragm materials such as aluminum but exhibits three times the damping and is only half the weight. The reason why it isn't more widely used is expense: I am told that an aluminum dome normally costs under 25 cents whereas a Beryllium dome costs over 30 dollars (and that's not counting the motor structure or other parts of the driver itself). The Beryllium tweeter is mounted in Revel's latest generation waveguide so that directivity is better controlled than previous Revel waveguides. When we remove the tweeter driver from the cabinet, it is absolutely massive and is by far the largest tweeter motor I have personally seen to date. Part of the reason why it is so large is because of the two 3 ⅓" ceramic magnets which give the tweeter a major boost in sensitivity. Ceramic magnets also have the advantage of better heat dissipation over the Neodymium magnets that most tweeters use.
One of the reasons why Beryllium is so expensive is that it is a highly toxic material to manufacture with, although the end result as a tweeter diaphragm is not dangerous (so long as you don't eat your tweeter or vaporize it and breath in the fumes). Many special measures must be taken in order to safely process it, and these extra measures are a major contributing factor in their cost.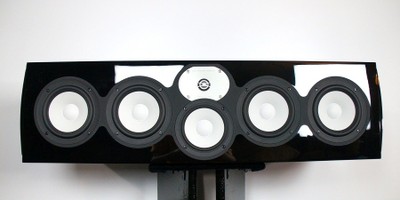 The midrange driver and bass driver cones are made from a material that Revel calls 'Deep Ceramic Composite' aluminum which is anodized aluminum. The anodization that Revel uses is, to quote Revel's product page, "a plasma electrolytic oxidation process that uses a plasma discharge to create a coarse ceramic coating on both sides of the aluminum core". This should result in a somewhat higher-performing cone material than the regular aluminum. The ceramic sandwiching of the aluminum should help to damp the break-up modes that occur at higher frequencies which may not be fully suppressed by the crossover circuit.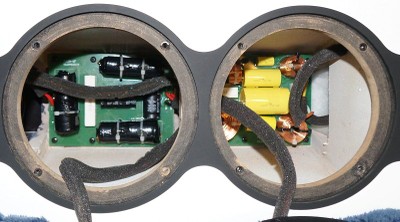 The bass drivers are low-pass filtered at 260Hz on the F226Be and 210Hz on the C426Be, and both filters use 3rd-order slopes. The midrange drivers crossover to the tweeter at 2.1kHz with a 2nd-order slope on both speakers. The F226Be tweeter uses a 3rd-order high-pass filter while the C426Be uses a 2nd-order high-pass filter. Taking a look at the F226Be crossover circuit, we can see it is a fairly extensive piece with 18 elements altogether, with some large iron-core inductors and electrolytic capacitors in the bass driver's filter, and a slew of air-core inductors, resistors, and polypropylene film capacitors in the midrange and tweeter's circuit. The crossover in the C426Be was partially obscured by stuffing but looked to be a similarly formidable affair. Both speakers have dual binding posts for those who want to bi-wire or bi-amp the midrange/tweeter and bass driver separately.

The low crossover frequency on the bass drivers in the C426Be could be a real advantage in horizontal directivity control in that speaker. Normally when drivers are mounted horizontally, they can end up creating cancellation nulls off-axis, and that isn't a beneficial attribute in a center speaker even though so many centers end up doing just that. It could be a real problem with a speaker with four drivers mounted in a horizontal plane, but Revel significantly restricts their bandwidth to lower frequencies. When the spacing of points of acoustic emission (in our case, bass drivers) is less than the distance of the wavelength that they produce, they act as a single source of acoustic emission and will not interfere with each other. The 210Hz low-pass frequency has a wavelength of 64 inches which is longer than the width of the entire speaker, and the aggressive 3rd-order slope of the filter should dramatically reduce acoustic radiation from the bass drivers above their crossover frequency, so the C426Be speaker should be free of off-axis nulls that plague so many center speakers. For those who want to dig deeper into this subject, see our previous articles dealing with center speaker design: Vertical vs Horizontal Center Speaker Designs and Center Speaker Design Additional Considerations. We will see how well Revel's efforts to maintain horizontal directivity work when we get to the measurements section.
There is some serious engineering put into these speakers....
The cabinets are made from ¾" MDF. The midrange driver in both speakers is housed in a compartment that is internally sealed from the rest of the enclosure so that the backwave radiation of the bass drivers do not affect it. The midrange driver compartment as well as two window braces help to strengthen the enclosure. The C426Be is chocked full of acoustic stuffing throughout while the F226Be has bunched up acoustic stuffing in the top and bottom of the enclosure. One interesting detail is that the shape of the waveguide in the C426Be has been altered to accommodate closer spacing to the midrange driver. This helps to reduce the cabinet height as well as lessens the off-axis crossover cancellation lobe on the vertical axis. The front-firing port on the F226Be has a somewhat short 5 ½" length with a 2 ¾" diameter and is heavily flared on both ends. The C426Be has two rear-mounted ports with 8" lengths and 2 ¾" diameters. Both speakers come with port plugs for those who want to seal the ports for reduced bass output and extension. The F226Be comes with spiked feet that can be installed for those who don't want the cabinet base itself resting on a surface. The C426Be has feet of differing heights that can be used to adjust the angle of the speaker.  

As we can see from this analysis, there is some serious engineering put into these speakers, which is what one would hope for in speakers of their pricing. Let's now give them a listen to hear how all of this sophisticated design adds up in practice…
Listening Sessions
In my 24' by 13' (approximately) listening room, I set up the speakers with stand-off distances between the back wall and sidewall, and equal distance between speakers and listening position. I angled the speakers to face directly at the listening position. Listening distance from the speakers was about 9 feet. Amplification and processing were handled by a Pioneer Elite SC-55. No room correction equalization was used. No subwoofers were used.
Music Listening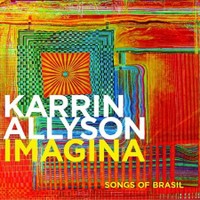 When I had reviewed Revel's PerformaBe M126Be speakers, I had recently discovered jazz vocalist Karrin Allyson and used her 'In Blue' album as demo material for those speakers since the recording and artistry were of such high quality. It is only fitting then that I should return to Karrin Allyson, this time listening to her album 'Imagina: Songs of Brazil' in which she explores the Brazilian flavors of bossa nova and samba music. This 2008 album has a nice mixture of energetic pieces and slower and more forlorn songs, so it is not all Carnivale-esque party music so often associated with samba. It also eschews the large ensemble of performers that these genres of music can sometimes have and keeps the instrumentation relatively simple compared to how elaborate it could have been. That helps to focus more attention on Allyson's voice and also gives more distinction to the individual instrumentalists who accompany her. 'Imagina' is imminently easy to listen to, and the production quality is top-notch, so this is ideal content to show off a great stereo system.   

From the first moments of playing 'Imagina' on the F226Be speakers, I was struck by their superlative imaging. While imaging has a lot to do with recording techniques and mixing of the recording, the speaker still has to relay that information competently, and this is where good speakers are separated by not-so-good speakers. Ms. Allyson's voice was anchored dead center in the soundstage by the F226Be speakers, and she was flanked by the accompanying instruments at positions off center. Of note is the playful imaging of the xylophone that covered the width of the soundstage with the upper pitched end extending to the right and the lower pitched end extending to the left. Allyson's voice as well as the instruments all had a natural sound, and I didn't notice anything even remotely amiss in tonality. Her voice was rendered with detail but not through any exaggeration of any particular frequency range, which is a trick some speakers will pull for a heightened sense of detail. The low-frequency extension of the speakers easily caught all of the bass content, and the double bass along with the bass drum has plenty of oomph without becoming boomy. I don't know how this album could sound any better than what the F226Be speakers could reproduce. This presentation was excellent.   
From the first moments of playing 'Imagina' on the F226Be speakers, I was struck by their superlative imaging.
For something to evaluate the speakers' ability with orchestral content, I didn't have to look long before I found an album that I knew I would enjoy from beginning to end: 'John Williams in Vienna.' In this album, one of the most admired living composers, John Williams, conducts the Vienna Philharmonic through many of his most famous works at the prestigious Musikverein concert hall in Vienna. We get to hear pieces such as the 'Jaws' suite, the main title from 'Star Wars,' and theme from 'Jurassic Park' among other celebrated works from Williams' oeuvre of film scores played by a renowned orchestra in such an illustrious setting conducted by the maestro himself. The recording label Deutsche Grammophon pulls out all the stops to make this a recording of the highest caliber, and it is streamed at a 96 kHz/24-bit sound quality. There is also a Blu-ray release of this album scheduled to appear later this year with a Dolby Atmos sound mix.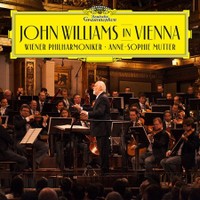 The F226Be speakers conveyed a broad and enveloping soundstage but not at the cost of precise imaging. While I have never been to the Musikverein, so vivid was the recreation of the acoustic environment that I felt as though hearing it through these speakers must be what it sounds like in person. Listening to this album on the F226Be speakers had a transportative effect by bringing me to the time and place of this recording. Even though the recording was performed in a concert hall (which can blur out imaging somewhat), I was still able to distinguish the instruments from their acoustic reflections. One example of this was Anne-Sophie Mutter's energetic violin performance from the track 'Devil's Dance.' I was surprised at the F226Be's ability in bass frequencies; these are not huge tower speakers yet the bass could be powerful when asked for, such as on thunderous crescendos with lots of bass drum playing. They sounded like bigger speakers than they were, and I can only imagine what their bigger brother, the F328Be with its much larger cabinet and three 8" bass drivers, could do. I found the F226Be's dynamic range to be very good when considering its medium-sized tower speaker form. They had no problems handling louder passages, nor did they lose any finer details in quiet passages. All of the instruments sounded pitch-perfect and realistic, and there were no tonal abnormalities that I could detect; they sounded like what they are supposed to sound like. It was a pleasure to hear and relive so many classic pieces from such a terrific recording of a terrific performance on such terrific speakers.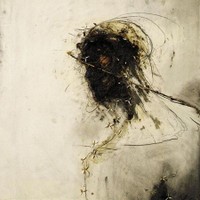 Another movie score-related album that I listened to was Peter Gabriel's score for 'The Last Temptation of Christ.' This eclectic score is a very different animal from John Williams' orchestrations, and it may even be surprising to fans of Gabriel's typical work for how exotic and experimental it was. This album, which won the Grammy Award for Best New Age Album in 1990, fuses Middle Eastern and North African instruments and influences with new age and prog-rock sensibilities to fit a film score structure. It is a unique work, and for me, remains one of the most memorable elements of the film. I listened to the 2002 remaster streamed on Qobuz in a 96kHz/24-bitrate. The variety of sounds and instruments and the skill with which they are woven together make this album an absorbing listen and a compelling narrative in its own right even unattached to the imagery of the film.   
     
As I fired up this album, I was again impressed by F226Be's ability to handle dynamic range, since 'The Last Temptation of Christ' is such a percussion-rich sound mix. Much of the percussion had a low-pitched tuning to give them a sense of weight, and the emphasis on bass here was no impediment to the F226Be. The drums on this album had muscle and punch. Again, soundstaging was superlative, and the plethora of stereo effects used on this recording were vividly realized. At times, the sound was given an otherworldly soundstage, and the F226Be speakers conveyed the intended mystical effect with precision. The wide variety of instruments employed here had very good spatial delineation, and even though the mix was dense with instrumentation, the sound never became confused or ambiguous. This album has an epic sound, although not one that would be expected of a traditional biblical epic, and the F226Be speakers brought out that larger-than-life scale. Through the F226Be speakers, I was able to discern the analog origins of this album because I was able to hear some of the artifacts of analog recording from its day. It is not a new album with the original recording performed over 30 years ago; however, it still sounds fantastic to this day, and only a critical listen could reveal flaws from the original recording medium. Peter Gabriel's music for 'The Last Temptation of Christ' is an unconventional soundtrack but nonetheless a very beautiful one, and I think that the F226Be speakers were able to fully express that beauty.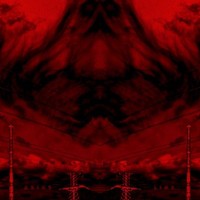 For something to stress the speakers, I found a delightfully raucous album from a Russian artist known as Axius Link (or more properly ∆XIUS LIИK) in the 'witch house' genre of electronic music which features heavy bass, fat percussion, and heavily distorted vocals with gloomy and dejected themes; think dubstep or trap music with a gothic overcast. The album's title is 'СТЕРТЫΞГРАНИ'. Witch house isn't really a genre that I gravitate to, but for some reason, I quite enjoy this artist's work. Since this album is a spectrally dense recording that uses almost all of the dynamic range of the recording scale throughout its running time, it will give any loudspeaker a real workout over all of the drivers.   

One track into СТЕРТЫΞГРАНИ, there was no doubt that the F226Be speakers could rock. The electronic synth leads sounded appropriately massive, the kick drums had a visceral thump, and the snares had a whiplash snap. The bass was strong but past a certain point on the volume knob it couldn't match that of a subwoofer, but that was a very high drive level. If you like to listen to bass-heavy electronic music at very loud levels, it still may be worth adding a subwoofer or two, but the F226Be's two 6.5" woofers did admirably well. The F226Be speakers projected a wide and spacious soundstage, and the music was given an immense scale by this expansive sound. Given a proper pair of loudspeakers, this music sounded big in a way that headphone listening just can not match. My guess is that such an obscure artist will not often have their music reproduced on such high-end speakers, and that is a shame, because 'СТЕРТЫΞГРАНИ' as played back on the PerformaBe F226Be speakers at a befittingly loud level, sounded great.    
Movie Watching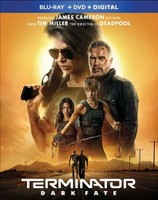 A big center speaker deserves a big movie, and productions don't really get any bigger than the Terminator franchise. I had bought 'Terminator: Dark Fate' some time ago on Blu-ray but had not had an opportunity to view it yet, and I figured that the kind of large-scale action scenes that Terminator movies are known for would make it a good candidate to see what the PerformaBe speakers could do. This 2019 sequel opened to mixed reviews, but I was curious to see it since I had heard that it ignores the last few sequels and is more of a direct sequel to 'Judgement Day,' the last inarguably great Terminator movie. That is a smart move and gives it the potential to overcome the mixed bag of the Terminator franchise that had set in after the second film. 'Terminator: Dark Fate' proved to be a terrific vehicle for the PerformaBe speakers. I had set the volume to relatively high levels, and the F226Bes and C426Be were able to relay the spectacle and wide dynamic range that one would hope for in a 'Terminator' movie. The car crashes, plane crashes, gunfights, and robot brawling were all given a real punch by the PerformaBe speakers, and the action scenes were powerfully rendered. The sound was like a big-screen experience. Dialogue intelligibility was never a problem, and all the spoken lines were clear. The music, which was mostly an original score but occasionally harkened back to themes from the first two movies, was also a treat to hear on these speakers. And, I quite enjoyed the isolated score on the end credits. The speakers didn't quite reproduce deep bass as powerfully as a subwoofer would, however. The bass they did recreate was excellent, and I would say the aural experience was a full one in the sense that nothing critical was missing, but a subwoofer would have added more weight in deep bass. Overall, I enjoyed watching the latest Terminator movie on the F226be and C426Be speakers, although they don't quite have the heft in the lowest octave that a subwoofer would provide, but I don't think that anyone could reasonably expect that from them anyway since they are only using two 6.5" bass drivers.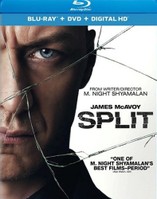 For something that is more dialogue-driven, I also had the 2016 M. Night Shyamalan thriller 'Split' on Blu ray for some time yet had not come around to watch it yet. 'Split' opened to critical acclaim, something that Shyamalan doesn't receive too often anymore, and it had an interesting premise that looked rich in dramatic potential. James McAvoy plays a man who has a severe case of multiple personality disorder. He abducts three girls and holds them in his basement, and the girls must escape his clutches before his most vicious and homicidal personality emerges. This premise sounded like a good test of the C426Be's ability to reproduce dialogue, since McAvoy was sure to give a multifarious performance, essentially playing 24 different characters. 'Split' ended up being quite an entertaining movie, and its soundtrack shined with the Revel PerformaBe speakers. The dialogue was never less than crystal clear, and the C426Be center displayed McAvoy's speech contortions per personality to their full glory. The music by West Thordson was an effective mix of pathos and unsettling tension. Of note particularly is the dissonant bowed double bass sound, which was sharply reproduced by the PerformaBe speakers for an air of horror. The music had to carry most of the sonic palette of this movie since the majority of it took place in locked, featureless rooms, and so the music itself was rich in atmosphere in order to compensate for the location's lack of sound. The musical score was the most memorable aural element of 'Split,' outside of McAvoy's performance. The score became a critical element of the movie, which the PerformaBe speakers gave an immersive quality. Sound quality is still vitally important for movies that aren't CGI-laden effects fests, and I feel that 'Split' demonstrated the advantages of a high-fidelity sound system when reproduced by the PerformaBe speakers.     
The dialogue was never less than crystal clear from the C426Be center channel speaker.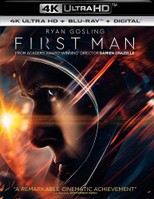 Another movie that I had finally had an opportunity to see was the 2018 release 'First Man' that told the story of Neil Armstrong's involvement in the Apollo Space program. I thought that this would be good audio demonstration material since it was bound to have a good balance of dialogue, effects sounds, and music, all mixed to the highest standards being such a high profile project. The music score, in particular, composed by Justin Hurwitz, is a noteworthy work that uses a 94-piece orchestra along with some non-traditional electronic instruments such as a theremin and a Moog synthesizer. Watching 'First Man' with the PerformaBe speakers was a fantastic experience. The sound design itself followed the direction of the movie, where most of what was filmed was shown from the perspective of the principle characters. So the effects sounds were recorded and mixed to sound like what the characters would have heard themselves. The PerformaBe speakers made for a convincing aural recreation of these pilots' nail-biting experiences. The cockpits of the various craft shuddered violently, and a powerful sound system is needed to realistically portray the clamor of these machines pushed to such extremes. Even though the history of the Apollo program was already known, both the filming and the audio production were so good that watching the movie was still a nerve-wracking experience. The music score was marvelous and a real treat to hear on the PerformaBe speakers. The theremin, long known for being the sound of that cliched 'eerie' flying saucer music from cheap science fiction movies from the 1950s, here on 'First Man' sounded quite lovely, and provided an especially gorgeous sound with such a capable sound system. Hopefully, the theremin's use here will compel its inclusion in more serious music pieces. After viewing 'First Man,' I was so impressed by the sound design as well as music that I looked up any awards or accolades that it might have received for that element. I was not surprised to see it had won a Golden Globe for 'Best Original Score,' and was nominated for an Academy Award for 'Best Sound Design' and 'Best Sound Editing' among other awards for score and sound design. 'First Man' was an impressive feat in both sight and sound, and such an artistic achievement deserves a sound system on the level of the PerformaBe speakers.     

See also:
Confused about what AV Gear to buy or how to set it up? Join our Exclusive Audioholics E-Book Membership Program!
Recent Forum Posts:
TankTop5 posts on December 15, 2020 22:09
ryanosaur, post: 1443018, member: 86393
As a tease, Philharmonic Audio is working on a Tower version of the very well regarded BMR. It will be built around the 8" Revelator from Scan Speak in a MLTL design with an MTM set of the BMR drivers and a Raal 64-10. This ill deliver some serious competition I think to many speakers out there. These are expected to cost possibly in the low-mid $4K range for a pair. Dennis' gear tends to punch well above the pricing and may well give some of these $7K pairs a serious run.

Then they need to build a MLTL center BMR… just put the tweeter with a mid under then stick the bass driver on either side. Maybe a bit wide but if you've got a large projection screen…
ryanosaur posts on December 15, 2020 19:58
Genso, post: 1442994, member: 31078
Are there other options at this performance tier people here would advocate for home theater use?

At this price point?! Yeesh.
I'd like to see a showdown between the Monitor Audio Golds and these Revel Berylliums. My only experience with MA is the Silver line and I was very impressed. The new Golds that debuted last year are supposed to be legit, and one reviewer (fwiw) described them as being within 85% of the performance of their Platinum line. Subjective, of course, but as more companies trickle down their Flagship technology to lower tiers, I could see hitting a point where the lower tiers become exceptional values. The Golds are outa my reach, but I look forward to seeing what happens when they refresh the Silvers.
I digress…
Most companies have a tier or three that are suitably rare and challenging to attain. KEF fans will rave about the Rs and the References (and the Blades)… Wharfedale, ELAC, PSB… They all have gear that seems well respected. Don't forget about companies like Focal and Canton, too. A side mention for Ascend Acoustics Sierra Towers and associated kit is worthwhile here.
If you've the patience and interest companies, like Salk Sound and Selah Audio do great work and may be able to deliver some impressive product if you want!
End of the day it comes down to your goals. And likely at these price points, aesthetics. (Which is a shame because I would love to experience the bigger JTRs like the Noesis 215RT!)
As a tease, Philharmonic Audio is working on a Tower version of the very well regarded BMR. It will be built around the 8" Revelator from Scan Speak in a MLTL design with an MTM set of the BMR drivers and a Raal 64-10. This ill deliver some serious competition I think to many speakers out there. These are expected to cost possibly in the low-mid $4K range for a pair. Dennis' gear tends to punch well above the pricing and may well give some of these $7K pairs a serious run.
Genso posts on December 15, 2020 18:18
Are there other options at this performance tier people here would advocate for home theater use?
shadyJ posts on December 15, 2020 08:37
Genso, post: 1442808, member: 31078
@shadyJ Can you elaborate more on why the score for dynamic range was 4 out of 5 stars? This concerns me for the home theater application.

The C426Be speakers have a dynamic range that is well above average, but there are speakers out there that have a wider dynamic range, such as some of the offerings from JTR. If you are the type that wants dynamic range above all, you can do better for the money. It's hard to imagine anyone being unhappy with these speakers though, but for those who are trying to exceed THX Reference levels in a large room, they may be happier with something that uses compression drivers.
Genso posts on December 14, 2020 23:17
@shadyJ Can you elaborate more on why the score for dynamic range was 4 out of 5 stars? This concerns me for the home theater application.
Post Reply