Home Theater Is More Relevant During COVID-19 Than Ever Before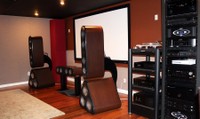 Nobody saw COVID-19 coming until it was ready to kick our collective butts in early 2020. All of us being stuck at home thanks to COVID-19 has changed our way of life in so many impactful ways. 20 years ago, owning a home theater was an extreme luxury. Today you get a much better home theater experience than ever before at a fraction of the cost. In this article we briefly look at how home theater has changed over the last 20 years FOR THE BETTER.
Home theater has changed a lot over the last 20 years. COVID-19 has made some changes in the way we live our lives, but luckily home theater might be one of the positives to come out of this.