Denon & Marantz Firmware Update Adds DTS:X Pro & Key Audio Feature Back!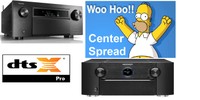 Although AVR receivers get firmware updates periodically, both Denon and Marantz AVRs will receive a firmware update this Nov 11th, 2020 thanks in part to Audioholics requests from our Youtube videos and in depth reviews. Sound United heard our call to action and our reader feedback and made things happen. This firmware update packs many incredible features to enhance the products such as DTS:X Pro and IMAX enhanced features. We are happy with the one update that will restore a key feature because of you, the reader. Read on to find out what updates are coming to your Denon or Marantz receiver.
On Nov 11th, 2020, select 2019 and newer Denon & Marantz AV receivers will be receiving a BIG firmware update that brings DTS:X Pro, Front Wides, and also restores a key audio feature we've been asking for.