Is Home Theater As We Knew It – Dead?
Is Home Theater As We Knew It – Dead?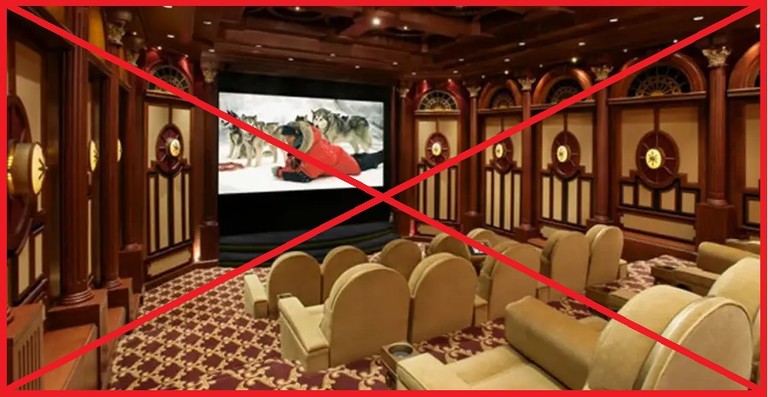 Are Home Theaters Dead?
"News of my death is greatly exaggerated" is a quote attributed to Mark Twain but it might also be relevant to the world of home theater to a certain extent. While not dead by any reasonable measure, the home theater industry has gone through some serious changes in the past 25 years and the hobby, as well as business, is simply not the same as it was when Theo Kalomirakis was designing red velvet, art déco dedicated screening rooms all over the world, complete with a popcorn maker. Things are very different today.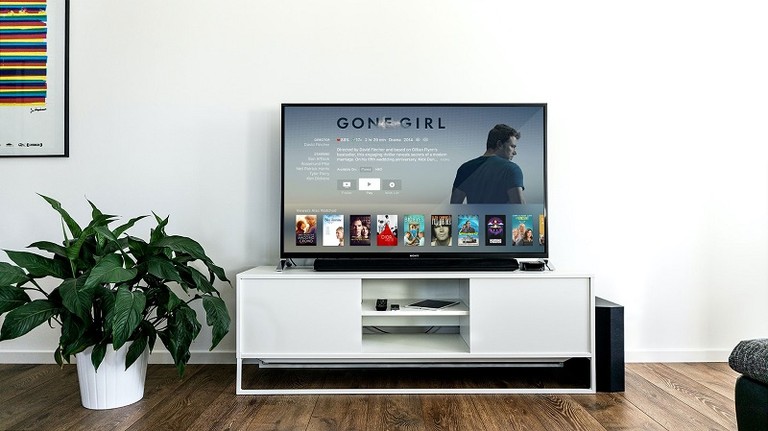 Technology and globalization have changed the home theater world radically in recent years. The physical size of nearly everything in a home theater is smaller yet more powerful (and better) except for UHD-TVs, which are now also less money but far larger than in the early days. The complexity needed to play back a movie in your living room is basically gone. Today's mainstream AV gear can often be set up in minutes and controlled by either a smartphone, a tablet or voice control. In the old days, effectively programming a Philips Pronto remote required the better part of a master's degree in computer science or electrical engineering from a school who's name ends in "Institute of Technology".
The Powerful Role of Vizio in the Home Theater's Evolution Over Time
About 50 miles down the infamous 405 freeway from here, William Wang created Vizio to bring flat HDTVs to the masses at prices that anybody could afford and he delivered on his promise. Perhaps more impactful for the home theater enthusiast and business alike, Vizio also radically changed the distribution model for how people buy HDTVs. In the early days of flat TVs (even pre-HDTV) these picture-like sets sold for $10,000, $15,000 and even more and were sold at traditional audio-video stores, specialized big-box retailers as well as custom AV installers. The profit margins weren't as high as audio products like AV receivers or loudspeakers, but back in the early 2000s, one could make a respectable profit selling a 55 inch, non-HDTV flat-screen. Vizio changed all of that. By bringing distribution to grossly mainstream and service-less venues like Costco, Wal-Mart, Target and elsewhere allowed Vizio to drop prices aggressively while also stripping the profit margin out of HDTVs. Many traditional retailers didn't know how to cope. The same could be said for the more traditional TV manufacturers. Today, we have a few premium brands of 4K (and 8K) UHD-TV manufacturers and another group of low-cost, value players in the market. I heard through grapevine that Amazon is likely coming to market this fall with their own set with lots of built-in goodies that will also be SMPTE broadcast compliant at a very low price. Roku is making their own TV. Without question, the UHD-TV is the driver of the home theater market, but the market is very different now. The idea that you can hang an 85 inch 4K LED television on your wall for about $3,000 is game-changing.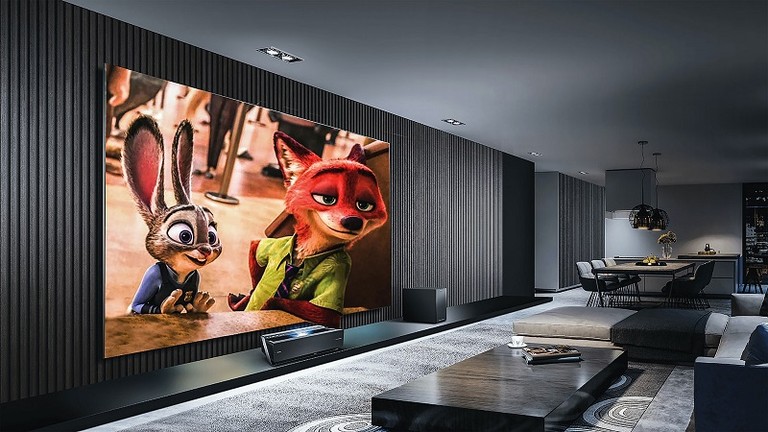 Some might question why anyone would want a projector at this point when considering the cost, ease of installation of these large-flat TVs versus a projector and a screen? For those who need a bigger screen, there are 90 and 100 inch flat screens that have down in price recently too. Historically, going above 85 inches was a gigantic jump in price (over $10,000) but that isn't the case now. You can buy a 100" U8 4K Hisense TV for only $5K from our channel partner Dreamedia and other retailers. Only decades ago a 42" Plasma cost 3X that amount!
Sonos Has Change Audio Playback and Consumers Love It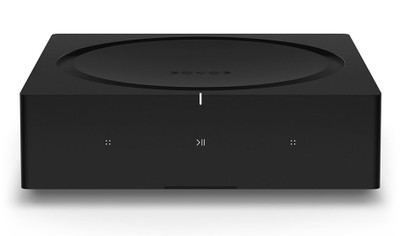 It is hard not to like Sonos. The interface is Apple-like and excellent. Sonos integrates all streaming music services flawlessly. It connects on its own mesh network and reinvented what a distributed audio system means in the consumer electronics world today. Some of the most high end custom installers use Sonos, even in million dollar systems, because it is just that good (and stable). Sonos integrates with Crestron, Control4, and Savant but more importantly it integrates with your smart phone or tablet via a super-easy-to-download app. You can add zones and rooms to your Sonos system without really any fuss or muss. You can add a portable speaker. You can control your main speakers with voice activation like an Amazon or Google speaker, which many consumers like. Most everything other than the power plug is wireless with Sonus. There is a lot to like. Dealers struggle with the fact that, while not as bad as Vizio (not many specialty retailers or CI guys sell Vizio), the profit margins are quite thin on Sonus versus other distributed audio or home theater electronics. Today's home theater dealers can't be handing out the obligatory 20 percent off discount to anybody and everybody that walks in the door as that doesn't leave enough money to keep the lights on. With that said, the value proposition that Sonos brings to the table is hard for many in specialty AV and custom installation to ignore. The bigger issue is that once a consumer is in the Sonos bubble, they tend to stay there and the all-important upgrade path stays limited and often low profit margin.
The Sonos Amp ($699) is a 2.1 (125 watts/ch) with sub out and the ability to add additional units for a whole home audio solution controlled from your mobile device or tablet with no complex 3rd party programming.
Does Anybody Remember Tweeter?
I am not talking about that high frequency driver on the top of your Bowers & Wilkins speakers. I am talking about the Boston-based retailer. Flush with Wall Street money, Tweeter went on a buying spree of every good regional audio-video chain that they could get their hands on. They bought my old place of employment in Philadelphia, an 18-store chain called Bryn Mawr Stereo. And they bought every other regional chain like it including Dow in San Diego and easily a dozen others resulting in them becoming an overnight national powerhouse in the AV space. With a $750,000,000 market cap and gross mismanagement, they went right out of business. Every single store. Add that to the demise of Ultimate Electronics and Circuit City in the same rough timeline and all of a sudden there was only one player in the retail space that could give a company national reach – Best Buy. This caused great concerns for many AV manufacturers as they were used to getting million dollar purchase orders from more than one location, plus their re-order purchases from traditional retailers. Thanks to the bad party that Tweeter started (and got shut down), the specialty AV retail world was never the same. To this day, there is no other way to get your home theater and/or audio products into markets like Minot, North Dakota or Juno, Alaska without Best Buy and trust me, they know it and make the most of it as they have all of the power now in terms of distribution.
Globalization, HDMI and the Sheer Expense of Making AV Products
AV enthusiasts often talk about how important it is for products to be made in America, but not only is it very expensive to make products, many of the best products can only be made overseas. For example, nearly every AV receiver is made in Vietnam these days. Their factories simply know what to do. Their quality is high as is their experience. They have North American oversight and they are respectfully quite good at what they do – far better than anyone could do in America or Western Europe.
HDMI is another barrier to entry in the AV world. Hollywood demands the connection for copy protection and, for the most part, HDMI is pretty strong at locking down movie content on say, Blu-ray. HDMI, at this stage, is also a pretty popular format with consumers, as one cable can deliver audio and video at often bleeding edge levels of performance. The cables aren't all that expensive. They don't easily break (remember S-video… ugh) and they make a solid connection nearly every time. The problem is that it is crazy expensive for smaller, high-end audio-video manufacturers to license HDMI, let alone implement it. In the days before HDMI, you saw $5,000 AV preamps with audiophile credibility from the likes of Sunfire, Krell, Meridian and others. Now, these companies can't deliver on a modern AV receiver or AV preamp even for double that money but more mainstream companies like Denon, Marantz and NAD can and at far more reasonable prices. They are taking even more market share in the audiophile space because these companies are bringing HDMI to audio components so that connecting a Sonos, an Apple TV, a universal disc player, a cable or satellite receiver or a Roku is as easy as pie. HDMI is a high barrier to entry but one that consumers now demand and get in lower end, more mainstream products.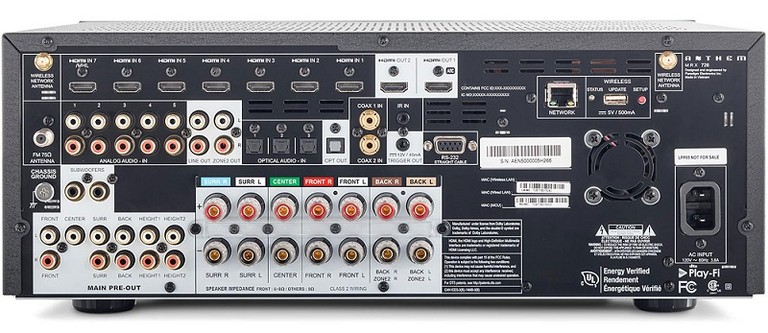 Higher end companies like NAD, Marantz, Anthem and others have kept up. Others need to invest to get back in the game if they want to get their share of the massive home theater market as it is now a big boy's game with a very high barrier to entry.
So Is There Any Good News About Home Theater Going Forward?
Yes sir, there is plenty of good news in the home theater space these days and we should embrace that fact. While demand for home theater is down since COVID (I measure it in the 25 to 33 percent range when looking at the top home theater related search terms) people are consuming more and more content. They are just doing it using more and more mainstream (aka: non-specialty-AV gear) because of cost, ease of use and distribution access.
Television today, specifically paid streaming content, is absolutely fantastic art. If you aren't binging key shows (think: Billions, The White Lotus, Succession, The Bear and dozens more) then you are missing out on the best content out there including all of new music and specifically Hollywood movies as they simply can't compete. If you aren't running today's best streaming content through your AV or audiophile system, that's a truly blown opportunity as today's streaming TV content is so good and features not just the best writers, directors and editors but it is also attracting truly A-List actors. This is the golden age of TV, be it 4K food porn, thoughtful and award-winning documentaries, any number of these six-episode series as well as longer format shows. This is a great time to be watching TV and the content is so good that it demands to be played through your two channel or home theater system.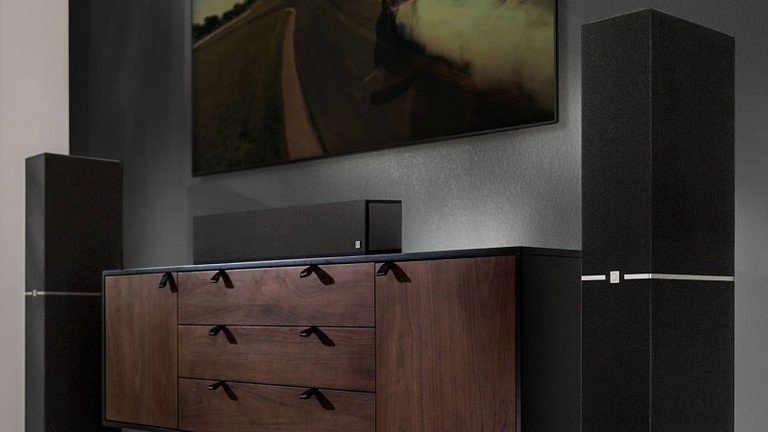 Home Theater Today is for Everyone
The cost of gear is lower than ever before while the performance keeps getting better and better. $5,000 Definitive Technology bi-polar speakers not only can be mated with top-mounting effect speakers, but their internal powered subwoofers come powered with GaN (Gallium Nitride) amp technology that lowers heat and increased power by 300 watts. Today's end point streamers can pump 4K video as well as 24/96 (or better) sound into your AV system with a starting price of less than $100 per component. Room correction technology is becoming more and more prominent as well as also more affordable so that say your $1,000 AV receiver can correct room issues that would have required a contractor AND a acoustician to solve 10 years ago. The availability of excellent products being sold online (specifically Amazon but also at other places like Crutchfield, Audio Advice, Apos Audio and Dreamedia) is getting better and better. More premium brands are selling more and more of their product offerings online so that you can get them with fast shipping, liberal return policies and pretty low prices. At the same time, the remaining AV and audiophile dealers know that they need to offer better and better value to consumers. We are seeing more and more of them offering better installation options, stunningly good trade-up policies, legacy product recycling, long term repair replacement products and more.

Today isn't the golden age of home theater as much as it is an evolved time where the products aren't just for people with screening rooms and large homes. Home theater is for the people and much more easily accessible than ever before. I don't care if fewer people are searching for home theater topics on Google, the type of experience that you can get from today's modern home theater systems are not just more affordable, smaller, but they deliver in terms of an emotional experience be it for music or movies/TV and with that in mind is an excellent time to be into this hobby. As Captain Picard says "Make it So".