Audio Video Cable Budget Guidelines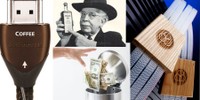 We continue to receive numerous emails about how one should budget their spending on audio and video interconnects, HDMI and speaker cables and power cords. This cable budget guideline gives you some advice on this very topic for each type of cable to get the most out of your home theater without falling prey to cable snake oil. Be sure to check out our recently added YouTube discussion for further perspective.
This is a Cable Budget Guideline for HDMI, Component Video, Speaker cables, interconnects and power cords to help you get the most from your home theater system without wasting money on snake oil.