Kevin Garcia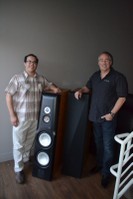 Kevin is a blue-collar family man and A/V enthusiast who was introduced to music and movies by the age of five. Music he heard at the time was anything from the Beatles to Chicago to John Williams (ala Superman: The Movie, Star Wars). He grew up listening to music on vintage equipment, which was modern at the time. Some of the hardware was a Pioneer SX-737 receiver, Pioneer PL-518 turntable, Pioneer cassette deck (model # is unclear), and a reel-to-reel player of a make and model that is also unclear. He remembers cleaning the vinyl records with the cleaning brush and delicately mounting the tape from one reel to the next. All this equipment was played through a pair of 10" 3-way Pioneer loudspeakers with blue fabric grills and on occasion, some vintage headphones.
He grew up on a long list of 80s entertainment including but not limited to Super Friends, He-Man, Transformers gen.1, Robotech, Voltron, GI Joe, Thundercats, Bionic Six, Star Wars, Star Trek, Indiana Jones, The "Real" Ghostbusters, Lethal Weapon, Family Ties, MTV, and Reading Rainbow. He also started collecting comics in junior high school and his interest in music and movies grew significantly. In 1993 the first soundtrack he purchased was the musical score to Jurassic Park. That is also when he started his ever-growing collection of movies and soundtracks. He became interested in how movies were made and watched many behind the scenes featurettes especially on E! before DVDs arrived. While bagging groceries in high school, he saved up and purchased his first Dolby Pro Logic HTIB by Aiwa. Then a few years later, he purchased his first Dolby Digital receiver and DVD player.
After high school, he began installing home theaters for friends and family. He was able to optimize their systems using the THX Optimizer found on several DVDs he owned. He took courses on Film Music and Film History in college just for the heck of it along with receiving his BFA in Illustration from Cal State Fullerton. While in college, he visited a local high end A/V shop called Sound Factor and had his first introduction into the big leagues. They carried products from B&W, KEF, Sunfire, and Energy just to name a few. He then realized that there was more available then what was at Best Buy, Circuit City, etc. As the Internet grew, he began searching out other equipment to have great sound at his fingertips. He delved into the realm of online forums. New and interesting products intrigued him and so he began to research those products. Places like Audioholics, AVS Forum, Home Theater Shack, etc. expanded his mind on all things A/V. Within the past ten years he has put together a pretty decent budget home theater/two-channel system. He came to Audioholics with the anticipation of contributing his thoughts and at the same time, increasing his knowledge in this field. Being able to experience awesome sound first hand is what he thrives for. For the past three years, as an author for Audioholics, he strives to find the middle ground especially for the "Everyday Joe" consumer. He enjoys writing demo reports and reviews of two-channel audio equipment. He believes even the "little guy" can enjoy great sound at prices he can afford.
Follow me on Social Media
Latest content created by Kevin Garcia