Ray Super Remote Product Preview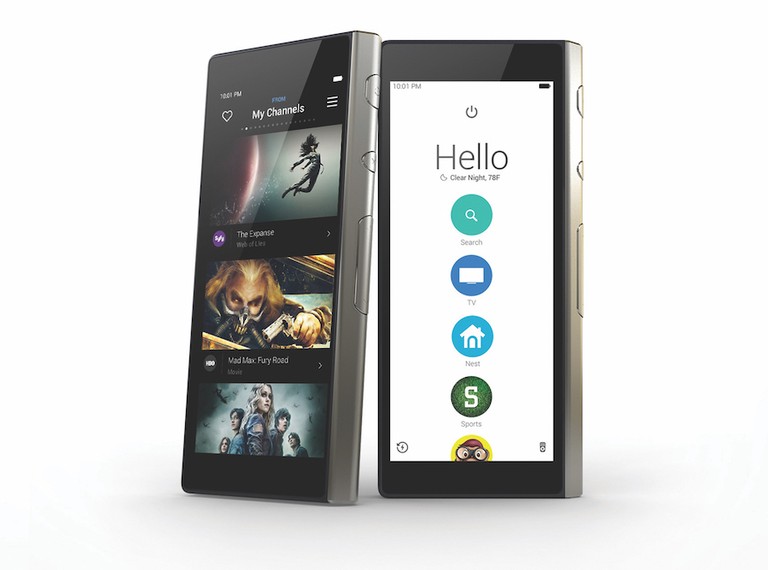 Summary
Dual Core CPU
ARM Cortex-A9, 1.0GHz, GPU
1Gb LPDDR2-SDRAM
8Gb flash memory storage
Display
4.8" custom aspect ratio (21:9)
16 million (24bit) color display
1120x480 resolution
Capacitive touch screen
Durable CorningR GorillaR Glass
Battery & Power
Built-in rechargeable Li-on battery
2980 mAh battery capacity
IR capabilities
7 transmitting LEDs
1200+ brands and device universal IR code database
Code learning capability
802.11 b/g/n 2.4 GHz Wi-Fi
Built-in Apps: TV, DVR, On Demand, Kids, Sports, Apple TV, Roku, Xbox, Nest
Languages: English only
Overall dimensions (HxWxD) 5.5" x 2.5" x 0.5"(excluding connectors)
Net weight 5.7oz.
Ray Enterprises was started in 2012 by David Skokna as a consumer technology company with the mission to breathe new life into everyday products for the common consumer.  This New York City based company is made up of product designers, technologists, and marketers.  Last year Ray Enterprises unveiled a product called the Ray Super Remote, which is their only product thus far.  This product was named the CES 2016 Innovation Awards Honoree.  At $249 this device is about the size of normal sized smartphone or iPod.  Sure there are many other great "universal" remotes on the market such as the units made by Logitech, but Ray claims that this device is the ultimate touchscreen universal remote control.  Since it is very similar in operation as the numerous hand-held devices common in this day and age, the majority of consumers will not have much difficulty, if any, with using this remote.  That is one of the goals of Ray in this regard and the reason for the production of the device.  David Skokna, Ray's CEO states, "With the Ray super remote, we've created one device to control the entire living room experience along with the ability to personalize content searches with a device that is familiar in format, easy to use and simplified." Another nice touch is 5-7 day standard shipping is free.
The Super Remote is 5.5" tall, 2.5" wide, 0.5" deep, and weighs only 5.7oz.  Roughly similar dimensions as the iPod Touch with a slightly smaller screen and little bit thicker depth.  The screen is designed for effortless swiping with a low-friction coating that also reduces fingerprints.  The Corning Gorilla glass screen is scratch-resistant and tested to withstand drops and bumps.  The Super Remote's 3 buttons are located on the right side of the device.  The right side of the remote is machined out of high-grade aluminum and has an anodized finish for durability.  The top most button is the lock button (this button can also unlock the device with no need for password or special motion), the middle button is the mute button, and the bottom is the volume control.  Also included is a charging dock along with a 120 VAC power adapter.  An included USB to Micro-USB power cord can allow the device to be plugged in with a USB connection to a computer or the power adapter.  The IR connection of the device has a 180-degree transmission radius and a 33ft. operating distance.
Setup Simplicity
The setup of the device seems pretty easy.  A Wi-Fi connection is needed to create a link to your Cable/Satellite service provider.  Using the IR code database one can then link the remote to a number of devices such as your TV, receivers, DVD/Blu-ray players, etc.  A short list of capable product brands can be seen on Ray's website www.ray.co.  There are also a number of built-in applications such as TV, DVR, On Demand, Kids, Sports, Apple TV, Roku, Xbox, and Nest (the programmable learning home automation system that can control Wi-Fi enabled thermostats, smoke detectors, and other home security devices).  All of these apps are on the customization "Hello" screen.  This screen also displays the weather, time, battery life, touch based power(lock) button, and the time display.
According to Ray, you can specialize your TV watching by selecting channels and/or programs that you regularly view.  You can also search for programs by using the QWERTY keypad that is available.  Once you find a particular program, you can rate the programs, like the thumbs up or down on Pandora.  The remote then finds those particular shows you like and also recommends others that are similar.  Another neat feature is the ability to make a list of favorite channels that you watch which are placed in a "Favorites" menu.  Just like an Internet Radio website but for your TV.  Though the unit really has a lot of capabilities, to really get the full potential of the TV experience one must have a Cable/Satellite provider.  Some people may not have that luxury, but the remote can still be used to operate many other devices.  Having the added security of being able to control Nest enabled devices may also be an attractive feature for potential buyers that own their own home.
Ray offers a Help link in which they disclose that their device might not be able to operate some devices.  Ray gives this disclaimer due to the complexity of devices, protocols, and the way IR codes are sent and understood.  I think this is pretty honest, though up-front on their website Ray states that this is "The only remote you need." The Help link contains a number of video tutorials and a plethora of tips and FAQs so one can better understand the operation of the product.  These show the importance of customer satisfaction that Ray exhibits.  Other companies have exceptional customer service as well, but I cannot recall ever seeing so many help topics on one website in a long while.
Conclusion
This is the age of the internet, accessibility, and convenience. It is also an age of multiple devices in the family room.  This results in a room cluttered with several different remote controls for the various devices and struggling to remember what operates what and if there are even live batteries in them to function.  There have been many universal remotes to come and go throughout the years.  Logitech Harmony universal remotes have been some of the best but more choices is always a good thing.  It is nice to see a remote made to resemble something that is familiar for the general public that is also fairly simple to operate.  It's not the most affordable universal remote out there, but given its feature set, it appears to be quite a value.  New apps and updates are bound to become available for this product as technology is ever-growing.  If you have purchased this product or plan to purchase, please post your thoughts so others can use your critiques to assist with their search of the ultimate one device control solution for their entertainment system.  

Unless otherwise indicated, this is a preview article for the featured product. A formal review may or may not follow in the future.