Super Combo Pack Webinars & Ebooks
Super Combo Pack Webinars & Ebooks
Are you looking for help in deciding on the best new AV equipment for your home theater? Or do you need set up tips and advice?
The Audioholics Webinars and E-Books are your answer!
This combo gives you our full arsenal of home theater knowledge to help you make informed purchasing decisions as well as getting your gear properly set up, connected and calibrated. This is a must have for those serious about building the very best home theater systems that their hard earned money can buy.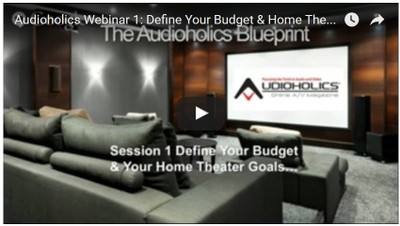 Audioholics Webinars
Gene and Hugo offer you a 3 part Webinar Series with over 5 hours of direct education for everything from:
Component Selection and Finding the Best Deals - we teach you how and where to shop the deals on your dream equipment!

Assembling your Dream Home Theater System - we show you how to put it all together!

Proper Set Up and Calibration to get the most from your Dream System - the system is only as good as the set up and calibration. We show you how to maximize performance of your new and existing gear!

The education in these webinars will save you time and money so you can get the very best home theater you've always dreamed of owning. Let us help you minimize your chances of bad component selection and set up.
These webinars are a must watch!
Audioholics E-Books
Our Buying Guide E-Books will arm you with the necessary knowledge to make an informed purchasing decision on a new HDTV, AV Receiver, Speaker System, Subwoofer and more. While our Set Up Guide E-Books will provide you concise instructions on how to properly set up and configure your new AV gear to ensure you achieve maximum performance and enjoyment.
Must See Interview about the Audioholics E-Books
Audioholics Super Combo Pack Webinars & E-Books + Exclusive Membership
Price: $249 (special sale price is $149.95 for a limited time)
Get ALL three (3) of our Webinars ($250 value) and ALL ten (10) of our Buying Guide E-Books # 1-6 and Set Up Guide E-Books # 7 - 10 for one great price of only $149.95! That's a 40% savings over buying these service individually. To sweeten the deal we even give you a special login to our exclusive members forum area where Audioholics staff and other premium members can answer your questions and engage in home theater talk to further assist you in your purchasing or setup guidance.
We also offer FREE updates to ALL of our E-Books when they become available. This is the BEST deal for any Audioholic serious about maximizing their home theater experience.
This is a lifetime Audioholics membership and support program and is the absolute must have package if your serious about assembling and properly setting up a home theater system!
BUY NOW
Audioholics E-Book Details

E-book #1: Subwoofer Buying Guide
Are you confused on what subwoofer to get? This E-Book will give you the low down on what defines a great subwoofer. If you want a subwoofer that digs down deep you're gonna have to chose a model that meets some of the basic criteria we outline in this E-Book. Let us help you make an educated purchasing decision to ensure you get the best subwoofer product for your hard earned dollar.
E-Book #2: AV Receiver Buying Guide
Are you confused about which AV Receiver to get? This Buying Guideline E-Book will give you a tour of the modern AV Receiver to help better guide your buying decision. How many watts do you need? What does Ultra HD mean? We answer all of that and more. Make sure you get the right AV Receiver for your needs by reading our Ebook.
E-Book #3: Loudspeaker Buying Guide
With all of the great options on loudspeakers it's hard to know which brand and type to chose. This E-Book gives you the basics on what matters in loudspeakers and what doesn't. It separates the good from the not so good. Don't get stuck with pseudoscience, let our guidelines cut through the nonsense to help you make an educated purchasing decision.
E-book #4: HDTV Buying Guide
HDTV technology can be a bit overwhelming. The manufacturers seem to change model#'s almost as rapidly as a parent would change a newborns diapers. This E-Book breaks down all of the tech inside of an HDTV in clear concise language that even a toddler can understand. We discuss the pros/cons between various display technologies (ie. OLED, Plasma, LED, etc). They say a picture is worth a 1000 words, so make it a good one.
E-book #5: Speaker Wire and AV Cable Buying Guide

No other AV consumer product is surrounded by more snake oil than speaker wire and AV cables. In this E-Book we separate the truths from the snake-oil so you can purchase legitimately great cables that will do no harm to your hifi system while also saving you a ton of money. This E-Book alone is worth 100 times the price of our E-Book Membership program!
E-book #6: Sound Bar Buying Guide

Want to improve the sound of your HDTV without cluttering your home with speakers? A Sound Bar is a great option. But there are so many different types, brands and models to choose from. E-Book #6 will break down all the various type of Sound Bars currently on the market to help you make an educated purchasing decision that will ensure you purchase the right product to meet your specific needs.


E-book #7: Home Theater Speaker Set Up Guide

You have finally assembled a great 5.1/7.1 speaker system that would rival most of the local Cineplexes. Getting that "better than being there" experience we often write about cannot be achieved without proper speaker placement or configuration. E-Book#7 gives you precise procedures on how to accomplish this. Great sound starts with great placement!
E-Book #8: Blu-ray Setup Guide
A Blu-ray player will deliver the very best HD audio and video experience in your home theater. But poorly configured, and you won't experience uncompressed audio from Dolby TrueHD or DTS HD and you may not even get 1080P resolution to your HDTV. E-Book #8 takes you on a step by step procedure on how to connect and configure your Blu-ray player just like a pro!
E-Book #9: AV Receiver Set Up Guide
The AV Receiver is considered to be the brain of your home theater system. Don't let that beautiful new AV Receiver you just purchased go un-configured. Let us show you how to properly set it up so you get the best high definition audio and video experience possible. E-Book #9 provides a step by step procedure on how to connect and configure your AV dream machine. Your brain will thank you!
E-Book #10: Subwoofer Set Up Guide

You just bought your dream subwoofer and ready to hook it up. But where should you place it? How should it be configured? E-Book #10 will give you a step by step procedure on exactly how to do this. Get the most out of your sub and be prepared to shake down the house, impress your friends and piss off your neighbors all at once!
Why Should I Buy the Audioholics Super Combo Pack?

Our Super Combo Power Pack offers the best value to you as it includes ALL Three (3) of our Webinars, ALL Six (6) of our Buying Guide E-Books and All Four (4) of our Set Up Guide E-Books for one incredible price of only $249.95 (sale price of $149.95 for a limited time).
In addition, you gain access to our exclusive members only forum area where you can ask questions or get advise from our friendly staff or other Audioholics members. Anytime we make updates to any of our E-Books, they will be offered to you FREE of charge. We are confident these E-Books combined with our exclusive membership will help you achieve maximum enjoyment from your home theater system for a lifetime!
Please see our Refund Policy and Terms of Service and legal notice.
If you have any questions or concerns, please feel free to contact us at customerservic[email protected]. ALL SALES ARE NON-REFUNDABLE AND FINAL.