Furman Elite-15 DMi and Elite-20 PFi Power Conditioners Review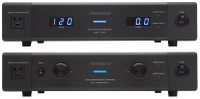 Priced at $559 and $1,199 respectively, the Furman Elite-15 DMi and Elite-20 PFi aren't inexpensive line conditioners / surge protectors. However, they're solidly built and boast non-sacrificial series mode surge protection along with a few helpful features like switchable outlets and 12V triggers. The Elite 20 PFi also comes with "Power Factor Technology", which is a current reservoir which Furman claims will give your amplifier a boost during demanding peaks but we were unable to verify that claim. Regardless the products work well at providing surge protection and serving as a single place to make all of your power connections.
Review: The Furman Elite 15 DMi ($559) and Elite 20 PFi ($1,199) aren't inexpensive power conditioners, but they're well built and boast series mode protection plus a few handy features.