Tripp Lite AV550SC UPS Power Block
Tripp Lite AV550SC UPS Power Block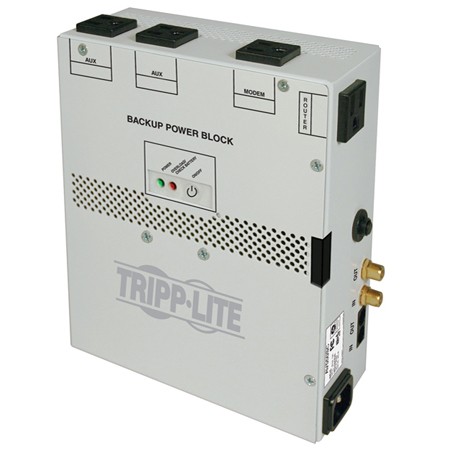 AV550SC UPS
OUTPUT
Output VA: 550
Output watts: 300
Output voltage regulation: BATTERY MODE - PWM sine wave output 120V +/-5%
Output frequency regulation: LINE MODE - passes line frequency of 60Hz +/-10%; BATTERY MODE: Inverter output regulated to 60Hz +/-0.5Hz
Outlet quantity / type: 4 NEMA 5-15R
Overload protection: 10-amp breaker
INPUT
Maximum input amps: 15A
Input connection type: Detachable 6" IEC320-C14 power cord
Recommended Electrical Service: 15A, 120V
BATTERY
Full load runtime: 3 minutes
Half load runtime: 10 minutes
DC system voltage: 12V DC
Typical battery lifespan: 3-6 years, depending on usage
Battery recharge rate: 15 hours (10% to 90% capacity)
LEDS ALARMS & SWITCHES
Front panel LEDs: 2 LEDs indicate power status and overload/check battery status
Switches: Includes 1 on/off push button (also acts as recycle/reset button)
SURGE / NOISE SUPPRESSION
AC surge suppression: 1038 joules
AC suppression response time: instantaneous
Dataline suppression: HD-compatible 2.2GHz coaxial and telephone/modem/DSL line surge protection
EMI / RFI AC noise suppression: Yes
Transfer time from line power to battery mode: 2-4 milliseconds
Low voltage transfer to battery power: Switches to battery power when line voltage decreases to 99 volts or less. Resets to line power mode when line voltage increases to 104 volts or higher.
High voltage transfer to battery power: Yes
PHYSICAL
Unit weight: 7.8 lbs
Unit Dimensions: 8.35" H x 6.78" W x 2.97" D
Cooling method: Convection
Certifications: 1778 (TUV) for US and Canada, NOM, FCC
Warranty: 2-years
Pros
2.2GHz bandwidth on coax cable protection
Small form factor
2 year warranty
Cons
Batteries not serviceable
Not wall-mountable
Short 6" power cord
Introduction
It's easy to think of UPS battery backup systems as products intended for use with home theater systems, PC systems and servers. But what happens when you have a remote area that houses your routers and cable modem? For this, Tripp Lite presents their AV50SC, a 300W (550VA) device with 4 outlets that provides basic battery backup protection for your cable modem, router, switch and/or other devices that are just as important to your home theater or office setup, but don't necessarily require a fancy box and tons of power output.