$2,500 5.1 Channel Recommended Home Theater System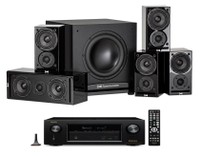 $2,500 is the sweet spot where things start to get interesting when building a 5.1 home theater system. Unlike the $1,000 5.1 system we built recently, there aren't any glaring compromises to speak of. With top name speaker manufacturers offering all in one 5.1 speaker systems for around $1000, you can get into some serious peripheral equipment with the ability to expand into immersive 3D sound with a small future purchase of additional speakers. Curious to see what equipment we picked? Keep reading.
Looking to get a killer 5.1 home theater with UHD capability with expandability for immersive surround sound? Check out our recently updated $2,500 recommended system.