Towers of Power: A Look at the Best Super Speakers
Towers of Power: A Look at the Best Super Speakers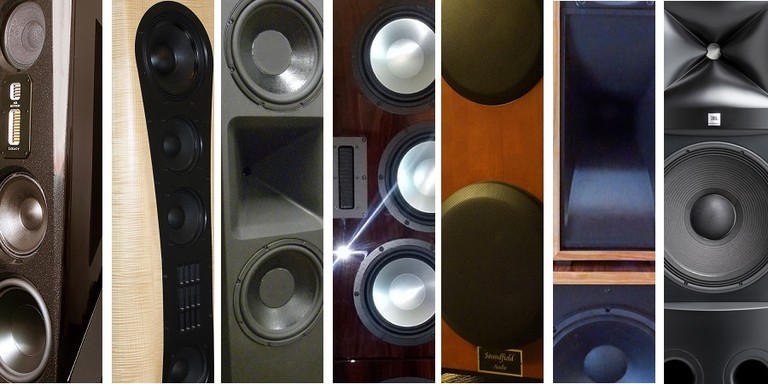 "There is no replacement for displacement" is an adage among automobile enthusiasts that holds up just as well in the audio world. In the world of automobiles, it most commonly means that the best way to produce power is to have a large engine that holds more swept volume by the cylinders rather than using gimmicks to increase power from a small engine. This principle is true for audio as well. Producing high amplitudes or low frequencies or especially high amplitudes at low frequencies means displacing a lot of air, since sound is simply compression waves of air. While there are tricks that small speakers can sometimes use to seem big, when they are placed next to a speaker that has true displacement capability, the difference in sound as well as sight is obvious. In this article, we take a survey of some of the more powerful home audio speakers available at the moment.   
The speakers we will look at mostly hang around the ten thousand to twenty thousand dollar range per pair. Expensive, yes, but new car expensive not new house expensive. They are usually, but not always, full-range speakers with very healthy bass capability so a subwoofer definitely isn't needed for most of these. The design decisions and component choices have a lot of variation at this price point, as opposed to budget speakers and their ubiquitous five or six inch woofers and one inch dome tweeters. However, one trait these goliaths all share is they are not small. Big air displacement necessitates a considerable amount of cone area, and a large cabinet is needed to hold large woofers. These speakers are not lightweight either. The cabinets are built to remain inert under strong internal pressures, and lots of bracing and mass is needed for that task. The heavy-duty motors of the powerful drivers employed by these behemoths add considerably to their weight as well. Let's take a look at some of the specs for these speakers in the table below: 
| | | | | | | | |
| --- | --- | --- | --- | --- | --- | --- | --- |
| | Volti Alura | JTR Noesis 215RT | JBL M2 Master Reference Monitor | Legacy Aeris | Funk Audio 8.6P | RBH Sound SV-831/SV-1212 | Soundfield Audio Dipole1 |
| Frequency Response | 35Hz- 20kHz | 18Hz- 24kHz | 20Hz- 40kHz | 18Hz- 30kHz (+/-2 dB) | 3Hz- 40kHz | 18Hz - 40kHz +-3dB | 14Hz - 28kHz (+/- 3 dB) |
| Crossover Structure | 3 way: 400Hz, 6 kHz | 3 way: 350Hz, 6.3 kHz | 2 way: 800Hz | 4.5 way: 80Hz, 2.8kHz,  kHz | 3 way: 280Hz, 1,650Hz | 2 way (not including SV-1212): 1.5kHz | 4 way: 60Hz, 650Hz, 14kHz |
| High Frequency Drivers | 1" compression driver in elliptical tractrix horn | 1.75" VC compression driver, 1.4" throat  in 60°x60° horn | Dual-diaphragm Dual-voice-coil Compression Driver | Dual Air Motion Tweeter System- 1" AMT super tweeter & 4" AMT tweeter | 6" x 2.5" Large Format Planar Driver | AMT Driver: Aurum Cantus Aero Striction Tweeter | 1" horn-loaded super tweeter, 11" x 9" planar magnetic horn mid-tweeter, 10" x 7" planar magnetic horn mid-tweeter |
| Midrange Drivers | 2" compression driver in tractrix-flared wooden horn | 3.5" VC compression driver, 1.4" throat in 60°x60° horn | midrange split between tweeter and woofer | 8" driver, 10" driver | four 5" drivers | three 8" drivers | 12" driver |
| Bass Drivers | 15" high-sensitivity driver | two 15" high-excursion drivers | 15" Differential Drive Woofer | two 12" high-excursion drivers | two 8" high-excursion drivers | two 12" high-excursion drivers | 12" Rythmik Audio driver |
| Sensitivity | 99 dB | 95 dB (2v, free air) | 93 dB (1w/1m) | 95.4 dB (in-room, 2.83v/1m) | 99 dB/1w | 94 dB | 93 dB estimated (SV-831, 2.83v/1m) |
| Active/ passive | passive | passive | active | active subwoofers | active | passive, optional active subwoofers | active |
| Amplification Power | - | - | 4 kW per channel, estimated | 1 kW per channel | 1.5 kW per channel | 2.4 kW per channel amplifier for subs | 875 watts per channel |
| Equalization | - | - | BSS Soundweb London processors + HARMAN System Architect | Aeris Wavelaunch Processor | DSP Amplifier PEQ functionality available upon request | - | bass mangement features: phase, volume, crossover point |
| Dimensions, HxWxD | 61.5" H x 25.5" W x 27" D | 72" H x 17" W x 22.5" D | 49.5" H x 20" W x 14" D | 59" H x 19" W x 17.5" D | 63" H x 12" W x 12" D | 62"x15.25"x23" | 46" H x 14.5" W x 10" D |
| Weight | 185 lbs. | 215 lbs. | 129 lbs. | 171 lbs. | 125 lbs. | 204 lbs. | 110 lbs. |
| Price | $15,900 per pair not including shipping | $6,998 per pair not including shipping | $20,000 per pair | $19,525 base cost per pair | $15,675 shipped North America | TBA, $10.5k/pair passive or 11k with active sub amps | $12,000 base cost |
Volti Alura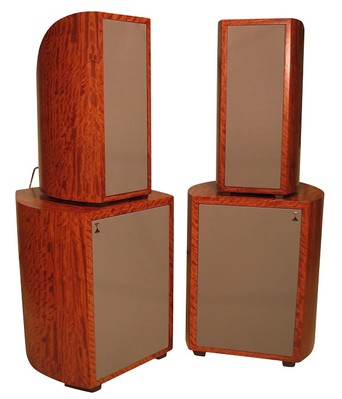 At Volti Audio, big is beautiful, and this is evident in the Volti Aluras. Large and exquisitely built and finished, there is no hiding the Aluras, nor is there any reason to want to. And while they look nice, they sound even nicer.  This is due to the high dynamic range and low distortion of the Alura's design. The Volti Alura is a 3-way design consisting of a horn-loaded 1" compression driver as tweeter, a 2" horn-loaded midrange compression driver, and a 15" bass driver driver in bass reflex enclosure. As can be seen in the pictures, the tweeter and midrange horn are built in a separate enclosure that rests on the bass bin. The design suggests very high sensitivity, which indeed the Alura has, and is specified at an extraordinary 99 dB. That makes it easy to drive with any amplifier and a nice fit for low-wattage tube amps; consider that it only takes 4 watts to drive an Alura to 105 dB. Keep in mind 105 dB is THX Reference level 'peak' sound in a THX soundtrack, and is the loudest a THX soundtrack will get in a THX certified system outside of the subwoofers.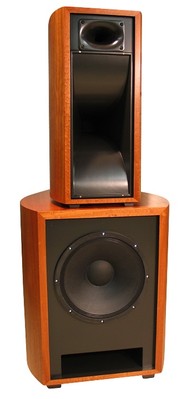 It is often said that music lives in the midrange, and, if so, Volti Audio has furnished an exceptional home for that frequency band in the Alura. A massive 2" compression driver loads a large, vertically-oriented horn and covers the frequency range from 400 Hz to 6,000 Hz in what has to be considered the 'centerpiece' of the Alura. Rectangular loudspeaker horns are typically oriented with the long axis aligned horizontally, since the dispersion is usually wider along the long axis, but the Alura places the midrange horn in a vertical arrangement without compromising the horizontal dispersion because its dispersion along the short axis is surprisingly wide. Above the midrange horn lies the tweeter, which in the Alura, is composed of a 1" compression driver in an elliptical horn. In its band above 6 kHz, such a powerful driver would simply loaf along even at monster loudness levels, and this contributes to the Alura's extremely clean sound; output levels that might be mechanically taxing to other speakers are not even a minor nuisance in such an overbuilt system. A consequence of employing such powerful drivers for home audio is that not only can they stay clean at enormous loudness levels, they also remain extremely linear at moderate levels. The bass driver is no exception to this engineering philosophy, and here the Alura uses a high-sensitivity 15" in a specially designed bass reflex cabinet that is carefully designed to compliment the sound of the horn-loaded top section for the greatest cohesion. Altogether, these components add up to a system that has as much power as it has finesse, and, while not inexpensive, it is very reasonably priced at $15,900 per pair.
JTR Noesis 215RT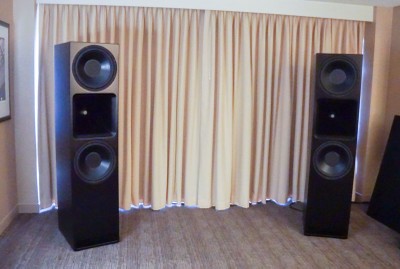 So, you want dynamic range, eh? How about this as a solution: a three-way tower speaker using two 15" high-excursion woofers, a powerful concentric compression midrange driver and tweeter set in the back of a large 60 x 60 degree horn. Now let's have it handle up to 2,000 watts RMS with a 95 dB sensitivity and give it a lower -3 dB point of a remarkable 18 Hz. What we have described is the JTR Noesis 215RT, and, as can be seen in the pictures, it is all business. It may look like a sonic cannon, but it produces a high fidelity sound, and this is partly due to the sheer excess of the design for home audio applications. As with the Volti Alura, when speaker drivers are only used within a small fraction of their mechanical capacity, they are more easily able to reproduce the signal with accuracy, since the drivers are kept far away from conditions that threaten linear playback. The crossover points between the drivers restrict their playback to frequency bands for which they are most adept, with the midrange driver and tweeter separated at 6.3 kHz and the bass drivers taking over at 350 Hz and below. Of course, the Noesis 215s do have the ability to stay clean well beyond typical listening levels, and can comfortably handle volumes that far exceed conventional speaker designs, so if you are after insane loudness levels, you needn't worry; your ears will give out long before the Noesis 215RTs will.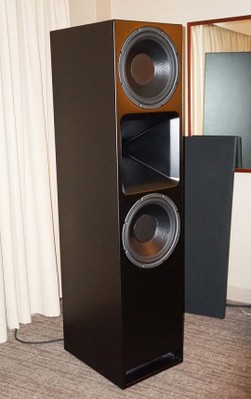 There is a lot more going on with the 215RTs than just driver overkill. The Noesis 215RTs act as a true single point source for sound, because care is taken to physically and acoustically time align all the drivers. In many speakers the varying distances of the different drivers can cause different time arrivals of the frequency bands of those drivers, which can cause a smearing of the sound and loss of intelligibility. While measures can be taken to correct for driver distance disparity, there can be no perfect solution that completely overcomes the physics of that design. The 215 addresses this problem by using a concentric driver for midrange and tweeter, where the sound from both emerge simultaneously from the throat of the horn. The makes for excellent phase coherence and perfect time alignment between the midrange driver and tweeter. The woofers use a crossover point where the sound waves are long enough for the two woofers to act as one. Unlike many other larger tower speakers, the Noesis 215RT has no minimum listening distance. The base cost of the Noesis 215RTs is $3,499/ea, with upgraded finishes available for an additional cost, so it is one of the less expensive speakers in our roundup, but at a hefty 215 lbs., it is also one of the heaviest and most opposing.  
JBL M2 Master Reference Monitor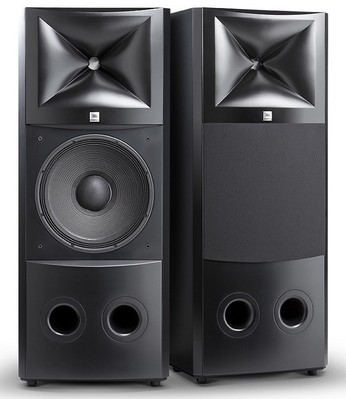 Image courtesy of Harman International
In the short time since they have been released, the JBL M2 Master Reference Monitors have quickly become the go-to choice for the highest linearity combined with serious dynamic range. In fact, this speaker made our list as one of the best loudspeakers in the world.  The ruler-flat on-axis frequency response combined with the extraordinarily linear off-axis frequency response have given the M2s a reputation for being one of the highest fidelity speakers in production, and a crowning achievement among the JBL LSR designs. The M2's reputation for accuracy has persuaded many to use it as a home audio speaker even though it is designed primarily as a studio monitor. JBL's world-class driver engineering has provided the M2's with not only superb linearity, but also tremendous dynamic range with exceptionally low distortion and compression. A powerful and sophisticated 15" bass driver uses an array of JBL's cutting-edge driver technology, including the 'Differential Drive' dual magnetic gap/dual voice coil design, which helps the woofer track the audio signal with ruthless accuracy below its 800 Hz crossover point. The same 'Differential Drive' technology is deployed by the horn-loaded compression driver, which, in the M2, covers an incredibly wide band for a compression driver of 800 Hz to 40 kHz.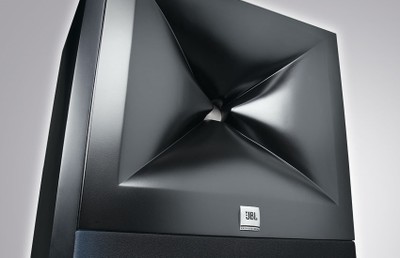 Image courtesy of Harman International
Another aspect that is critical to the M2's extreme fidelity is the geometry of the horn. JBL's Image Control Waveguide is specially shaped to produce a very neutral response well off of the main axis of the speaker, both horizontally and vertically. This is in line with the philosophy of JBL's LSR monitors, from which the M2s descend, and the idea behind this performance goal is speakers that have acoustic reflections (sound bouncing off of nearby surfaces) which resemble their direct sound will make the room and the speaker placement less of a restrictive factor in achieving good sound. In other words, the M2s should be able to sound good in any normal room and will not need assistance from a bunch of awkward acoustic treatments to do so. There is no doubt that the M2s are state-of-the-art, and they carry a price tag to match at roughly $20,000 per pair. They do come with their own amplifiers and room correction equalization system, so the cost of the M2s is alleviated by not having to purchase equipment needed by other speaker systems.