Rise of the Super Subwoofers - A Comparison Guide
Rise of the Super Subwoofers - A Comparison Guide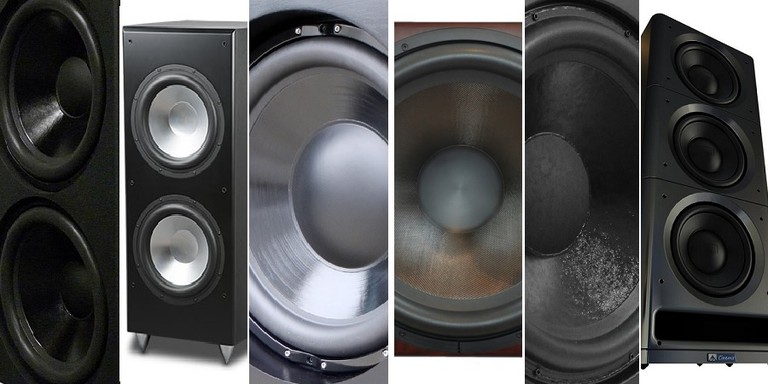 There are a multitude of approaches to reproducing bass in a sound system, and there are nearly as many different subwoofers to serve each approach. The most popular approach seems to be a little subwoofer tucked in the corner of the room. Perhaps it was a leftover subwoofer from a home-theater-in-a-box, or perhaps it was complimentary with the speaker set in a package deal. Either way, it is the cutest little thing; it reminds me of the miniature dachshund our family had as a pet years ago. It had more "yap" than "woof", but you could not deny it tried its best to make itself heard. In the same way, I admire those little subwoofers that try so very hard. They may produce more "blip" than "boom", but darn it if they don't give it all they've got. This article is not about those subwoofers. If you are of the opinion that the duty of a subwoofer does not go beyond shoring up the lowest notes on the gentle strumming of a jazz guitar, this article may not interest you. If you are of the opinion that the bass experience does not truly begin until your vision is blurring and your lungs are near rupturing, do read on. 
This article is a survey of six of the latest super subwoofers which will blow out your eardrums and knock down your walls. The subs on this list have all of the necessary hardware for earning our Extreme Bassaholic rating which we confirmed for both the RBH and XTZ subs in our testing.
The subwoofers discussed here cannot be inconspicuously tucked away in a corner, and, for most people, they are too expensive to be purchased on a whim. Even something as simple as moving them across the room takes planning due to their sheer size and weight. These are the compromises one must face when owning some of the most powerful commercial subwoofers for home audio that are currently available. What is gained in performance must be paid for, not only in dollar amount, but in extra physical mass. Let's compare some of the specifications of these monster subwoofers in the table below:
| | | | | | | |
| --- | --- | --- | --- | --- | --- | --- |
| Make | RBH SX-1212P/R | XTZ SUB 3X12 | JTR Captivator S2 | Deep Sea Sound Mariana 24 | Reaction Audio Gamma 21 | Funk Audio 21.0 |
| MSRP | $5,495 shipped | $2,500 shipped | $3,599 base (not including shipping) | $4,000 base (not including shipping) | $1,799 shipped | $6,035 base, shipped |
| Frequency Response | 17-175 Hz (±3dB) as tested | 19-242 Hz (±3dB) as tested | 16-104 Hz (±1dB) | 14- 180 Hz (±0.75dB) | 20-200 (±3B) | Customizable via DSP |
| Weight | 130 lbs. | 170 lbs. | 220 lbs. | 200 lbs. | 140 lbs. shipped | 130 lbs. |
| Dimensions | 17.75" W x 38.5" H x 21" D | 21" W x 44.5" H x 22" D | 21" W x 40" H x 18" D | 28" W x 28" H x 27" D | 24" W x 24" H x 20" D | 22.25" W x 22.25" H x 22" D |
| Driver Diameter | 2 x 12" | 3 x 12" | 2 x 18" | 24" | 21" | 21" |
| Alignment | ported | ported | sealed | sealed | sealed | sealed |
| Amplifier Power | 2,400 watts RMS | 1,500 watts RMS | 4,000 watts RMS | 4,000 watts RMS | 2,400 watts RMS | 4,800 watts RMS |
| Warranty | 5 years drivers/ 3 year amp | 5 years drivers/ 2 years amp | 5 years drivers/ 2 years amp | 5 years driver/ 5 years amp | 5 years driver/ 5 years amp | 3 years driver/ 3 years amp |
RBH SX-1212P/R
SX-1212P/R Product Page | SX-1212P/R Review
In our roundup, the RBH SX-1212P/R sports the least amount of woofer area with two 12" woofers effectively equaling the area of a 17" woofer, but don't let that fool you: in Audioholic's testing from our review here, it was shown to perform spectacularly. In fact, of all subwoofers tested by Audioholics, the SX-1212P/R holds the record for passing CEA measurements at 20 Hz and below, nearly touching 100 dB at an ultra deep 12.5 Hz. That was in outdoor testing, and even higher output levels would be expected to be gained in-room. One notable feature of the SX-1212P/R's performance is a slight peak just above 20 Hz, which is due to the large 6" down-firing port. Normally a flat response is desired for the full bandwidth of the subwoofer's range, and that can easily be had on the SX-1212P/R with some slight EQing, but those looking for more oomph in effects sounds may be happier to keep its native response, which effectively runs the deep bass hot. 
RBH 12" Bass Driver
The SX-1212P/R manages this impressive performance with a relatively small footprint as well, with an approximately 18" x 21" area needed. Rarely does such extreme performance require such modest floor space. This is not to say it can be made to easily vanish in a room, as its 38" height will not permit that, but it is difficult to imagine such tremendous power could fit in a smaller package. Needless to say, something has to give to achieve the performance/size ratio of the SX-1212P/R, and that is price. At $5,495 it is the second most expensive subwoofer of our round up. For those who blanched at that price tag, there is a passive version of this subwoofer, the SX-1212N/R, which has a MSRP of $2,430 and represents considerable savings to those who can provide their own amplification.
XTZ Cinema SUB 3X12
SUB 3X12 Product Page | SUB 3X12 Review
The XTZ SUB 3X12 is basically a discounted stack of three of their SUB 1X12 subs which turns out to be a lot of subwoofer, both in performance and in physical mass. At 170 lbs. two or more people will be necessary just to move it around the room, and its near four foot height essentially renders it a fixed piece of furniture as much as a component of electronics. On the other hand, it has a nice satin black finish which may help its acceptance in a modern home decor. The surface area of its three 12" woofers add up to nearly the area of a 21" woofer. Each of its three drivers are individually powered by their own 500 watt amplifier, adding up to 1,500 watts of amplification for the whole unit.
Two stacked XTZ SUB 3X12 subwoofers
Audioholics tested the SUB 3X12, and, in short term bursts, it managed over 120 dB of output from 40 Hz and above without exceeding 15% THD, along with a very healthy amount of output at lower frequencies. Not bad when you consider that THX Reference levels for subwoofer frequencies are specified at 115 dB peaks, meaning just one SUB 3X12 should be able to achieve THX Reference level in a medium sized room- or come very close to it. If that is not enough for you, XTZ suggests that the SUB 3X12 can be easily stacked for a line array subwoofer system, however, you may want to check if your floor can handle that kind of weight before you move forward with that idea. The SUB 3X12 has an EQ setting for a sealed mode operation along with a port plug for sealing the slot port. Personally, I wouldn't want to eliminate all the deep bass headroom by blocking the port, but that option is there for those who dislike the idea of Helmholtz Resonance. It is not an inexpensive subwoofer, but considering everything you get, it is very reasonably priced at $2,500, which makes it among the less expensive subwoofers in our round up.
Deep Sea Sound Mariana 24
The main task of a subwoofer is to displace air thereby creating waves of pressure resulting in sound as perceived by our ears; clearly, the Mariana 24 takes this assignment very seriously. The idea behind the Mariana 24 is simple: take the world's most powerful subwoofer driver in production, give it one of the best plate amplifiers available, and place them in a tastefully veneered and manageably-sized cabinet. The Deep Sea Sound Mariana 24 has the largest subwoofer driver available in any home audio product. To equal the same surface area with 12" woofers, you would need four of them, and to equal the linear displacement capability of the Mariana 24 driver, those 12" woofers would need to be capable of 36 mm of clean excursion, an uncommonly huge amount of linear stroke. Even then, they would need a lot more power to achieve the same output levels as the Mariana 24, as the 24" driver gives the subwoofer an above average sensitivity and efficiency. This means that the Mariana 24's 4,000 watt amplifier is used to greater effect than it would be if its current was fed to a group of smaller drivers.
Stereo Integrity HS24 subwoofer driver
Some might dismiss a subwoofer with such a large cone as being fine for movie sound effects but unlikely to have the finesse for high fidelity sound, and they would be deeply mistaken. The driver used in the Mariana 24 has been tested here to have extremely high sound quality, exhibiting very low distortion, with excellent group delay and swift decay recovery signifying a superb transient response. The high sound quality is not surprising when you consider just how little such a large cone has to move to create very loud sound levels. When the voice coil does not have to travel far from its rest position, it can track the swings in voltage (i.e. the signal it is trying to reproduce) much more finely than at large oscillations where other forces become greater inhibitions to linear excursion. On top of extremely low distortion, the Mariana 24 has an extraordinarily neutral frequency response as well, varying by 0.75 dB from 14 to 180 Hz, and if that isn't accurate enough for you, there is a second selectable DSP setting which tightens that tolerance down to 0.5 dB from 17 to 180 Hz. The Mariana 24 has power and precision, and it even has a manageable if largish size, approximating a 28" cube, with a shallower and wider version  also available. However, you will want a friend or two to help you move its formidable 200 lbs. weight. The base price is $4,000; not a cheap subwoofer, but when you consider that it is likely to be a permanent cure for any upgrade fever, that could very well make it a bargain.
Confused about what AV Gear to buy or how to set it up? Join our Exclusive Audioholics E-Book Membership Program!
Recent Forum Posts:
jubi posts on December 23, 2015 15:41
Shadyj


thank you for your patience!


I have noticed me after thinking that there was a switchable asymmetrical input with a jumper


2 Vrms 0.9 Vrms
shadyJ posts on December 23, 2015 12:37
I don't fully understand your question. There is a 0.9 volt version but also a 2 volt version of the miniDSP 2x4. I would go for the 2 volt version as it allows more headroom for the signal, however, many people have used the 0.9 volt version with no problem.
jubi posts on December 23, 2015 04:34
hello


You could confirm me if it is OK for the MiniDSP 2x4 audio USB processor the level of


entrance being 0.9 volts!





Thank you
jubi posts on December 22, 2015 14:45
thank you for the information!


I have it 2 kms from home



It could go?


MiniDSP BOX 2x4 USB Audio processor 2 to 4 channels Asymmetric





shadyJ posts on December 22, 2015 12:52
BoredSysAdmin, post: 1109626, member: 28046
No. It's Apples and oranges. One is level matching and later one is sophisticated and programmable DSP
+1, the samson is used to convert unbalanced line-level signals into balanced line-level signals. It won't work here.
Post Reply