Mark Levinson's No. 5101 Plays SACDs Like It's 1999!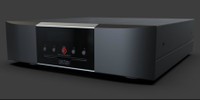 At the recent High End show in Munich, Mark Levinson introduced a new "integrated audio media player" called the No. 5101. Expected to launch in the fourth quarter of 2019, the No. 5101 is a CD/SACD player with built-in network streaming capabilities, digital inputs and outputs, and a "PrecisionLink II" DAC section derived from the company's 5000 series integrated amplifiers. The new player is expected to sell for $5,500, making it one of the least expensive products in the current Mark Levinson lineup. Read on to learn more.
Mark Levinson introduced his No. 5101 CD/SACD player recently at the High End Audio Show in Munich. The No. 5101 also has network streaming, digital inputs and outputs, and a ""PrecisionLink II" DAC.