Oppo BDP-105 Blu-ray Player Review: The Universal Audiophile Dream Machine?
Oppo BDP-105 Blu-ray Player Review: The Universal Audiophile Dream Machine?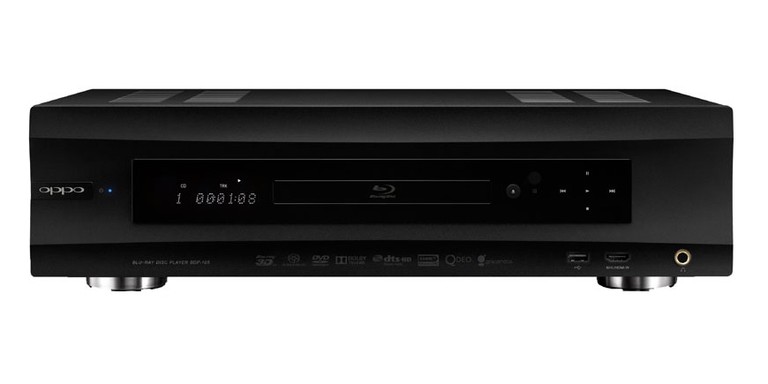 Product Name: BDP-105 Universal Blu-ray Player
Manufacturer: Oppo Digital
Performance Rating:
Value Rating:
Review Date: March 06, 2015 08:00
MSRP: $ 1199
Disc Types*
BD-Video, Blu-ray 3D, DVD-Video, DVD-Audio, AVCHD, SACD, CD, HDCD, Kodak Picture CD, CD-R/RW, DVD±R/RW, DVD±R DL, BD-R/RE
BD Profile
BD-ROM Version 2.5 Profile 5 (also compatible with Profile 1 Version 1.0 and 1.1)
Internal Storage
1GB (Actual space available for persistent storage varies due to system usage)
Output
Analog Audio: 7.1ch, 5.1ch, stereo.
Dedicated Stereo Analog Audio: XLR balanced, RCA single-ended.
Coaxial/Optical Audio: Dolby Digital, DTS, up to 2ch/192kHz PCM.
HDMI Audio: Dolby Digital, Dolby Digital Plus, Dolby TrueHD, DTS, DTS-HD High Resolution, DTS-HD Master Audio, up to 7.1ch/192kHz PCM, up to 5.1ch DSD.
HDMI Video: 480i/480p/576i/576p/720p/1080i/1080p/1080p24/4Kx2K, 3D frame-packing
720p/1080p24.
Input
HDMI Audio: Dolby Digital, Dolby Digital Plus, DTS, AAC, up to 5.1ch/192kHz or 7.1ch/96kHz PCM.
HDMI Video: 480i/480p/576i/576p/720p/1080i/1080p/1080p24/1080p25/1080p30, 3D frame-packing 720p/1080p24.
MHL Audio: Dolby Digital, Dolby Digital Plus, DTS, up to 5.1ch/192kHz PCM.
MHL Video: 480i/480p/576i/576p/720p/1080i/1080p24/1080p25/1080p30, 3D frame-packing
720p/1080p24.
USB Audio: up to 2ch/192kHz PCM.
Coaxial/Optical Audio: Dolby Digital, DTS, AAC, up to 2ch/96kHz PCM.
Analog Audio Characteristics**
Frequency Response: (RCA) 20Hz – 20kHz: ± 0.2dB, 20Hz – 96kHz: -1.5dB. (XLR) 20Hz –
20kHz: ± 0.3dB, 20Hz 96kHz: -1.5dB
Signal-to-Noise Ratio: >130dB (A-weighted, auto-mute), >115dB (A-weighted, no auto-mute)
THD+N: <0.0003% or -110dB (1kHz at 48k/24b, 0dBFS, 20kHz LPF), <0.0017% or -96dB
(1kHz at 44.1k/16b, 0dBFS, 20kHz LPF)
Output Level: 2.1 Vrms (RCA) or 4.2 Vrms (XLR) at 0dBFS
Dynamic Range: >110dB
Channel Separation: >110dB
Headphone Audio
Characteristics**
Frequency Response: 20Hz – 20kHz: ±0.3dB into 300 Ω
Signal-to-Noise Ratio: >98dB into 300 Ω (A-weighted, no auto-mute)
THD+N: <0.001% or -100dB into 300 Ω (1kHz at 48k/24b, 0dBFS, 20kHz LPF)
Output Power (per channel): 17mW into 600 Ω, 34mW into 300 Ω, 63mW into 150 Ω, 77mW into 120 Ω, 120mW into 60 Ω, 187mW into 32 Ω (1kHz at 0dBFS)
Dynamic Range: >110dB
Channel separation: >90dB
General Specification
Power Supply: ~115V/230V, 50/60Hz AC
Power Consumption: 55W (Standby: 0.5W in Energy Efficient Mode)
Dimensions: 16.8 x 12.2 x 4.8 inches (430mm x 311mm x 123mm)
Mass: 17.3 lbs (7.9kg)
Operating Temperature
41°F - 95°F
5°C - 35°C
Operating Humidity
15% - 75%
No condensation
Parts & Labor Warranty
2 Years
Pros
The does everything right Blu-ray dream machine
Benchmark audio and video performance
Excellent build quality
Relatively easy setup for such a complex machine
Originally Published: Feb 3, 2013
Updated: 3/6/15 added YouTube Video Review
Oppo BDP-105 Introduction

Oppo Digital has been producing

some of the best Universal Blu-ray players for some time now. The BDP-105 is their 3rd generation "audiophile" player.
We found the prior Oppo BDP-83-SE and BDP-95 players really did offer upscale performance in their analog outputs while still retaining the great video prowess of their less expensive offerings (the BDP-83 and BPD-93, respectively). Like the BDP-95, the new BDP-105 has balanced analog outputs along with a host of other upgrades. These upgrades apply to both of the new models, the BDP-103 and BDP-105, respectively.  Our review of the BDP-105 focuses solely on analog audio performance since the HDMI audio and video performance between the new BPD-103 and BDP-105 players are identical and have already been covered in our BDP-103 Video Review.
The BDP-105 does come with a slightly higher price tag of $1,199 than its $999 BDP-95 predecessor and is more than double the price of the new BDP-103 model. Is it worth it? Let's take a deeper look at the analog performance of the BDP-105 so you can answer that question for yourself.
Oppo BDP-105 YouTube Blu-Ray Player Review

Design Overview
The DAC Layout
For the BDP-103, Oppo hired the designer of one of the popular BDP-93 aftermarket modifications to help them improve its analog audio performance. The new design is said to have a warmer, more open and lively sound comparing to the BDP-93. This was achieved by a novel configuration of the Cirrus CS4382A 24 bit DAC and a new analog buffer and filter stage following the DAC output.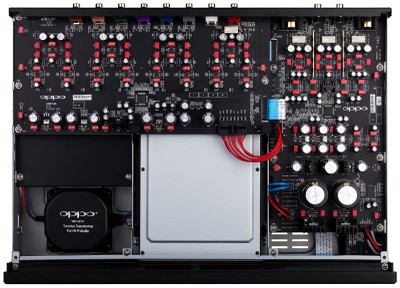 Oppo BDP-105 Internal View
The same designer also contributed to the BDP-105's analog audio section. The BDP-105 is said to retain the BDP-95's very detailed and accurate sound, and the performance measurements are almost identical to the BDP-95. The BDP-105 uses the same dual ES9018 Sabre32 Reference DAC chips as the BDP-95. In the BDP-95, they ganged the 4 pairs of the stereo DAC outputs to increase the current output.  The higher current output enabled them to use a smaller current to voltage conversion resistor, and a smaller resistor has less thermal noise than a larger resistor. In the BDP-105, Oppo initially tried to use the same ganged DAC outputs design, but found that the performance became worse.  The additional USB DAC, coaxial, optical input and headphone output made it impossible to design an optimized PCB layout if they continued to stack the DAC channels.  The suboptimal layout was the cause of the degraded performance.  After many attempts and revisions, Oppo decided to no longer stack the DAC channels.  The new design assigns one pair of DACs for the RCA output, one pair for the XLR, and two pairs stacked for the headphone amplifier.  The new configuration allowed Oppo to create a clean layout that minimized the interference and crosstalk.  The downside is they lose the benefit of the lower thermal noise from the I/V resistor, but by beefing up the power supply and separating the stereo and multi-channel boards, Oppo was able to maintain the excellent bench test performance.  The BDP-105's stereo audio specification is listed to be the same as the BDP-95, and their internal test results actually show that the BDP-105 is slightly better. This design approach resulted in increased cost and manufacturing complexity, but enabled them to better route the signals, power and ground so they could ensure a high level of performance for all modes of operation.
For more information on this chipset, see:
http://www.esstech.com/PDF/sabrewp.pdf
The Chassis Cooling
Unlike the BDP-95 player that utilized a ventilation fan on the back panel, the new BDP-105 player utilizes passive cooling only. This was accomplished in two ways: reducing heat generation and improving heat dissipation. The new dual-core SoC produces less heat than the previous decoder chip thanks to its advanced semiconductor fabrication process. Oppo added a separated winding to the new Toroidal transformer so they could get +5V and +3.3V power for the analog section from low voltage drop regulators instead of from the +15V rail. The BDP-105 chassis is taller so it has more volume for air space and is slower to heat up. The ventilation grilles on the top, bottom and back of the player complete the passive cooling design by allowing cool air to come in and warm air to escape. This was a welcome improvement as I was sometimes able to hear the cooling fan turn on in the BDP-95 in my acoustically controlled theater room. Lowering and preferably eliminating all mechanical noise sources in my listening space is always of paramount importance.
See also:
Confused about what AV Gear to buy or how to set it up? Join our Exclusive Audioholics E-Book Membership Program!
Recent Forum Posts:
Mahoney posts on March 23, 2022 09:54
frans callebaut posts on December 06, 2020 12:25
hello,
i want to buy a used oppo bdp-105 or 105D, but i see that the 105 has 8 picture noise reduction functions and the 105 D only three. what's the difference between 3 and 8 options to eliminate picture noise reduction ?
best regards,
frans callebaut
GIEGAR posts on March 22, 2017 21:43
gene, post: 949128, member: 4348
Correct, the balanced outputs are pure direct, no bass management.
… and from page 4 of the review:
Note: The BDP-105 bass management only affects the analog multi-channel outputs. Balanced outputs and HDMI outputs bypass this feature.
That's the default setting for the balanced outputs. You can in fact configure the unit to use the balanced stereo outputs
and
implement bass management.
This article steps through how to do it: Oppo | Using the Dedicated Stereo Outputs in a 2.1 Configuration.
You may wish to edit the article accordingly.
(Apologies if this has been covered previously; I only scanned the thread quickly.)
Coris posts on June 12, 2016 14:57
My fully improved Oppo 105…
sterling shoote posts on April 11, 2016 06:10
Using your balanced or unbalanced output from OPPO you are outputting full frequency, including low frequency. This, it appears, is not how you understand it. You believe with balanced or unbalanced stereo output you are not getting output of low frequency. Is that what you think? I believe you may be misinterpreting the manual. Read page 71 to 73. Now, you may have set your OPPO to small speakers, which would direct low frequency to sub output, at what ever crossover point you selected, down to 40Hz. Setting OPPO to large speakers will get all frequency to mains. You could also use L and R stereo balanced or unbalanced and then connect analog surround, center, and sub to get low frequency to sub if you wish.
Post Reply