Oppo BDP-103 & BDP-105 Blu-ray Q&A Interview
Oppo BDP-103 & BDP-105 Blu-ray Q&A Interview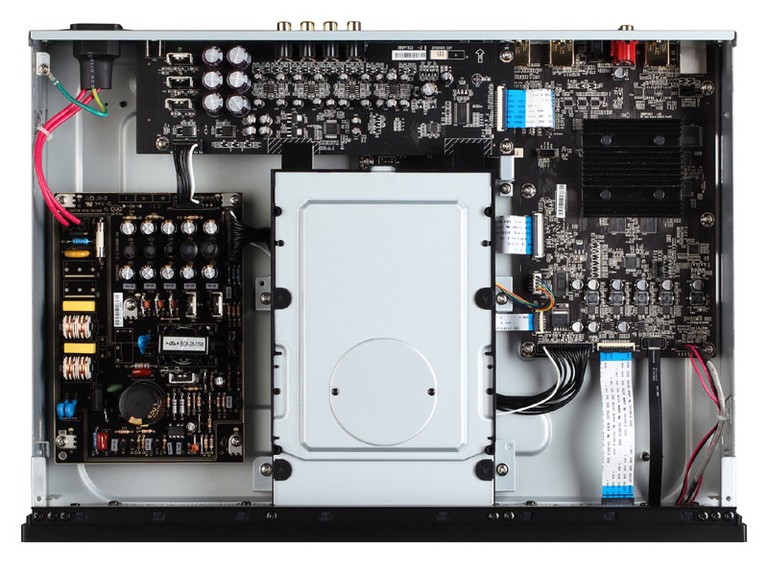 Oppo BDP-103 Internal View
Oppo BDP-103 Buy Now /  Oppo BDP-105 Buy Now
Anytime Oppo releases a new product it creates quite a buzz on the internet almost akin to Apple or Samsung releasing a new smartphone product.  One difference however is that when Oppo releases new products, the changes are typically quite substantial rather than incremental.  The BDP-93/95 Blu-ray players were prime examples of this and their newest BDP-103 and BDP-105 players seem to be following in their distinguished predecessors footsteps.  We sat down with Nathaniel Plain (Manager of Technical Services) of Oppo Digital to explore these new players and dig deeper into what makes them a truly next generation Blu-ray platform.

Q: What improvements in analog audio and overall performance do the new BDP103/105 have over the models they replace?
A: At OPPO, we understand that customers appreciate great audio performance for both home theater and music listening. While many mass market Blu-ray Disc players are now built with an overly simplified stereo analog output in order to reduce cost, we still build the BDP-103 and BDP-105 with significant investment in the analog audio section. For the BDP-103, we hired the designer of one of the popular BDP-93 aftermarket modifications to help us improve its analog audio. The new design has a warmer, more open and lively sound comparing to the BDP-93. This is achieved by a novel configuration of the DAC chip and a new analog buffer and filter stage following the DAC output. The same designer also contributed to the BDP-105's analog audio section. The BDP-105 retains the BDP-95's very detailed and accurate sound, and the performance measurements are almost identical to the BDP-95.  In order to maintain the extremely high performance of the BDP-95 while adding new audio features including the headphone amplifier and the USB DAC input, we utilize two separate boards for the multi-channel and stereo sections.  This results in increased cost and manufacturing complexity, but enables us to better route the signals, power and ground so we can ensure a high level of performance. 
In terms of overall performance, the new BDP-103 and BDP-105 use a new custom dual-core SoC (System-on-Chip) processor.  The startup time and disc loading speed are both improved over the previous generation.  The more powerful processor also enables us to give the player an enhanced user interface for CD and media file playback.  Navigation is snappier than before and users can access cover art and additional media information such as track title, artist, genre and more.

Oppo BDP-105
Oppo BDP-103

Q: What new features are added to these new players?
A: For both players, new features include 4K video up-scaling, 2D-to-3D conversion, dual HDMI inputs, and Mobile High-definition Link (MHL) compatibility.  The HDMI outputs support Audio Return Channel (ARC) for TVs equipped with this feature.  There are three USB ports, two on the back and one on the front.  For the BDP-105, we added a headphone amplifier and an asynchronous USB DAC input, along with additional coaxial and optical digital inputs.  Some existing features in the BDP-93/95 are improved in the BDP-103/105, such as the new Netflix application that support 1080p video and 5.1ch audio, and the new VUDU application that supports 3D.
Q: Why are there 4 HDMI connections on this player?
A: The 4 HDMI connections are actually two output and two input ports.  Like the previous BDP-93 and BDP-95 models, two HDMI v1.4a output ports are provided to offer the most versatile installation options to both older and newer HDMI equipment. If a user acquires a 3D TV but has a pre-3D A/V receiver, there is no need to upgrade the A/V receiver to a 3D model in order to enjoy 3D. One HDMI output of the BDP-103/105 can be connected to a 3D TV and the other can be connected to a pre-3D HDMI v1.1-v1.3 A/V receiver. Another possible use is for projector users to connect one output to a projector in the home theater room and the other to a TV for casual viewing. For a multi-room installation the BDP-103/105 can output audio and video to two 3D or 2D TVs simultaneously.
The two HDMI input ports are all new to these models. Customers have always asked for ways to take further advantage of the excellent audio and video processing functions provided by the OPPO players, and the two HDMI input port answer this request. Users can connect external devices such as set-top boxes and network streaming devices to take advantage of the players' video processing power. The HDMI inputs are also convenient for small installations such as a bedroom system where an A/V receiver may not be needed.  The front HDMI input port doubles as a Mobile High-definition Link (MHL) input.  Users with MHL-compatible mobile phones and tablets can quickly connect to the player to show video and photo on the TV screen.
Q:  How come these new Blu-ray players lack analog video support?
A: There are two practical reasons for going all-digital for video:
1.       The AACS "Analog Sunset" rule.  It is well known in the industry that analog video output from component and composite video outputs for Blu-ray playback is already limited to 480i resolution on newly released models, and after 2013 analog video output will not be allowed.  Since we expect the production of these two models to extend beyond 2013, we decided to be upfront by not offering analog video output instead of waiting to disable or remove the analog output after 2013.
2.       The general industry direction of moving towards digital video.  As shown in many newly released TV and AVR products, there are more HDMI inputs and less analog video inputs compared to older TV and AVR products.
Most importantly, in order to take full advantage of the excellent picture quality offered by these players, using the HDMI output is a must. The video processing features are only available over the HDMI output.   HDMI is also required if a user wishes to watch any video in 3D or 4k resolution.
Q: Can these new players be connected via USB to serve as a high end DAC to stream music from a PC?
A: The BDP-105 comes with a USB DAC input for just this purpose. The USB DAC fully supports the USB Audio 2.0 standard and can operate in asynchronous clock mode. It can take 16 and 24-bit stereo audio with sample rates of 44.1kHz, 48kHz, 88.2kHz, 96kHz, 176.4kHz and 192kHz.  When connected to a computer, the BDP-105 becomes a "sound card" or audio output device for the computer.  Users can use their familiar audio library and playback software to stream music to their home theater or sound system.  The asynchronous clock mode ensures that the highly accurate and stable clock inside the BDP-105 drives audio data to the digital-to-analog converter so the time domain accuracy is not affected by the jitter performance of the computer's master clock or bus clock.  The ESS Sabre32 Reference DAC and the excellent analog audio section are utilized to convert the digital audio data to analog audio signal with the highest accuracy and lowest distortion.  Essentially, the BDP-105 becomes a high end DAC for the PC.
Q: Do the new BDP-95 & BDP-105 players have a fan like their predecessors?
A: The BDP-95 model has a ventilation fan on its back panel.  It is used to ensure the components of the player get enough cooling if the internal temperature rises too high. Although it rarely runs under normal use conditions and runs quietly, many users wish it was not there.  When we designed the BDP-105, we made it our goal to use passive cooling only.  This was accomplished in two ways: reducing heat generation and improving heat dissipation.  The new dual-core SoC produces less heat than the previous decoder chip thanks to its advanced semiconductor fabrication process.  We added a separated winding to the new Toroidal transformer so we can get +5V and +3.3V power for the analog section from low voltage drop regulators instead of from the +15V rail.  The BDP-105 chassis is taller so it has more volume for air space and is slower to heat up.  The ventilation grilles on the top, bottom and back of the player complete the passive cooling design by allowing cool air to come in and warm air to escape.
Q: Do the new BDP103/105 support simultaneous HD audio from both HDMI outputs?
A: Yes, when the player is configured to "Dual Display" for its dual HDMI output mode, and when both A/V receivers connected to the HDMI 1 and HDMI 2 output ports can support HD audio, the player will output simultaneous HD audio from both HDMI ports.  This is something our previous players could NOT do.
Q: How do the two HDMI outputs work in conjunction with the video processor and each other?
A: The BDP-103 and BDP-105 employ a two-step video processing approach that utilizes video processing algorithms implemented on the main dual-core SoC and the latest generation of Marvell's Qdeo video processor.  The HDMI 1 output is driven by the Qdeo video processor while the HDMI 2 output is direct from the main SoC.  The main SoC performs video decoding, de-interlacing, scaling and 2D-to-3D conversion, and the Qdeo video processor can perform further enhancements such as noise reduction, contrast and color enhancements.
Performing video processing inside the player can result in superior picture quality. When playing discs or streaming online video, the player has the full knowledge of the source material's properties, such as resolution, frame rate, encoding, and compression level. This information is then used to configure the video processors to optimally handle the content. A/V receivers and televisions all have some level of video processing capability built-in. However, these devices are made to accommodate a wide variety of input signal and formats ranging from composite video to HDMI. It is unlikely that the processing modes will be fully optimized for the content. Users will be able to get the best possible video quality out of our player's internal video processor by setting the player's HDMI output to the desired output resolution.
Q: Will both HDMI outputs support full resolution simultaneously and are they independently scalable?
A: Yes, both HDMI outputs can support full resolution simultaneously provided that the display devices connected to the two HDMI ports can both support the full resolution. The two outputs can output different resolutions but are not independently scalable. As described in the answer to the previous question, the HDMI 1 output is driven by the Qdeo video processor and the HDMI 2 output is direct from the main SoC. In order to make it simple for customers to properly set up the player, we offer a choice of "Split A/V" or "Dual Display" for configuration the two HDMI outputs.  When "Split A/V" is selected, HDMI 1 is the primary video port and HDMI 2 is the primary audio port. HDMI 1 outputs video at the highest possible resolution and mutes audio. HDMI 2 outputs video at a resolution that can sufficiently carry the best audio. This mode is intended for users who connect HDMI 1 to a projector and HDMI 2 to an A/V receiver.  When "Dual Display" is selected, HDMI 1 and HDMI 2 take a "best effort" strategy and output an audio/video signal that is commonly compatible with the downstream devices connected to both ports.  This mode is intended for simultaneously supporting two screens.  When only one of the HDMI ports is in use, the "Split A/V" or "Dual Display" setting is not applicable.
Q: Please tell us more about the 4k upsampling feature found on the new BDP-103/105 players
A: 4k display devices are gradually being introduced by manufacturers, while 4K content and playback devices are still not readily available.  The 4k up-scaling function bridges the gap between existing content and the 4k display.  The player can scale DVD, Blu-ray, video files and also video from its HDMI inputs to 4k output.  Naturally, the up-scaling result depends on the original video quality.  Blu-ray is ideal for 4k up-scaling because of its native 1080p resolution and high bit rate. 
Q: Do the players have the option to convert SACD to PCM via HDMI out rather than transmitting it as DSD?
A: Yes, for SACD playback we offer a choice of transmitting the audio signal as native DSD or converting it to high resolution PCM.  The A/V receiver must be able to support DSD, otherwise the player will force a conversion to PCM so the music does not become static noise.  DSD output is only available over the HDMI 2 port.  The HDMI transmitter in the Qdeo video processor that drives the HDMI 1 port does not support DSD audio.
Q: Is the player drawer beefed up compared to the older models?
A: The disc drawer design has not changed from the BDP-93/95 models.  The BDP-103 continues to use the same proven disc drawer and loader mechanism as the BDP-93/95 models.  The BDP-105 gets a slightly thicker (10.2mm vs 8mm) disc drawer to match is increased chassis height profile.  Although the drawer is what the user sees and touches, it is only a part of a very complicated disc loader mechanism.  Its function is only to temporarily hold the disc and move it into the loader.  Once the disc is inside the loader, it is lifted off the drawer by the spindle.  The drawer is no longer in use until the disc is ejected.
Compared to our older models such as the BDP-83 and our DVD players, the disc loader used by the BDP-93/95 and BDP-103/105 has been significantly improved.  We performed a joint development for the disc loader with a well-known supplier who specializes in high-end and high reliability CD/DVD loaders.  The design fully considers all factors that may affect playback – disc spinning speed, vibration isolation, dust prevention, internal air flow, weigh and balance etc.  The following exploded view shows a disc loader that you will not find in any mass market disc players: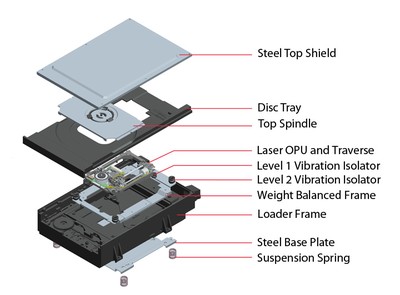 Oppo BDP-103/105 Loader

Q: Is there an App in the works for these new players to control them via a network?
A: Yes. There is already a remote control app for Android available from the Google Play store.  It supports the BDP-93/95 as well as the BDP-103/105.  An iOS version for Apple devices is in the works and we hope to release it soon.
Q: What are the dimensions / weight of these new players?
A: The BDP-103's dimensions are 16.8 x 12.2 x 3.1 inches, the same as the previous BDP-93 model.  It weighs 10.8lbs. The BDP-105 is taller and bigger than the BDP-95.  Its dimensions are 16.8 x 12.2 x 4.8 inches.  It weighs a hefty 17.3lbs.  There will be a 3U rack mount kit available for the BDP-105.
Q: What are the MSRP's and availability of these new players?
A: The MSRP is $499 for the BDP-103 and $1199 for the BDP-105.  We expect to have the BDP-103 available in October and the BDP-105 before the end of 2012.
For more information, visit: 
Oppo Digital
Confused about what AV Gear to buy or how to set it up? Join our Exclusive Audioholics E-Book Membership Program!
Recent Forum Posts:
Audio A posts on February 23, 2016 19:34
HELP PLEASE! OPPO 103D Install HDMI QUESTION?????


Hi guys!
I just received my 103D and have been trying to find an absolute answer on how I can run my Dvr thru the input and then just connect the Out 1 to my Dennon AVR- 4320ci Bd IN?? Then connect the HDMI 1 with " Picture Mode Turned Off"out On the AVR TO THE TV? Or do I have this all bassackwards?

I saw earlier in this post the way some one else had theirs rigged but I have Duall HDMI OUTS on my Dennon.

Any help would be greatly appreciated!!!!
tbaudoin posts on February 14, 2014 13:00
Just a crazy question. I been wondering recently, due to my Denon 4310CI not passing 3D and having an ARC, if I can do the following without killing something or if there have been others who have done this…..?

1. All sources (STB, ROKU, APPLE TV, Oppo) to the Denon
2. HDMI OUT on the Denon to HDMI IN on Oppo
3. HDMI 1 OUT on Oppo to DISPLAY, HDMI 2 OUT ON Oppo to HDMI IN on Denon.

I really want to be able to maintain the higher level audio decoding, so I suspect the only real option is a new receiver with an ARC circuit, else run another really difficult HDMI (20/20 hindsight is PERFECT). I had the chance, but thought I would replace the receiver asap -sometimes things just don't work out the way I planned… lol..

At this point, it seem like it might work, but I'm thinking I'm missing something critical… And, it wouldn't hurt my feelings to avoid a forced receiver replacement due to ignorance….

Thanks!
ttindle posts on February 07, 2014 07:53
Q: Does OPPO 103 / 105 Blue ray Player support discretet IP On / Off commands?
I am using IP control of my OPPO 103D but found out that they currently don't have discrete ON / Off commands. RS-232 works just fine but I didn't want to have to buy another Global Cache device and all the hassle when it has an Ethernet jack on the player.
See the following support message to OPPO…
Message to OPPO:
I love my 103D!!! But, Please fix the discrete on / off commands in your IP interface. I know they work for RS232 but I don't want to spend the extra $250 it would cost me to connect my automation system to it.
Will the fix be in the next firmware release?
OPPO's Response:
The IP Controls are still a work in progress. Ultimately we hope to have the IP Controls mirror the RS232 commands,
but we do not know when this may occur
.
(If OPPO doesn't know then I Wonder who does?)
Recommendation:
If you would like them to make this a priority, send them a message.
You might even post on other sites to encourage others to do the same.
Unfortunately, Good customer service usually only occurs if enough customers make noise and it goes public. Otherwise, hey they got your money, why do they need to do anything!
Customer Service
OPPO Digital, Inc.
2629B Terminal Blvd.
Mountain View, CA 94043
[email protected]
Tel: 650-961-1118
Fax: 650-961-1119
PENG posts on January 10, 2014 07:08
kyle bermingham, post: 1009482
From the Oppo site: "Users can select whether to output the DSD (Direct Stream Digital) signal in its native format or convert it into PCM."

If my Marantz AV-7701 allows for either, which should I do? And which means using component and which means using HDMI, or is this a separate issue?
I am not sure if the 7701 would accept DSD (8801 does) but it must accept PCM. Pretty much all AVRs and prepros do.
j_garcia posts on January 09, 2014 22:36
kyle bermingham, post: 1009482
From the Oppo site: "Users can select whether to output the DSD (Direct Stream Digital) signal in its native format or convert it into PCM."

If my Marantz AV-7701 allows for either, which should I do? And which means using component and which means using HDMI, or is this a separate issue?
That DSD output means over HDMI AFAIK, but the benefit, if you are talking about the 105, would really be to use its analog section.
Post Reply