Oppo BDP-103 and BDP-105 Universal Blu-ray Players Preview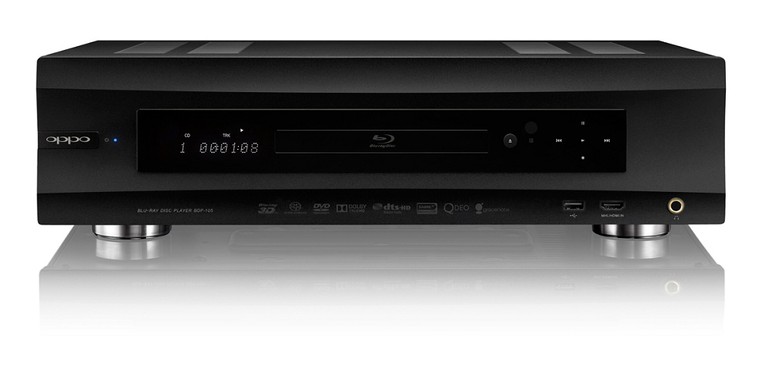 Oppo BDP-105 Universal Blu-ray Player
Summary
BDP-103
Blu-ray, Blu-ray 3D, DVD-Video, DVD-Audio, SACD, HDCD, CD
Three USB ports
Wired and Wireless networking
File Formats supported - AVCHD, MKV video, WAV, FLAC, digital photos
Streaming services supported - Netflix (1080p and 5.1 audio), VUDU, Film Fresh, Pandora, and YouTube
Video

Dual-core SoC and Marvell Qdeo processor
4k up-scaling
2D-to-3D conversion
1080p24Hz output
Dual HDMI outputs
Dual HDMI inputs (front-mounted doubles as a MHL input)
Three USB ports (one front-mounted)
7.1 Analogue audio outputs (configurable 7.1, 5.1, 2.0)
Coaxial and Optical Digital Outputs
IR In
RS-232
Additional BDP-105 Features
Audiophile-grade components
Fanless (predecessor had a fan)
Analogue section sports two ESS Sabre32 Reference DACs
Newly designed Toroidal linear power supply
Dedicated stereo outputs with both RCA and XLR connections
Headphone amplifier connected directed to the DAC
Asynchronous USB DAC supporting USB Audio 2.0
Additional Coaxial and Optical digital inputs

Asynchronous Clock Mode on USB input for jitter-free connection to your computer

Executive Overview
Pretend I wrote a brilliant opening paragraph instead of this:
NEW OPPO PLAYERS!!!!!!!!!11111 Huzzah!
The Oppo BDP-93 and BDP-95 have been huge successes for the company and they are looking to build on that solid foundation with the new 10x series players. Like before, the BDP-103 is the "base" model with the BDP-105 catering to those with deeper pockets and a burning desire to have the absolute best audio and video performance. We'll cover the BDP-103 first and then address some of the upgrades on the BDP-105.
The BDP-103 is the latest consumer-level Universal Blu-ray player from Oppo. This is a player that will play back every disc (just about) that you've bought even if the format is dead (no HD-DVD though). This means SACD and DVD-A lovers can still enjoy their legacy discs without having to resort to a lesser player. The BDP-103, however, has really made some huge gains in the video department. While the last player was 3D capable, the BDP-103 sports Dual-core SoC and Marvell Qdeo processors with 4K upscaling. On top of that, the BDP-103 can convert your 2D content to 3D so that you get the maximum use out of your 3D display.
Networking is always important and Oppo has included not only wired but wireless streaming. This allows for App control plus access to pre-loaded Netflix, VUDU, Film Fresh, Pandora, and YouTube. The Netflix streaming allows for the highest possible quality with 1080p video support and 5.1 audio. Cord-cutters can rejoice as the new Oppo BDP-103 is looking to become the new hub of your content world.
The front sports not only a USB input but an HDMI input that doubles as an MHL (Mobile High-definition Link) input. This makes connecting your portable devices much easier. You can even connect set-top boxes or network streaming devices to the BDP-103 and take advantage of the Oppo's superior video processors. Flipping the player around and you'll find both more and less than you'd expect. The Oppo BDP-103 sports dual HDMI outputs and a second HDMI input. There is an Ethernet input for a wired connection. Coaxial and Optical digital audio outputs are on board as are 7.1, RCA-style, analogue audio outputs. These outputs can be configured for 7.1, 5.1, or 2.0 output.
Two additional USB inputs allows for a multitude of connected devices (we could imagine at least five possibilities) making the Oppo BDP-103 not only a top of the line Blu-ray player but a standalone video processor. RS-232 and IR connections make it possible for custom installers and power users to easily integrate the Oppo BDP-103 into their universal remote system.
What is missing on the back of the Oppo BDP-103 is any sort of analogue video output. There is a a composite video output labeled "DIAG" but this is just to use the on-screen menu when there is no media playback. This is not Oppo's fault. As we reported previously, the AACS analogue sunset stipulates that "No Licensed Player that passes Decrypted AACS Content to analog video outputs may be manufactured or sold by Adopter after December 31, 2013." Oppo, instead of having to deal with defeating the analogue outputs in a few more months, has just omitted those video outputs.
The BDP-105 (as pictured at the top of this article) is the larger, "audiophile-grade", version of the BDP-103. Oppo hasn't released a lot about this player but we do know a few things. First, they will be upgrading the internal components with higher quality versions. While the BDP-95 had a fan (something many people hated in theory but often found it didn't bother them in practice), the BDP-105 is fanless. The analogue section of the BDP-105 will have two ESS Sabre32 Reference DACs and a newly designed Toroidal linear power supply. While it will have all the same connections as the BDP-103, the BDP-105 will place the 7.1 analogue audio outputs in a line and will have a dedicated stereo output section (with the upgraded DACs) sporting both RCA and XLR connections.
While the BDP-103 looked to become the hub of your video content, the BDP-105 looks to add audio to that. It adds a coaxial and optical digital audio input and an asynchronous USB DAC input. The USB DAC input supports the USB Audio 2.0 standard to eliminate jitter issues from your computer's master clock. The front headphone port features a dedicated headphone amplifier connected directly to the DAC.
Conclusion
Price is always the issue and Oppo has managed to keep the new BDP-103 at the same $499 price point as the older BDP-93. That's a pretty amazing feat considering all the video features. Given the new player has dual HDMI inputs and three USB inputs, the Marvell Qdeo 4K upscaling and 2D to 3D conversion is going to get a lot of use. With the BDP-105, Oppo had to increase their asking price to an estimated $1199 ($200 more than the BDP-95). With the ability to be used as a USB DAC, a dedicated headphone amp, and upgraded audio components, the BDP-105 should be just as popular with the audiophile crowd as the previous model. We're guessing that there are people that didn't make it all the way through this article (or past the title) before heading over to Oppo to preorder.
Check out our detailed Q&A Interview with Oppo for more insider info on these new players.
For more information, please visit www.oppodigital.com.

Confused about what AV Gear to buy or how to set it up? Join our Exclusive Audioholics E-Book Membership Program!
Recent Forum Posts:
PENG posts on January 24, 2013 22:55
djreef, post: 946442
All I can say is the 105 does everything the 95 does plus more. You may want to sell the 95 while you can still get something for it.
That makes sense, just that my 95 is hardly used, virtually brand new and tough to let go but it needs to be done..
djreef posts on January 23, 2013 22:17
All I can say is the 105 does everything the 95 does plus more. You may want to sell the 95 while you can still get something for it.
PENG posts on January 23, 2013 20:10
Has anyone seen any reviews comparing the 95 and the 105 yet? I am going to pull the trigger on the 105 soon but still not sure if I should keep the 95 or not.
j_garcia posts on December 27, 2012 10:56
BroncoAZ, post: 937306
I am building a decent AV system for my home and was looking at buying a BD player. I did some searching and didn't find the answer: Is the CD audio on the BDP-103 good enough to replace a stand alone single disk CD player? Or would it sound better than a $300 stand alone CD player? I will be running the following:

Nad t757 receiver (already purchased)
PSB T6 towers, PSB 300 series sub, C5 center, B4 rears (not yet purchased, but heavily incentivized through a work related program)

I was looking at getting a Nad C 515BEE single disk CD player and just keeping my PS3 for BD duties, but the Oppo 103 looks appealing for Netflix and Pandora without the jet fighter sound of my PS3 fan. Use is 70% video (50% Netflix 20% BD) and 30% music, although with the new system I hope my music interest increases.

Thanks
If you will be using HDMI or SPDIF for audio, then the 103 will be no different than any other player audio wise since the receiver will be doing the D to A. For analog audio, it should definitely be comparable to any other CD player in its price range. When I bought my 83 I was not disappointed with the analog section, though upgrading to the 83SE definitely improved on that.
BroncoAZ posts on December 27, 2012 09:45
I am building a decent AV system for my home and was looking at buying a BD player. I did some searching and didn't find the answer: Is the CD audio on the BDP-103 good enough to replace a stand alone single disk CD player? Or would it sound better than a $300 stand alone CD player? I will be running the following:

Nad t757 receiver (already purchased)
PSB T6 towers, PSB 300 series sub, C5 center, B4 rears (not yet purchased, but heavily incentivized through a work related program)

I was looking at getting a Nad C 515BEE single disk CD player and just keeping my PS3 for BD duties, but the Oppo 103 looks appealing for Netflix and Pandora without the jet fighter sound of my PS3 fan. Use is 70% video (50% Netflix 20% BD) and 30% music, although with the new system I hope my music interest increases.

Thanks
Post Reply