Spears & Munsil UHD HDR Benchmark Disc is Here!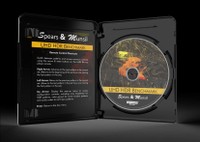 Ever since the first Spears and Munsil Test High Definition Benchmark Blu-ray edition came out, it has been our go to calibration disc for setting color, black level and various other picture alignment settings that allowed even a novice user to get near professional calibration status of their display with careful use and patience. We've been waiting for a UHD HDR disc capable of calibrating the latest UHD displays and projectors. Spears & Munsil heard the calls of the videoholics with the release of such a test disc. Check out what it offers and how to get it on Amazon for only $39.95!
The Spears & Munsil High Definition tech disc as been our go to standard for calibrating displays. Today S&M; announced a UHD HDR version capable of calibrating the very latest in display formats.