OPPO UDP-203 4K Ultra HD Blu-ray Disc Player Preview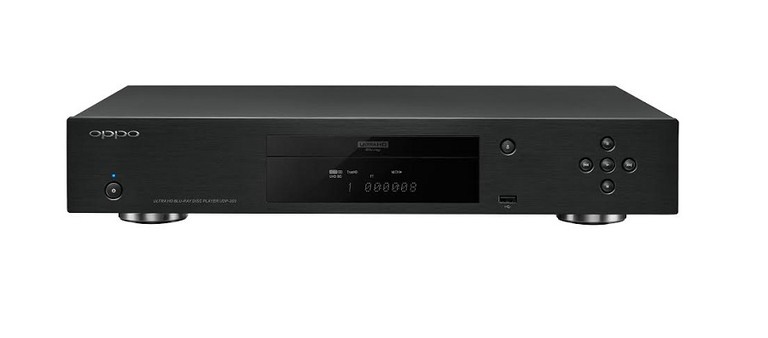 Summary
Universal disc playback for 4K Ultra HD Blu-ray and many other formats
High Dynamic Range with HDR10 and firmware upgradable to Dolby Vision
Two HDMI outputs – HDMI 2.0 for UHD and HDMI 1.4 for audio
HDMI 2.0 input for external streaming devices or set-top boxes
Two USB 3.0 ports for media file playback
High resolution audio with lossless decoding for PCM and DSD
7.1ch analog audio outputs with premium 32-bit "Velvet Sound" DAC by AKM
Executive Overview
OK, so you got a 4K Ultra TV for Christmas and now you need something to watch that isn't upconverted from 1080p or streamed from Netflix. Now you're in luck, OPPO announced the release of the new UDP-203 4K Ultra HD Blu-ray Disc player which will be ready for shipping in early 2017.  The $549 price point makes them a solid contender for an affordable 4K Blu-ray player already, but considering that most of the reviewers here at Audioholics use OPPO standard Blu-ray players as their source material for listening tests for their audio equipment and home theater reviews we're confident that the new OPPO UDP-203 will also be one of the better UHD Blu-ray players on the market at any price.
We got a quick peek of the new UDP-203 this fall at CEDIA in Dallas, Texas. The UDP-203 is a successor to OPPOs award-winning BDP-103 universal Blu-ray Disc player. In this generation, the OPPO UDP-203 will support the playback of 4K Ultra HD Blu-ray Discs. Packing a resolution of up to 3840 x 2160 pixels, UHD Blu-ray delivers four times the pixels of Full HD Blu-ray. The UDP-203 also supports High Dynamic Range (HDR) and Wide Color Gamut. All these features mean the newest OPPO Blu-ray should provide an enhanced resolution, refined contrast, greater brightness, and expanded color over standard Blu-ray discs.
Oppo UDP-203 Ultra HD Blu-ray Player Sneak Peek

The Technology
A customized quad-core video decoder/processor integrates OPPO's advanced video decoding, processing and optimization expertise. A high-precision, well-balanced laser optical disc loader ensures smooth and reliable playback of all types of disc media. The player features two HDMI outputs – an HDMI 2.0 port for connecting to the latest UHD TVs, projectors and A/V receivers, and an HDMI 1.4 audio port for connecting to older A/V receivers. Integration-friendly features such as RS-232 control, back panel IR sensor and third-party IP control should make the UDP-203 a great choice for any home theater system.
The good news is you don't have to repurchase your entire library of Blu-ray videos for movies you occasionally watch. The design of the UDP-203 focuses on quality playback and universal compatibility with multiple disc and file formats. In addition to the latest UHD Blu-ray, the UDP-203 supports regular Blu-ray, Blu-ray 3D, DVD, DVD-Audio, SACD, and audio CD. The UDP-203 is equipped with two USB 3.0 ports on the back and another USB port on the front. Users can play video, music and photos from USB hard drives or thumb drives. Built-in 802.11ac Wi-Fi or Gigabit Ethernet connects the UDP-203 to your home network, so you can easily play media files stored on computers and home servers.
For the audiophytes, the UDP-203 is further complemented by its support of lossless high resolution audio. The player decodes audio file formats such as AIFF, WAV, ALAC, APE and FLAC. It also directly plays Direct-Stream Digital audio files in stereo DSD64/128 or multi-channel DSD64. With internal decoding of Dolby TrueHD and DTS-HD Master Audio, and bitstream output for object-based immersive audio formats such as Dolby Atmos and DTS:X, the UDP-203 delivers great sound for both movie soundtracks and music. Besides HDMI, audio is concurrently available through the 7.1-channel analog outputs, featuring 32-bit premium digital-to-analog converters from AKM of Japan.

Conclusion
We can sympathize with OPPO's approach of keeping it simple when it comes to streaming services. There are none. For quicker start up times and faster response time (a problem plaguing most first generation UHD Blu-ray players), OPPO decided to eliminate internet video and music streaming apps. Instead, an HDMI 2.0 input port that supports UHD resolution is available for users to connect an external streaming device such as an Apple TV or Amazon FireTV. This approach gives you the flexibility to choose from a wide range of streaming devices and easily upgrade as streaming technologies evolve, while still taking advantage of the UDP-203's audio and video processing capabilities.
The UDP-203 is upgradable via firmware updates. Since the Ultra HD Blu-ray format is still very new, you can expect ongoing firmware updates that introduce new features and resolve issues. Leveraging hardware designed to support Dolby Vision, you can expect a firmware update in early 2017 that brings Dolby Vision support to the player.
We're looking for BIG things from OPPO's UDP-203.  If it performs as well as it's other Blu-ray players but with the benefit of 4K Ultra HD and available upgrades we think you'll be really pleased with your purchase.  The UDP-203 will retail for $549 and will be available for shipping in early spring 2017.

Confused about what AV Gear to buy or how to set it up? Join our Exclusive Audioholics E-Book Membership Program!
Recent Forum Posts:
Mikehd posts on January 03, 2017 13:17
HT Tweeker, post: 1164798, member: 81152
So disappointed they didn't include the revolutionary Darbee processing on these models, maybe there will be a 203D coming…..
You know companies are going to make or release something with all the goods the first time around , they will release the 203 and 205 without Darbee, then wait 6 months and release the Darbee edition of both to see if they can get you to double dip, Disney and apple are famous for it .
HT Tweeker posts on January 03, 2017 09:44
So disappointed they didn't include the revolutionary Darbee processing on these models, maybe there will be a 203D coming…..
Mikehd posts on December 31, 2016 11:06
I have an Lg signature oled UHD tv and a maranz pre amp AV8802A and i also have the panasonic Ub900 UHD 4k bluray player and i have had the Oppo 203 4k bluray player for a few weeks , i had my cousin come over who also has the panasonic , ran both through my pre amp , then ran both through the HDMi on the tv. The 203 picture quality was much sharper and colors much more vibrant me cousin were in aww, 203 was a little better in upscaling also , looking forward to the 203 dolby vision capability's once that happens its game over, panasonic isn't able to uprade to dolby vision . So we compared the sound , with my pre amp having a 32 bit akm processor and the Oppo 203 has a 32 bit processor also , sound stage was fantastic , the panasonic was good but not great we played some DVD audio disc, Super CD 's some of my High quality apple files that are un compressed also sounded fantastic , the panasonic Can't play any of these . Though the panasonic is a good UHD 4k bluray payer , i have it boxed up for my son to pick up and enjoy, will be getting an Oppo 205 in a few months the 203 will be going in the bedroom .
Stanton posts on December 31, 2016 09:20
George Louis, post: 1164056, member: 81094
Has anyone compared the Oppo's BPD-203 video image performance to the Panasonic DMP-UB900 that's the best 4K, 2K, and Blu-ray 3D player I've tested? I've found the DMP-UB900 to be better than the Philips, that's not as good as the Samsung UBD-8500, that's not a good as the Microsoft Xbox One S that's not as good as the Panasonic DMP-UB900 video image performance? I have the Panasonic and the Oppo BDP-203 on order to compare for myself.

Respectfully submitted,

George S. Louis
AudioGeorge
If I'm reading your comparisons correctly, you have found the
Panasonic DMP-UB900
the
best
(of the UHD players) so far: I totally agree. I'm not going to check out the Oppo…because I've been so happy with the Panny that I'm not interested in going through the whole "debug" experience (again) when I've got something that works well.
The Chukker posts on December 30, 2016 15:01
Hey Gene, was wondering if you could answer this for me. I was an early adopter of the BDP-105 and I just love it…except for one thing. Right out the box I used the BDP-105 as my pre/pro and used the analog outputs to connect directly to my Emotiva amps. Unfortunately there isn't any dedicated subwoofer options for CD playback when speakers are set to large/full range on the BDP-105 like I got when using a Denon receiver. With the Denon I could run my speakers full range in that scenario but also have the added oomph of my dedicated subs during CD playback which sounded amazing in Pure Direct. Will there be better sub out options with this latest generation of Oppo players? I really don't want to have to spring for a receiver or dedicated pre/pro like Emotiva's XMC-1 if I don't have to.
Post Reply