Marantz SACD 30n Network SACD Player Review
Marantz SACD 30n Network SACD Player Review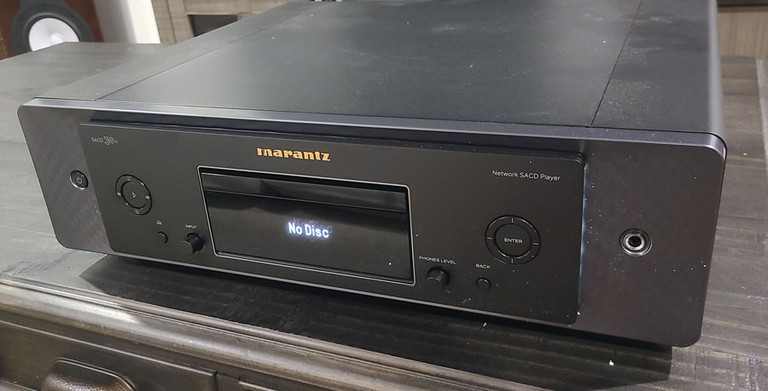 Marantz Model 30n
2 optical and 1 coaxial digital audio inputs (support for high-res PCM audio up to 24-bit/192kHz)
USB input (Type A) for USB flash drives (up to 24-bit/192kHz; DSD files up to 5.6 MHz)
Asynchronous USB input (Type B) for audio playback of stored music files (up to 32-bit/384kHz; DSD files up to 11.2 MHz)
Unbalanced analog fixed and variable outputs (no XLRs)
Marantz's Hyper Dynamic Amplifier Modules (HDAM SA3)
Selectable digital filters for fine-tuning sound
High-quality headphone amplifier featuring HDAM SA2 amplifier modules
Toroidal transformer with copper-plated shielding
SACD-M3L transport mechanism for excellent performance and sound quality
17-1/2"W x 5-1/8"H x 16-3/4"D
Weight: 30.2 lbs.
Warranty: 5 years parts and labor (3 years parts for optical mechanism)
Networking: HEOS ethernet and wireless support for streaming Tidal, Pandora, Spotify, Amazon Music, Netradio, etc.
Airplay 2 and Bluetooth 4.1 (98ft range)
DLNA compliant. This allows you to wirelessly stream a variety of high-resolution and compressed music files stored on your network connected Windows PC or DLNA-certified NAS drives to the SACD 30n.
Roon tested
Pros
Beautiful Sounding SACD and CD Playback
Convenient Streaming Features
Excellent Build Quality and Aesthetics
Can Be Used as High Quality Preamp
Cons
No XLR Outputs
HEOS Limits Full Resolution for Tidal Streaming
Pricey
Marantz has a long history of making audiophile CD and SACD players. My last review of a Marantz unit was actually their UD7007 Blu-ray player 8 years ago! I absolutely loved that player since I found it to be a jack of all trades serving as a solid Blu-ray but also great for 2CH SACD playback. Today we're looking at Marantz's latest SACD 30n networking SACD player with built-in HEOS streaming support. Is she a looker and a performer too? That's what we plan to discover in this review.
Marantz 30 Series Review | MODEL 30 Integrated Amp & SACD 30n Network Player
Marantz SACD 30n Design Overview
Marantz put a lot of tech into this beautifully crafted box that matches their new upscale aesthetic. I found the transport to be of very high mechanical quality. It's smooth and quiet and the tray doesn't feel like cheap thin plastic. It has the same guided feel that I loved in the UD7007. The network aspect of the SACD30n is quite extensive.  In fact, the SACD 30n can stream FLAC files from your NAS or thumb drive from 44.1kHz to 192kHz at up to 24-bit resolution, DSD 2.8MHz and DSD 5.6MHz, ALAC (Apple Lossless), AIFF, and MP3 files from major streaming providers, including Amazon Music HD, Tidal and others. Apple lovers will be pleased that the SACD 30n is Airplay 2 compatible. HEOS Built-in allows for greater listening flexibility and access, including a variety of voice-enabled technologies, including Amazon Alexa, Google Assistant, Apple Siri and Josh.ai to easily play music, skip tracks and more (degree of functionality is platform dependent).
Marantz employs their proprietary Marantz Musical Mastering (MMM-Stream converter) for optimal digital audio conversion. PCM inputs are up-converted to DSD at 11.2MHz using the MMM-Stream converter within the player to produce the analog output.  Marantz uses two system clocks to ensure the most accurate up-conversion of the incoming signal, whether it's from the disc or digital inputs, ranging from 44.1kHz to 384kHz. The design of the DSD-to-analog converter feeds into Marantz's proprietary HDAM in the output stage as part of their tuning signature sound quality. The SACD 30n features a dedicated headphone amplifier module using the Marantz HDAM-SA2 circuitry.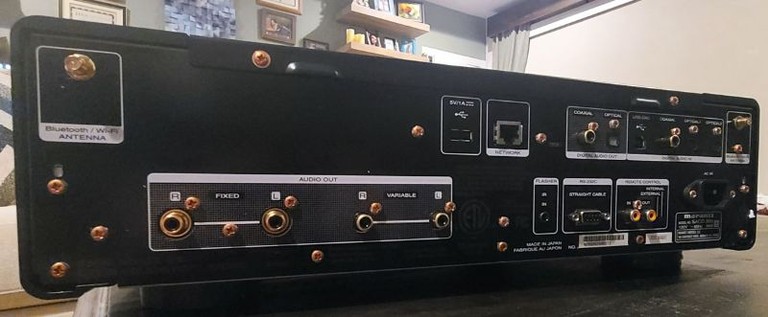 Marantz SACD 30n Back panel view
The SACD 30n doesn't have XLR outputs, which is unfortunate at this price point, but it does have variable and fixed line-level outputs. The variable outputs are useful if you want to bypass using an external preamp and directly couple the player to a power amp. I've done this with good success on the Oppo UDP/BDP-205 Blu-ray players and it makes for a compelling case for an audiophile minimalist. The SACD 30n has a USB DAC input capability, two optical and one coax inputs and both coax and toslink outputs too. Again, you can use this player as a preamp too if you really want to.
Remote Control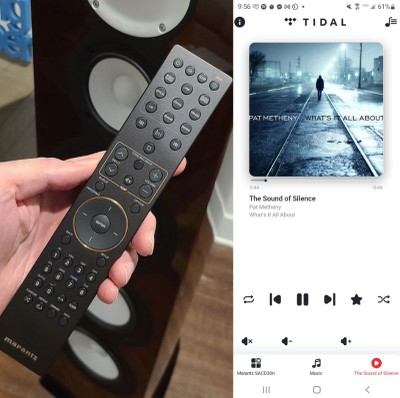 Marantz didn't skimp with a cheesy remote like most manufacturers do these days. Instead, the included remote has a nice brushed aluminum faceplate and central keypad with an indentation for your index finder underneath it for easy navigation and comfort. It has amp, volume and tone control function, which I suspect will work with their matching Model 30 integrated amplifier. My only complaint is I wish the remote was backlit, but sadly, this is something we are seeing less and less of these days for AV equipment remote controls. If you're not in line of sight with the player, the remote won't work. Thankfully, the HEOS app is quite extensive at controlling the SACD 30n player when it's on the same network as your mobile device. You're able to turn the unit on/off, select streaming options, input selection and more. In fact, this may be the preferred way of controlling your SACD 30n since it also shows album art for whatever you have streaming to the player.
Listening Tests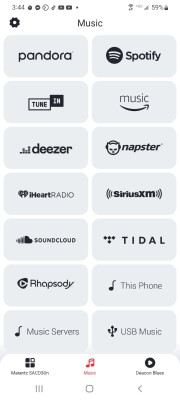 I spent a good deal of time evaluating the sound quality of the Marantz SACD 30n playing back various sources (i.e. CD, SACD, streaming) connected directly into my Anthem STR separates and Revel F328be speakers in the Audioholics music room/office. In most cases, I listened with the Filter 1 setting since I felt it extracted high frequency details better than the Filter 2 setting.

Filter 1: Offers a short impulse response for both pre-echo and post-echo. Suitable for large information content audio. Produces a deep sound image with clearly defined positional relationships of the audio sources.

Filter 2: This characteristic is known as asymmetrical impulse response. The post echo is slightly longer than the pre-echo. The sound characteristic is more analog-like.
HEOS integration worked pretty well and it enabled me to operate the player and stream directly to the player from my phone. Tidal music is what I mostly streamed from and thought it sounded good but NOT as good as when I plugged my computer directly into the SACD 30n via USB. HEOS isn't able to extract all of the layers of Tidal so I think that was potentially one of the reasons I preferred direct USB connection over streaming.
The streaming convenience is great for non-critical listening, but if you really want to take advantage of ALL the performance from this player, you'll want to use optical disc or direct USB connection to a NAS or your network computer.
Tidal: Alanis Morissette – You Oughta Know (Acoustic)
I wasn't a big Alanis Morissette fan in my college days when she came on the scene, but over the years, she's aged like a fine wine. The acoustic version of this classic is well recorded and serves as great demo material. This track sounds wonderful when streaming via USB from my PC. The finer details of the acoustic guitar strumming and rim shots are more easily heard via USB than streaming from my phone App to HEOS.
CD:  Dire Straits – Brothers in Arms
Dire Straits – Brothers in Arms is one of those records I'd have on my list if I could only listen to 10 albums for the rest of my life. Track #4 "Your Latest Trick" is such a beautiful laid back track. You can really hear the wonderful stick work of Omar Hakeem on the drums and understand why he was the choice player for this record. I heard so much spaciousness in this recording that didn't come thru with as much depth when I switched over to streaming via HEOS. The subtle conga hits just shower you as you sit back sipping an ole fashioned basking in audiophile goodness. I compared the DAC in my Anthem STR vs. the DAC in the Marantz and thought they both sounded similarly good. However, I ultimately would choose the digital connection for CD playback so I could take full advantage of Anthem ARC room correction. The guitar work of Mark Knopfler on track #5 "Why Worry" is sublime. The SACD 30n brought out every detail and decay of the wood block hits emanating in the background. Track #6 "Ride Across the River" has some real power behind it both in dynamics and bass. When listening to this CD on the Marantz, I felt the kick drums hit so deeply but without sacrificing any detail in the textures of the recording. The cricket sounds were very spacious and with my eyes closed I could almost feel a cool breeze surrounding me.
SACD: Chlara - In a Different Light
One of the best sounding SACDs I own is well done cover songs with the angelic voice of Chlara. "Hotel California" is arguably so overplayed to ad nauseum, but Chlara makes it her own. The decay of the conga drums at the beginning really grabbed my attention, as did her silky-smooth vocals. The Revel F328s had a chance to flex their bass muscles with the kick drum hits and the strum of the acoustical guitars was exceedingly detailed and vibrant. Her voice had a bite to it but I feel the Marantz sound warmed it up more than I've heard on my reference SACD player. I may get daggers from Adele fans but I think I prefer the way Chlara sang the hit song "Hello" over the original by Adele. It could also be the fidelity of this recording is so superior to the original that I was being seduced by great sound. In any event, this is one of those recordings that you become enveloped in with your eyes closed, IF you're listening on a good system with good room acoustics. I'm happy to report the SACD 30n produces stellar sound when playing back SACDs. It left me wanting nothing in the experience and reminded me why I still adore the SACD format so much.
Measurements & Analysis
Frequency Response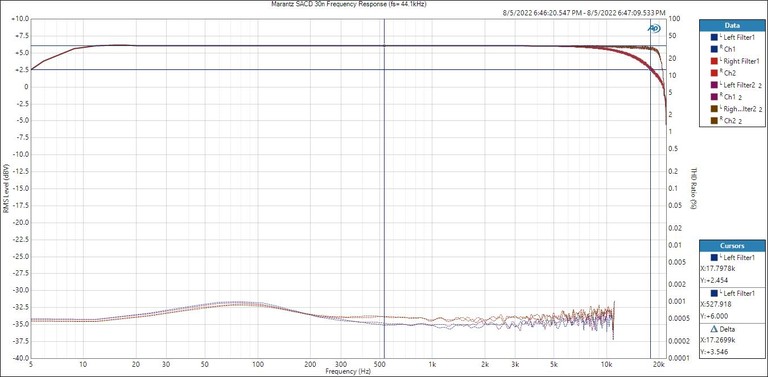 Marantz SACD 30n Frequency Response (fs = 44.1 kHz, filter 1 vs filter 2)
I measured the Marantz SACD 30n frequency response for both filter responses with a 44.1 kHz sampling rate. The Filter 1 position shows a -3dB rolloff at 17kHz whereas the Filter 2 position is flat to 20kHz. I confirmed this result with Marantz and they claimed during playback impulse response, the rolloff does not occur pre-echo and post-echo and they believe the Filter 1 position is better for sound quality.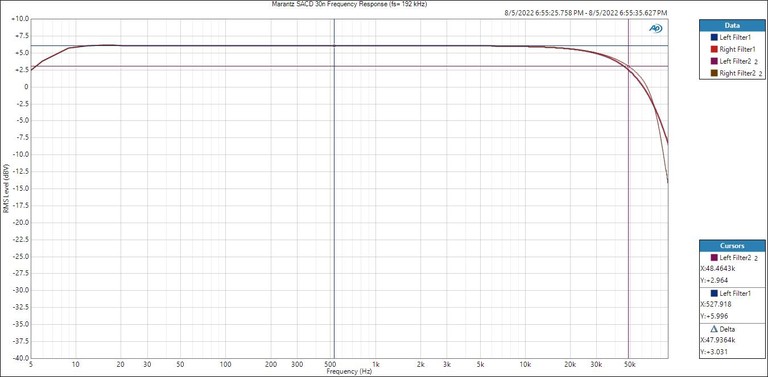 Marantz SACD 30n Frequency Response (fs = 192 kHz, filter 1 vs filter 2)
With a 192Khz sampling rate, I measured a -3dB pt of about 48kHz which is ½ the maximum bandwidth of theoretical based on Nyquist sampling theorem but not of any consequence as it's still > 2X higher than what a human with perfect hearing could hear. There was very little measurable difference between the two filter settings.
FFT Distortion Analysis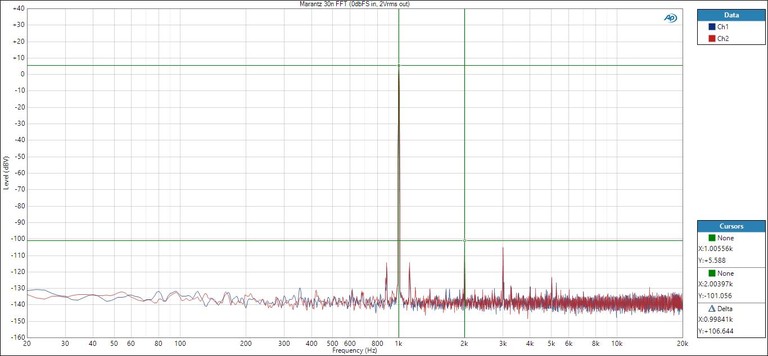 Marantz SACD 30n 1 kHz FFT with 0dBFs Coax Input, 2Vrms output
When I run an FFT on the Toslink and coax inputs, I notice some sideband distortions close to the fundamental 1kHz tone with any input level tested on the analog outputs. Oddly, if I used a CD as the source instead of the function generator of my AP, the sidetones are greatly reduced. I confirmed these results with Marantz and they claimed it was normal function and inaudible since the sidetones are at 2uV.  Perhaps the sidetones are an artifact result of the high-frequency signal processing by the MMM-Conversion stage (used in place of a conventional DAC) to produce the analog output.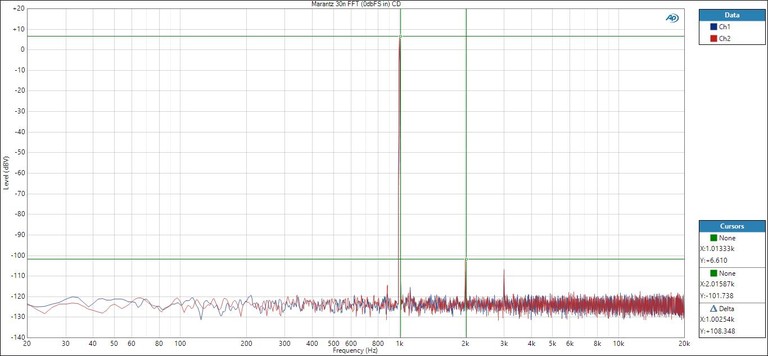 Marantz SACD 30n 1 kHz FFT with 0dBFs CD Source Input, 2Vrms output
The 2nd harmonic was at -108dB below the fundamental, which is a good result.  The measurement was even cleaner using a CD test disc. This is encouraging for anyone wanting to use this as a serious CD/SACD player. I also ran a signal path test between the coax input and output and there were no distortion or sidetones present. Digital audio pass through was pristine on the SACD 30n.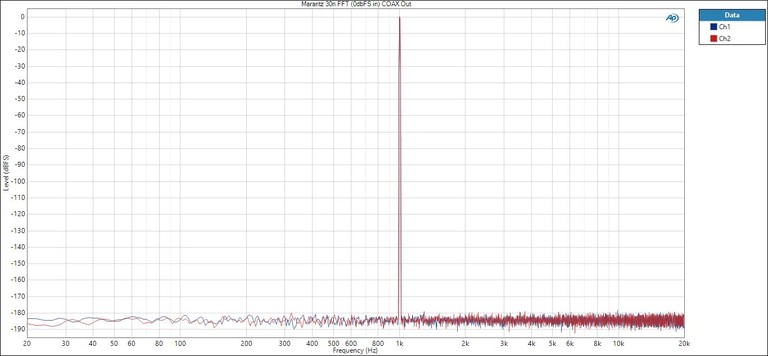 Marantz SACD 30n 1 kHz FFT Coax Output (0dBFS Coax input)

SNR & Crosstalk
Marantz SACD 30n – Dynamic Range 192kHz/24 Input (left) ; 44.1kHz/16 Input (right)
I measured 112dB SNR for 24/bit/192kHz input and 96dB for 16/44 which is theoretical perfection for the format. A-weighting was employed in these measurements.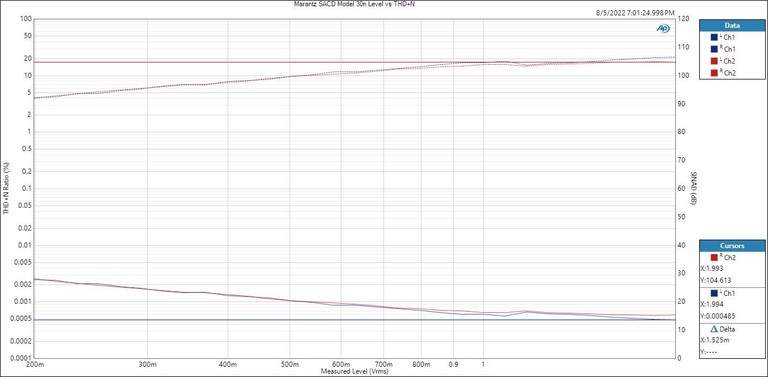 Marantz SACD 30n SINAD (THD+N) vs Output Level
Using a 192kHz/24 input, I measured THD+N vs output level. You can see excellent distortion results at .00063% THD+N or 104dB SINAD. This is within 1dB of the Marantz spec and an excellent result. You can use the SACD 30n for SOTA preamp duties if you chose to do so.
Conclusion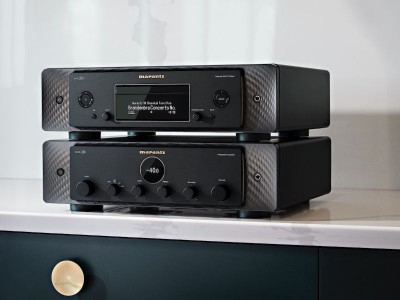 My time spent with the Marantz SACD 30n was filled with positive experiences that landed me in audiophile nirvana with almost everything I threw at it. The build quality, and its fit and finish are both commensurate with its lavish asking price. This thing feels expensive as it rightfully should at a $3k asking price. I would caution anyone considering this player for their system to make sure you have the space to accommodate. It's not small, towering over 5" in height by 16 ¾" deep and weighing in excess of 30 lbs.
The SACD 30n is so much more than just a conventional CD/SACD player. The networking features transform it into a full-fledged audiophile streaming device that just happens to play optical discs as a bonus. Personally, I couldn't imagine owning this player and NOT spinning discs on it.  If you're looking to do your CD or SACD collection justice or a reason to expand it, the Marantz SACD 30n makes a compelling argument for you to do so. The generous 5 years parts and labor (3 years parts for optical mechanism) warranty and the Marantz reputation ensures many years of enjoyment and pride of ownership. It pairs well with its matching Model 30 integrated amplifier and makes a handsome stack that sounds as great as it looks.

Trebdp83 posts on March 19, 2023 11:11
So, 3K doesn't get you the second unfolding of Tidal's MQA? Not that it matters as it's not really lossless hi- res for those who care. Didn't try Amazon Music Unlimited Ultra HD for 24/192 tracks?

I'd think anybody with a newer Denon/Marantz processor or receiver could save a fortune and simply use the built in HEOS app for streaming Amazon Ultra HD. Yamaha owners can use MusicCast to stream hi-res from Qobuz. Frankly, they kinda' set the standard for music streaming quality.

Denon got me many years ago when I wanted a CD/DVD-AUDIO/SACD player to match my Denon AVR. Just not falling for that nonsense anymore when far less expensive options exist with no discernible loss of quality. Sony's UBP-X800M2 is a far less expensive option for those wanting CD, DVD-AUDIO, SACD, and UHD blu-ray disc support when their AVR already has it's own USB and network streaming capabilities.
DT Audio posts on March 19, 2023 02:13
Thanks Gene for the review! Can you elaborate on the Tidal/Heos issue that affected sound quality? Was that MQA?
Thank you!
DT
Mikado463 posts on February 21, 2023 14:07
Good review Gene and as an owner of the Marantz 'Ruby' SACD player I find living without XLR outputs to be no big deal. But then my run to my line stage is only a half-meter.
Cos posts on February 21, 2023 13:46
Insightful review as usual. The one question I have relates to TIDAL and HEOS. As a Model 40N owner I was surprised to learn that it can't resolve all of the details. Is this a known limitation of HEOS? I find the app to be basic, but it works well enough. I don't believe you are referring to MQA Tidal? I would also be curious it this is the case for other HD formats from sources like Amazon Music HD etc?
isolar8001 posts on February 21, 2023 08:33
Nice dream machine ! Good work as usual, Gene.
"Your Latest Trick" is one of my go-to tracks for evaluating anything…fantastic choice !
Post Reply
Confused about what AV Gear to buy or how to set it up? Join our Exclusive Audioholics E-Book Membership Program!