Marantz CD6005 CD Player Review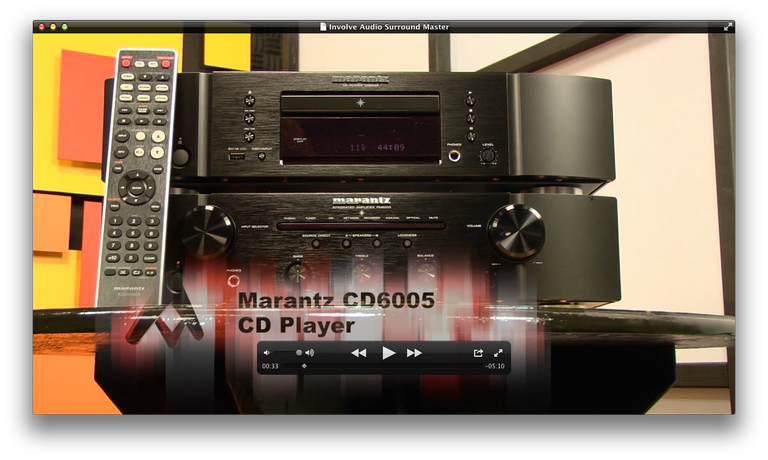 Marantz CD6005 CD Player
Summary
Formats: CDs, CD-Rs & CD-RWs plus MP3, WMA, and AAC CDs
Front-panel USB input (type A) for USB flash drive, iPod, or iPhone
USB input supports WAV, MP3, AAC, and WMA file playback
192kHz/24-bit Cirrus Logic CS4398 DAC
Double-layered metal bottom plate for vibration resistance
Centralized disc mechanism resists vibration for improved sound quality
Marantz HDAM (Hyper Dynamic Amplifier Module)-SA2 used in analog circuitry for faster signal Transfer and better transient response
Robust, high-speed power supply for rich, dynamic sound
Remote control
Optical and coaxial digital outputs
Gold-plated stereo analog outputs
Built-in headphone amplifier with full-size headphone jack and volume control
Remote control input/output (for use with Marantz receivers and amps with a compatible remote control in/out jack)
Detachable power cable
Frequency response: 2Hz - 20kHz
Dynamic range: 100 dB
Signal-to-noise ratio: 110 dB
Total harmonic distortion: 0.002%
17-5/16"W x 4-1/8"H x 15-1/16"D
Warranty: 3 years
Executive Overview
Marantz's new CD6005 Hi-Fi Compact Disc Player is a $499 CD player that boasts high-quality components dedicated to getting the best possible sound out of your CD collection. That means that Marantz took care to design this player in such a way as to include the features that audiophiles care about when it comes to playing back their CD collections. Features like a CD drive mechanism that's fastened to the chassis so it minimizes vibrations. Even the circuit board that houses the digital audio aspects of the player is isolated and shielded in the player. The CD6005 will play music CDs, CD-R and CD-RW discs as well as WAV, AAC, WMA and MP3 files. The front-mounted USB port will work with a USB thumb drive or even allow you to stream music directly from your smart phone or iOS device. 
I connected my iPhone and was streaming music from one of my Spotify playlists in no time. Anything that will play on the iPhone or iPad can be streamed through the USB port of the CD6005. Plus it will charge your iPhone, iPad or smart phone at the same time. It also picks up right where you left off, so when you plugged in my iOS device, music just started playing automatically. Continuing the audiophile features, the CD6005 includes a high quality headphone amplifier that has discrete circuitry and which Marantz claims will outperform many other outboard headphone amps. All I can say is that it may my reference Denon headphones sound awesome. 
I want to get to the listening tests really quickly, but it's worth mentioning that the CD6005 has a pretty cool two-line fluorescent display, that will give you artist and track titles from properly encoded CDs or the CD layer of an SACD. It has three dimmable settings, too so you can keep it from taking over a dark room. It also includes a pretty decent remote that's identical to the one that comes with the Marantz PM6005 Integrated Amplifier and which controls functions for both. Alright, listening tests.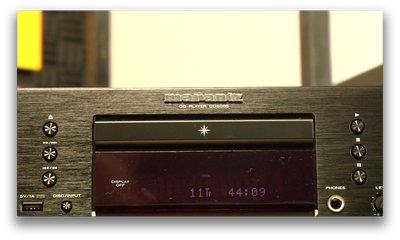 The Marantz C6005 has a nice two-line fluorescent display
Listening Tests
With listening to a CD player, what I'm interested in is whether or not it is delivering a faithful reproduction of the music I put in the player. Now I've been listening to a lot of one-man folk music lately, so to get some completely different music into the mix I brought out an oldie but goodie: KAJA. The first track on that CD, "Freefallin'", had some really driving synth bass as well as a persistent synth track that sat just behind Naomi Nsombi's vocals. The bass, as I remember it, really drives this track-almost too much in my opinion, but it is meant to be a club-type song after all. At that it succeeds. Track 10, "Nothing's Changing", has a much smoother sound that was well-balanced and allowed the CD6005 to demonstrate that it wasn't truncating any of the information present on the disc. Everything came through, from Valntine's beautiful and breathy voice, to the artificial noise floor underneath the entire mix. I just love this track and, while it doesn't have a really wide soundstage, I really thought the dynamic mix and the clarity of the female vocals was excellent.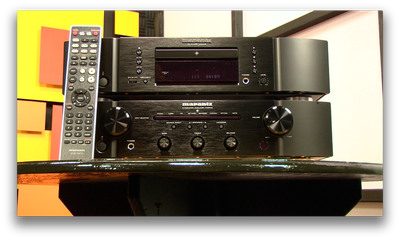 Both the CD6005 and the PM6005 utilize the same remote control which is interchangeable. 

One of the widest soundstage mixes I know is contained on R.E.M.'s Out of Time CD. "Radio Song" opens with an almost hyper-wide guitar riff with the main instrument in the left and the doubling effect and keys on the right. The verse then brings it back center, only to have it explode back wide again on the chorus. Michael Stipe's distinctive vocals really sounded clear in this mix and the upper midrange detail of his voice just sounded genuine. Mandolin and guitar on "Losing My Religion" kept my enjoyment of this wide mix alive, and the soundstage on this track is so particular and detailed that it was great to hear the CD6005 maintain all of that clarity and detail without losing anything in the transmission. 
I'd have to say that my CD collection really took on new life with this setup of the CD6005 player and the PM6005 integrated amp. These components worked hand-in-hand to deliver my music to my ears in a way that was pure and honest. I just really think this is a great system.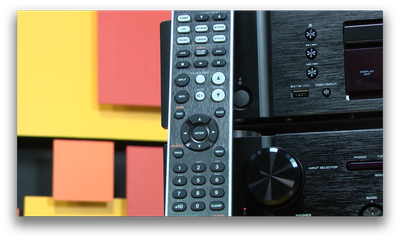 Marantz CD6005 CD Player remote is interchangeable with (and identical to) the one that comes with the PM6005
I did encounter the random oddity with this player. For one, it wouldn't play back a promotional CD I received of Paul McCartney's Band on the Run or the Beatles Love CD. These play fine in other CD players, but the CD6005 would have none of it and just keep spinning these discs with the word 'Reading' on the display. If you have a lot of extended run CDs you may run into these same issues, so be sure to do a demo and see if this issue was limited to our review sample. Another time the CD6005 wouldn't close the tray when I pressed 'Play' on the remote. Touching the tray got it to retract, and it functioned properly after that, but it was worth noting.

The rear panel may be sparse, but it does everything it needs to
Our question for this video is: What formats are you listening to? Are you into SACD or DVD-Audio? Are you doing Blu-ray concert discs or just streaming media? Let us know by posting a comment on this video or posting a photo to our Facebook page—facebook.com/audioholics. Also, please Subscribe to our YouTube channel so we can keep bringing you video reviews.

Confused about what AV Gear to buy or how to set it up? Join our Exclusive Audioholics E-Book Membership Program!
See also:
Recent Forum Posts: