Marantz PM6005 Integrated Amplifier Review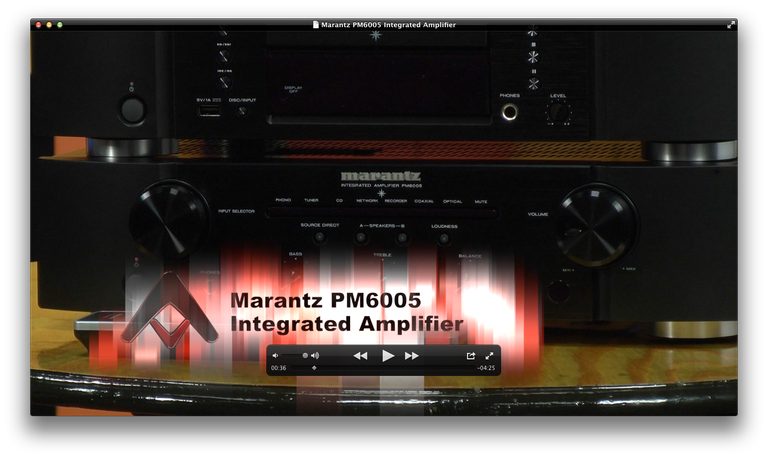 Marantz PM6005 Integrated Amplifier
Summary
Specifications
External control: Flasher In
D-Bus Remote (RC-5) In/Out: 1/1
AC Outlets (Switched/Unswitched): 2/1
THD: 0.08% (20Hz - 20kHz, 2 channel driven, 8 ohms load)
Input Sensitivity/Impeance: PHONO:MM:2.2mV/47k ohms, LINE:200mV/20k ohms
Frequency response: 10Hz - 70kHz +0dB, -1dB (CD, 1W, 8 ohms load)
S/N Ratio: PHONO:MM:83dB, LINE:102dB
Number of Channels: 2
Output Power: 45W (8 ohms), 60W (4 ohms)
HDAM
Power Transformer: Shielded Toroidal Transformer
Current Feedback Amplifier
Speaker Terminal: Gold Plated x 2 Pairs
Tone Control: (Bass: 50Hz, Treble: 15kHz) +/-10dB
Source Direct
Speaker A/B
General
Front Panel: Aluminum/Glass-reinforced resin
Remote Control: Marantz System Remote Controller
Power Requirement: AC 120V 60Hz
Power Consumption: 155W (Standby: 0.3W)
Dimensions W x H x D (Inchs): 17.3" x 4.1" x 14.6"
Weight (lbs): 16.8 lbs
I love the simplicity of integrated amps. In all of the complexity of receivers, the integrated amp is a reminder of what this hobby is all about—music. Marantz just put out its latest amp, the PM6005, which looks almost identical to Marantz's M6004. In fact, the only real difference is that the new PM6005 adds digital audio decoding. There are now two digital inputs—one optical and one coaxial. All of the digital to analogue conversion is handled by a reference-quality Cirrus Logic CS4398. That's a 24 bit/192 kHz high current D/A converter. 
Oh, and if you can't get to the amplifier to select and play audio from the coax digital audio S/PDIF input, you might want to double check to be sure you didn't accidentally plug the cable into the orange remote control input. Not that I did that...I would never do that...I'm a professional...
On another note, Marantz also eliminated one recorder loop-through analogue input. Other than that the units look identical, with IR flasher inputs and an RCA-style remote control loop-through. There are three AC outlets on the back. Two are switched, and one is always-on. These kind of convenience features are really practical and they afford you the ability to turn on your entire system and even power up an accessory like a router or other device—all with just a single power outlet being required.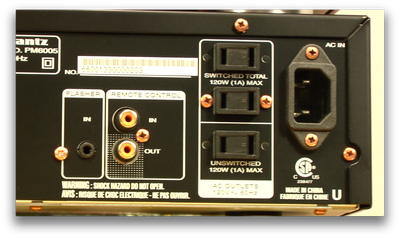 Three outlets on the back of the PM6005 means you can consolidate outlets as needed.
I can talk about the front panel, the automatic standby feature or the remote control that I found to be very usable and easy to access (though it's not backlit) but I want to get to how it sounds—my listening tests. Cause that's what matters. Everything else is really expected and not surprising. I mean it's a nicely-designed integrated amplifier, but it's not wholly different that any other integrated amp I've used in terms of how it interacts with you. But the sound...
Listening System

I had just seen Classic Albums Live do Pink Floyd's Animals and Dark Side of the Moon albums, so I was motivated by the opportunity to give my Dark Side of the Moon album another listen. I popped in the SACD I have of the album and played the CD layer on a Marantz CD6005—the perfect and obvious matchup to this integrated amp. The roto toms in "Time" were wonderfully spacious and the two-second reverb decay really just cascaded into the listening space. It's always difficult to compare amplifier sounds, so what I did in this case was A-B it with a couple of Emotiva XPA-1 amps that I have in this room as well. The speakers I kept constant—those are a pair of Salk Songtowers. 
If you happen to be a cable guy, I wired up the entire system with Kimber Kable 4VS wires. These are gorgeous cables and they should leave no question about the integrity of the transmission signal going from the amplifiers to the speakers.

The rear panel of the PM6005 has very nice speaker connectors and the new digital inputs are perfect for ensuring a lossless connection from a CD player or other digital device.
Listening Tests
I am very familiar with the sound of these speakers and that amp, so my goal was to see how much performance and fidelity I could discern from the $600 Marantz compared to a $2000 pair of monoblocks. In "The Great Gig in the Sky" I think I found my answer. There was just a touch less warmth on things like the electric bass guitar, but airy effects like cymbals that poked in from time to time in the track, and the tight snare revealed a simple clarity that couldn't be ignored. The PM6005 seems to demonstrate a lot of control over those low frequencies that often ring out or disappear into the track. In "Us and Them" I loved how the background synth pad rode almost overtop the more pointed lead instruments in the mix. My Salk speakers were really able to do a lot with the output to provide a really enveloping mix and listening experience. David Gilmour's lead vocals were incredibly powerful and went from an up-front dreamy center-sourced echo to a wide, spacious (almost choral) sound. I really can't convey how spread out the sound was, but it felt very live, and it was a lot of fun to listen to. I sat through the entire album, and it just kept getting better and better. The PM6005 can drive your speakers and drive them both loud and with a ton of control.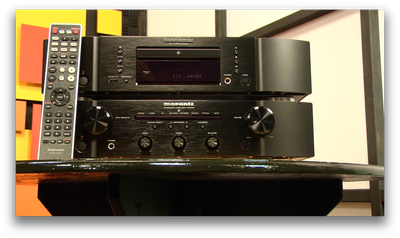 The CD6005 and the PM6005 is a perfect match made in heaven.
I wanted to get a somewhat simpler sound going through the PM6005 as well, so I queued up some Tom Conlon with "Resistance", the first track of his Live album. Closing my eyes it was like Tom was sitting in the room giving me a private concert. Having seen him live, this was high praise. I could even hear the noise of his guitar rig in between phrases and during the quiet open. His folky and honest vocals had a nice bite, and the sibilance didn't distort of get cut off, nor was it accentuated by amplification that didn't know what to do with it. In "This I Do Know" Tom's percussive guitar work really brought this track alive in my system, and it gave the bottom end of my Songtowers a much-needed workout. I also love the track "Emmanuel" and wanted to hear it on this system. This is a much fuller track, though perhaps just via the way Tom keeps the rhythm a bit more active on the guitar. Listening to it it sounded Ike he had another guitar going as well as a bass, but it was just him plugging along in that magical way he has with those guitars of his. His strong up-front-and-center vocals were anchored perfectly in the center, but the stereo reverb effects really opened up the soundstage. For a stereo recording of just vocals and a single guitar, there was an incredible amount of depth and width afforded by the engineer. The Marantz really picked this simplicity up well and conveyed it in a way that just felt authentic and...well, beautiful.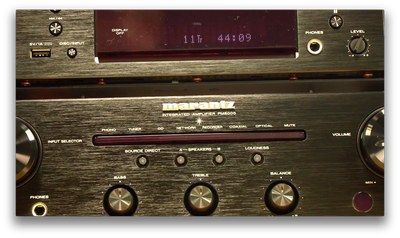 Splitting the difference between these first two albums was a CD by Marc Broussard entitled Momentary Setback. What I like about this album is the combination of great instrumentation and utter simplicity. There is a lot going on: keys, acoustic guitars, bass, keys, strings...but it never gets overbearing and so you get a lot of opportunity to just hear each different aspect of the song pour through. On track 3, "Blue Jeans", I love the funky Clavinet that sits back in the mix and occasional pokes out for a lead. And of course the bass really drove this track hard, even as Marc's lead vocals carried it along with his unique style. The PM6005 didn't stand in the way of every beautiful element of this album coming through in all of its passion and energy.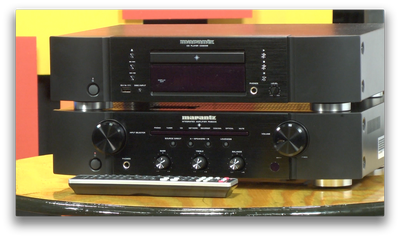 Conclusion
This is a really excellent integrated amp that plays clean and has the right features for the right price. Fan of Marantz are going to love the DAC and those looking to develop a nice two-channel system are going to want to give this a listen. It's a no brainer to put on your short list. 
Be sure to visit our YouTube page . And check out our Facebook page at facebook.com/audioholics for the latest reviews and AV-centric posts throughout the day. If you absolutely can't wait for your AV news and reviews then it hits Twitter first, so follow us @AudioholicsLive

Unless otherwise indicated, this is a preview article for the featured product. A formal review may or may not follow in the future.