Salk SongTower QWT Floorstanding Speaker Review
Salk SongTower QWT Floorstanding Speaker Review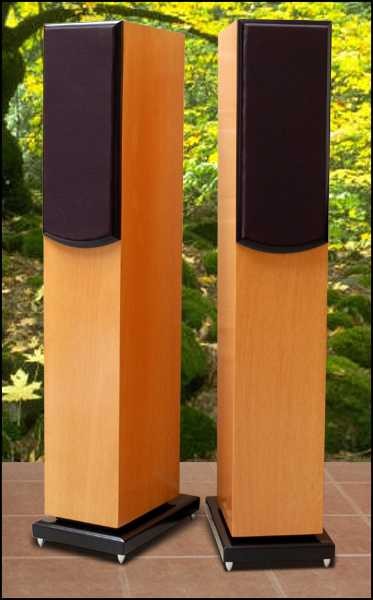 Salk SongTower QWT
Design: MTM 2-way QWTL
Drivers: (1) Hiquphon OW2 tweeter, (2) Seas CA15RLY midwoofers
Response: 42Hz - 20KHz (+/- 3db)
Sensitivity (dB/2.83v/1M): 88db
Impedance: 4 ohms nominal
Recommended Amplification: 30 - 150 tube watts, 80 -250 solid state watts
Box Alignment: Quarter-wave transmission line
Dimensions:
(HWD) 44.5" H x 8" W x 11.5" D
Pros
Highly detailed
Great imaging
Deep, linear bass
Beautiful finish
Cons
Forward presentation of some female vocals
Soundstage could be wider
Unconventional floor spikes
Introduction
You may not have heard of Salk Sound, but if you have, you were probably intrigued. Their speakers just look so darn good. But looks aren't everything - what really matters is how they sound. Utilizing a MTM (mid-tweeter-mid) configuration and a Quarter Wavelength Transmission Line design geared toward optimizing bass, the SongTowers sound great on paper. The question is how will they sound in your room?

Confused about what AV Gear to buy or how to set it up? Join our Exclusive Audioholics E-Book Membership Program!
lost33 posts on March 05, 2009 21:02
Hey Bob!!!

haahaahahahahahahahaha!

Zip, zero, nadda….

and I just got done listening to the RAVE 2008 reference tracks disc and once again I had the 'ususal' ethereal experience with many of the tracks on this disc…

And for those that really like and search for really great recorded material to test you speakers:

1. Stravinsky Firebird Suite Eiji Oue Minnesota Orch…the SongTowers make listening to classical music a JOY.

2. Your Joy - Chrisette Michele — WOW what an awesome recording of someone I have never heard of..the presentation is like she is there in the middle of the soundstage ..like the speakers are GONE….absolutely stunning!!

3. Mars - Dean Peter…what a wonderful surprise..so full on all kinds os esoteric sounds…from very low amplitude to WHAMO….this will make you smile for sure..

4. Surf's Up! Brian Wilson,,,Holy Crap This kind of simple music never sounded so great…..just another WOW…

5. Bizet - Carmon Fantasie Anne-Sophie-Mutter, Vienner Phil - James Levine
I never really liked classiscal music and now I have realized I have missed out on alot….and look forward to listening a lot more…oh did I also say its really sound great on the SongTowers!

6. La Grange….dang its GOOD..

Many thanks to lonewolf42 for oepening my eyes up to lots of new stuff!!

What a great combo….great material and great speakers and so little time!!

Hope some of you look into some of those cited tracks…and enjoy!!

All the best
Alex
BoB/335 posts on March 05, 2009 04:46
I was just going to ask you how much you were getting paid for that.
lost33 posts on March 04, 2009 21:35
Hello,

I purchased a pair of SongTower QWT's with the dome tweeter sight unseen and unheard.

I have had them for 2 weeks now.

I have been amazed each and everytime I listen to them. They are the best speakers that I have heard in this price range. We did listen to most of the fine speakers in this price range, but due to Nuance search for his perfect speaker I was convinced this speaker, design etc was somthing special.

The entire experience from talking to many forum members and with Jim Salk himself was a really nice cordial one. Jim really likes to make his customers happy and has gone out of his way to answer everyone of my calls and emails..imagine sending an email to the owner of other high end speaker CEO's!! Matter of fact I just emailed Jim and in less than 10 minutes he emailed me back. What a real nice person!!


That said I have modest electronics and a rather small listening room and have spent a day or so playing with toe-in and seperation distance. I also have a 58" plasma piece of glass in between them. I was worried about the soundstage and imaging etc…

Well I am very happy to say the overall experience with the SongTowers have been close to a 10 out of 10. By careful placement making sure the speaker fronts are well in front of the plasma HT screen the imaging has been fantastic…I have always walked away just amazed at what relatively small speakers lilke these can do with all sorts of material….classical, guitar, rock, etc…and vocals WOW do they do these well!!

The soundstage is absolutely amazing in my listening room and I was so worried that this room would not be a good one!!! Happy, happy!!

I have played many of the audiophile RAVE discs and demo discs that have some extremely great recordings and I just cant tell you how well these speakers reproduce this material. Garbage in is still garbage out…but with well recorded material is sent to these transducers, its magic.

The sound of instruments is very accurate, the drivers in this speaker have to really good to allow this to happen, the response is very quick, I guess those small 5" drivers can move very fast and the drum / percussion is really tight and wonderful. Heck even FM radio sounds better! Different but better.

The ONLY thing that these speakers can not really do well is reproduce those really low end 'rollers'…..those things that go really low, below 30HZ I would say, those low growling thhings like you hear in FLIM and the BBs material and the old Edgar Winters "Frankenstein" cut at the end where the synths go down to the bottom of what we can hear….

That said 95% (guess) that we (I) listen to the Songtowers produce muscial base that is wonderful….Duende and Diana Krall cuts have bass violin that is so dang accurate and tight it like they are right there in the room….its THAT GOOD.

If your on a budget, have a smaller room, and think you would never find a set of speakers that would be 'world class' in this size / price range….look no further!!

The SongTowers are what Jim descibed to me as the 'perfect storm' of a speaker, the sum of the parts is exceptional.

All the best
Alex

NOTE: I am not getting paid by Jim or anyone to say these things…
They are that good!!
Swerd posts on February 27, 2009 19:34
BoB/335, post: 529956
I ran across this thread while looking for reviews on Song Towers as I am contemplating purchasing a pair.

Seems I read somewhwer that the hole resembling a port at the rear of a ST is a "vent" and not a port and can therefore be placed close to a wall at the rear. Is that true?
Yes, that's true. Someone asked that in the thread where I posted my ST listening impressions.
Dennis Murphy answered
.
Others (including myself) have also tried the same thing and heard similar results. This is the opposite of the usual conventional wisdom that has it that placing speakers closer to the wall behind them makes them sound boomy or muddy, and that moving them away from walls decreases the boom. Apparently this feature is also seen in other speakers with transmission line cabinets.
BoB/335 posts on February 27, 2009 14:26
I ran across this thread while looking for reviews on Song Towers as I am contemplating purchasing a pair.

Seems I read somewhwer that th hole resembling a port at the rear of a ST is a "vent" and not a port and can therefore be placed close to a wall at the rear. Is that true?
Post Reply