Yamaha CD-S3000 CD/SACD Player Preview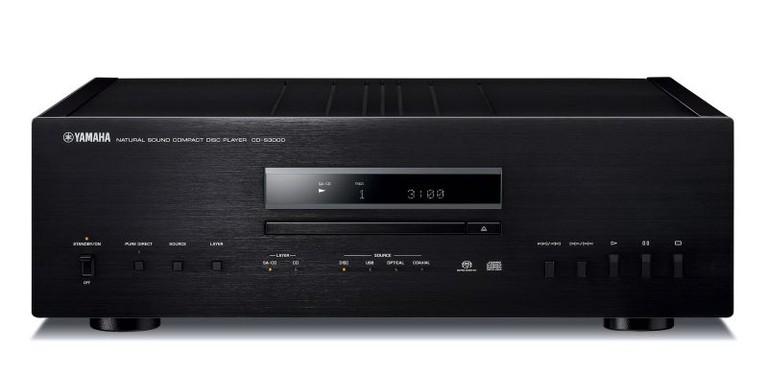 The Yamaha CD-S3000.
Summary
Type: Single Disc CD Player
Disc Compatibility: SACD, CD, CD-R/RW (MP3, WMA), USB
Output Level: SACD / CD 2.0 ± 0.3 V (1 kHz, 0 dB)
Signal-to-Noise Ratio: SACD/CD 116 dB
Harmonic Distortion: SACD / CD 0.002% (1 kHz)
Dynamic Range: SACD 110 dB, CD 100 dB
Frequency Response: SACD 2 Hz-50 kHz (-3 dB), CD 2 Hz-20 kHz
Output: Optical and Coaxial
Dimensions (W x H x D): 17-1/8" x 5-5/8" x 17-5/16"
Executive Overview
Let's face reality: pairing a statement level integrated amplifier like the Yamaha A-S3000 with a cheap CD player is roughly the Hi-Fi equivalent of forcing your wife to wear a garbage bag to save a few bucks. Sure it can be done, and the results might even be passable for an afternoon or two; however, we wouldn't count on the combination bringing long term satisfaction. Humans are visual creatures after all, and pride of ownership makes a huge difference in our perceptions. So what then would better complement the aforementioned Yamaha A-S3000 than the CD-S3000? Priced at a lofty $6,999.95, the CD-S3000 probably isn't going to make its way into our budget system recommendations any time soon. Still, if you're curious what goes into a $7000 CD/SACD player, keep reading.
Build Quality and Feature Set
The first big indicator that the CD-S3000 isn't a run-of-the-mill CD player is its weight: a hefty 42.3 pounds. With an overbuilt chassis befitting its price tag including a 0.28" thick aluminum front plate, the CD-S3000 is built with the total elimination of vibration in mind. The drive mechanism is precisely anchored to the inert shell, and also features a high rigidity aluminum tray to reduce vibrations from the spinning disc.  In terms of external appearance, the CD-S3000 strikes a largely understated tone, with the black brushed aluminum face only broken up by a handful of controls and the glass display.

As far as features go, the CD-S3000 delivers about what you'd expect, and a few nice extras. Starting on the rear panel, you get a pair of balanced and unbalanced outputs, as well coaxial and optical digital outputs. As a useful addition, the Yamaha also boasts a trio of digital inputs (1 USB, coaxial, & optical) such that you can utilize the built in DAC of the unit for more than just CDs and SACDs. Yamaha is particularly proud of the CD-S3000's performance via the USB input, which supports the ASIO 2.3 protocol via the Yamaha Steinburg USB driver (available for download on Yamaha's website). This allows for higher throughput and lower latency than standard OS drivers, and consequently should result in practically perfect streaming of even high definition audio files from your PC. Moving to the front of the unit, the Yamaha sports standard controls for the player (play, fast forward, rewind, etc) as well as a source selector, layer selector (CD or SACD), and a pure direct button which disables the display and digital output circuitry. One notable omission to the feature set is the lack of multi-channel analog outputs; without these or an HDMI output, SACD is down-mixed into 2.0 format and fed through the analog outputs.
The Yamaha CD-S3000's rear panel.

Performance
As you would hope for a product in this price bracket, two-channel performance should be reference grade courtesy of the ESS Technology ES9018 SABRE DAC. Nominally an 8 channel audio DAC, the SABRE is implemented by Yamaha with 4 channels per side; ESS claims this configuration will deliver over 130dB of dynamic range, quite close to the human limit of roughly 140dB.  The SABRE also features a built in master clock which aides in the elimination of jitter. Yamaha has also taken extra steps to electrically isolate the internal circuitry, including separate power supplies for the digital and analog circuits. Together with the vibration reducing steps taken at the transport level, we'd expect the CD-S3000 to offer practically perfect performance.
The innards of the Yamaha CD-S3000.
Summary
If you're a two channel enthusiast with a penchant for the finer things in life, the idea of pairing an inexpensive CD player with an otherwise top shelf system probably doesn't sit right with you. If that's the case, Yamaha's CD-S3000 might be of significant interest to you. With strong potential to achieve (and potentially re-define) reference grade two-channel performance, as well as impeccable build quality, there's not a lot to complain about. Naturally there is a price to pay to step into a statement level product; however, if you've got the means and the desire, the Yamaha is likely to provide years of sonic bliss and pride for the owner.
Confused about what AV Gear to buy or how to set it up? Join our Exclusive Audioholics E-Book Membership Program!
Recent Forum Posts:
sterling shoote posts on April 06, 2017 18:54
If it will not play multi-channel SACDs I'm not interested. When multi-channel SACDs appeared it distinguished SACD; and, as far as I'm concerned, it made the concept very desirable, sounding better than CD big time. Then, just a few years ago, multi-channel analog output was replaced by HDMI output on most SACD players and Universal players, except for OPPO players, which still allow for multi-channel via RCA analog output. I like that, since my pre/pro does not have an HDMI input. Another thing changed too, again except for OPPO, most SACD player manufacturers stopped making multi-channel players for stereo only SACD players. Who would want such a thing. At any rate, for those who do have pre/pros with HDMI input, I'd suggest getting the OPPO UDP-203 to enjoy multi-channel SACD. If you do not have HDMI get the OPPO UDP-205 coming out later this month as I understand it. Either way you can enjoy multi-channel SACD, which as I hear it, can be an awesome recorded music listening experience.
Guust69 posts on April 06, 2017 07:35
This my experince and review of the Yamaha cd-s3000:

For me the perfect SACD player has three qualities. Excellent sound, easy to use and firmly build. Sound a 8, usability 6 and construction 2 out of ten.

The sound is fantastic. It is light, transparent, wide, direct and in balance. When you close your eyes, you're convinced the piano plays in your room. I give it 8 out of 10. No 9, therefore the difference between SuperAudio and CD should be more distinct. The DAC is nothing special. It's great with USB connection, but otherwise… it's just a DAC.

The usability is disappointing. This player needs at least 12 seconds to decide if the disc is SACD, CD or nothing at all. The last one is annoying if you want to use the DAC. For usage 6 out of 10.

The body seems impressive when you realize that it weighs 20kg. Hellas the kilograms do not represent the build quality. This player has major design faults. About 15% of my CD collection cannot be played. It's not just the old ones also some new CD's get the qualification: 'No Disc'.

16 months ago, I bought this player as first owner. One month later I tried David Bowie's Hunky Dory. The player started to make a noise like an espresso machine in action, a loud stamping sound. And there were more CD's with strange machine noises.

The CDS3000 is Yamaha's top audio product so their salesman instantly offered me a surround amplifier for free to buy of Yamaha's embarrassment. After repairing the issue was not solved so I got a new one and a month later again a new one. The third player had no trouble with David Bowie but refused SACD's. So back to the store. After three players, two repairs and 15 months Yamaha finally decided to give me my money back. For construction 2 out of 10.

When Yamaha launched the CDS-3000 they announced they are back in the arena of high-end audio and they can compete with the best. After three years after launch date it's fair to state that this player has great sound capability's but is ludicrously bad build for 4.000 euro's and is therefore no match for the competition.
Ponzio posts on September 29, 2013 05:58
Adam, post: 984450
Then again, I'm not the target audience…or even in the same zip code as the target audience.
I wouldn't say audience as much as a small pack.
tmurnin, post: 984651
The fact that this product made it to market in 2013 has me seriously questioning whether Yamaha is a viable company going forward. Who would approve the development of a standalone CD player in 2013 - especially one that sells for $7000??!! Who on earth would actually buy this product?
Yeah, this will definitely bankrupt Yamaha.
Many respectable companies, be they automotive, audio, whatever, will build these boutique products as a balm to their internal engineering people and worldwide bragging rights. I doubt profit enters the picture at all. Plus you have the added benefit of trickle down technology to their more affordable consumer products.
Darkwing_duck posts on September 28, 2013 22:59
Even if I had the monies….I'd still buy the oppo. It even looks sexier than this Yamaha.
Darkwing_duck posts on September 28, 2013 22:58
Man $7000 for this? The Oppo 105 is still the superior device and it's 5x cheaper for crying out loud
Post Reply