Boulder 1021 CD Player Preview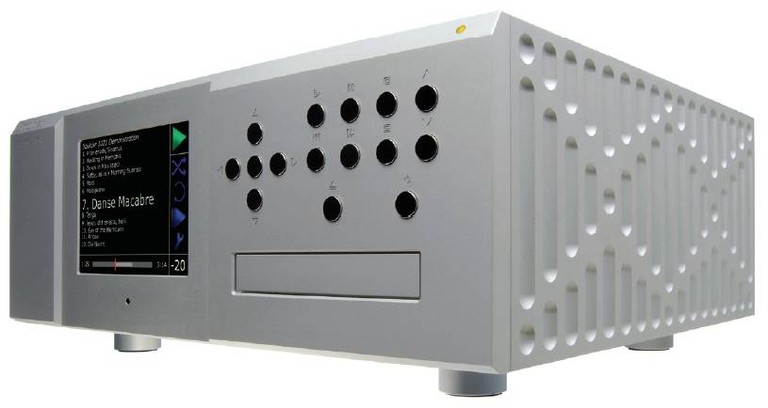 Boulder's $24,000 Paperweight
Summary
Formats: CD, MP3
Output Level: 4V Bal, 2V Unbal, @0dBFS
Analogue Output: 2 pairs 3-pin Bal, Adaptable to Unbal
Digital Output: 3-pin AES, Adaptable to SPDIF
Volume: 80 dB range in 1.0 dB steps
Display Output: 640x480 VGA 15-pin connector
Internet: RG45 Ethernet connector
System: Boulderlink, 12V Trigger Out, IR In
Dimensions: 18" W x 9-1/4" H x 15-1/4" D
Weight: 46 lbs (60 lbs shipping)
Power: 50-60 Hz, 85W
Executive Overview
Apparently someone forgot to tell the high-end crowd that the CD isn't the pinnacle of all that is good and wonderful in audio. Instead of capitalizing on advanced features like hard-disc media storage and cataloging your entire CD collection in high resolution lossless format, Boulder Amplifiers has gone with an uber-expensive single-disc CD player. The new 1021 Disc Player from Boulder Amplifiers is going to make a lot of people exclaim "you paid HOW MUCH for that?!?"
The luxury performance brand claims to have put two years and around $1 million in development of the new CD player. We can only hope that they purchased a nice ocean-front office in the Carribean as part of that deal. The 1021 upsamples 16-bit/44.1kHz CDs to 24-bit and can process other sound files at data rates up to 32-bits and 192 kHz.Where does this new information come from, you ask? It's all part of the magical proprietary features boulder has within the 46-pound behemoth.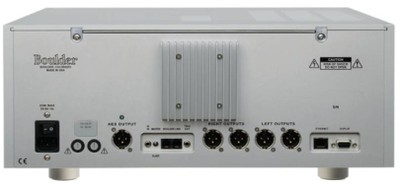 Note the AES outputs, balanced stereo and Ethernet port. There is no RS-232C control
Features like a dual buffering system (with ~60 seconds of storage) and ultra-low jitter precise interval clock ensure optimum processing and accurate playback. Raw data from the buffer is manipulated entirely in the software domain by a dedicated digital signal processor (DSP). The DSP features a Boulder designed Eigen-value oversampling filter. It also has its own data buffer which calls for audio information from the host computer. While the product documentation makes a big deal about the buffer and "listening beyond the redline" essentially the system seems to be bragging about the equivalent of a high-speed CD drive with buffer - something that has been present in most PCs since the dawn of 4x or higher CD transports (though without the quality and complexities of Boulder's particular style of buffer).
There's also a 6.5-inch full-color LCD display for track listings, menus, setup features and full-screen feedback. An Ethernet connection on the back allows the CD player to pull artist, track title and album name info from either the Internet. In lieu of an active connection, the system comes with an internal database for CD information and it can also read metadata or CD text. The 1021 allows you to program playlists for your CDs, and program "literally thousands of listener preferences." Unfortunately, since this is a single-disc player, that means that most of the features either target a single CD (big whoop) or a disc loaded with tens of MP3 files, certainly not audiophile in any sense of the term.
The 1021 is provided with Boulder's distinctive remote control. When a button on the remote is pushed, a full-screen icon appears momentarily on the 1021's display to confirm that the player has responded to the remote's command. A selectable digital volume control allows you to connect the 1021 directly to a power amplifier or powered loudspeakers, however, the player's output can only be adjusted in 1 dB steps. Additionally, the volume control can be disabled for operation in fixed output mode in a separate component audio system.
The 1021 is the first source component from Boulder and features the impressive build quality and design which adorns the company's other components. It has an MSRP of $24,000. Clearly there are people in the world who "want the best" regardless of what it costs. And as long as these people exist there will be dealers and custom installers who will sell it to them at 50% margins. Chalk this up to a company who is smart enough to know that. The Boulder 1021 CD player is most likely an excellent product with unsurpassed clarity. But what it all boils down to is that this is a $24,000 single disc CD player. Big whoop.
For more information, please visit Boulder Amplifiers.

Unless otherwise indicated, this is a preview article for the featured product. A formal review may or may not follow in the future.
Tunkika posts on July 29, 2015 11:50
Well, Boulder takes it over the top. But 1021 is not just a CD player, it was one of the first high-resolution players capable of playing 192 kHz sampling music from it's built-in DVD drive. But expensive it is.

Someone also mentioned Burmester. Another company that takes it over the top. Just like Audionet. I'd rather have a Spectral or Pass amplifier than a Burmester one. But there's no way I could justify spending so much sp for me, Bryston equipment is as good as it gets.
Pyrrho posts on May 30, 2008 20:15
I'll be happy to supply some appropriate connecting wire, including enough for your turntable, CD player, and speaker wire (up to 15' per speaker, for two speakers; other connecting wires, up to 6' — please specify required lengths when ordering), all for the special introductory price of only $157,000 (not including shipping and handling). And, I will include a money back guarantee, if not completely satisfied. I will give you every penny of the $157,000 back if you are not completely satisfied, and don't agree that it is the very best sounding wire you have ever heard in your life. Just return it within 30 days, in like new condition, with all original packing materials and instruction manuals, prepaid and insured, and I will refund the full $157,000 purchase price.

Just send me a U.S. Postal Money order for $212,000 (price includes shipping to any address in the continental U.S. to which UPS delivers; price higher for other locations). Be sure to specify the models of equipment you are using, so that I will customize the wire for your particular equipment combination. Please note, the customization process takes time, so do not expect immediate delivery. Send me a PM if interested.

Special introductory offer price ends June 30, 2008, with the price then going up to full retail price of $489,000 (plus shipping and handling), so act now!
AVTguy posts on May 30, 2008 20:11
I know it's not a disc player, but can't you get an Anthem Statement D-2 Pre/Pro for around a 1/4 the price of this thing, and get nearly the same results, but out of everything you hook up to it?
hopjohn posts on May 30, 2008 19:38
Pyrrho posts on May 30, 2008 18:55
Why is anyone surprised? Surely, there must be a more expensive CD player than that, isn't there? From a quick search, I found one that is much, much more:
https://blog.stereophile.com/stephenmejias/103106poor/
You could almost buy two of the cheappie Boulder 1021 CD Players for the price of one of those. Really, those of you who were surprised about a $24,000 CD player have a lot to learn about high end audio.
And here is another cheapie CD player, only slightly more (if one includes the optional power supply) than the Boulder 1021 CD Player:
https://www.stereophile.com/cdplayers/207naim/
Edited to add:
From a bit more searching, I found a player that is even more than that so-called most expensive $43,000 Zanden CD player; behold, the Burmester 069 at Euro 68,000:
https://www.6moons.com/industryfeatures/hk07/07.html
At this moment, 68,000.00 EUR = 105,672.11 USD, according to:
https://www.xe.com/ucc/
And you people were surprised by a mere $24,000 CD player! Really, you guys don't know what the high end is all about!
Other sites, though, seem to say that the Burmester 069 is only $50,000. Still, $24,000 is cheap in comparison. And, anyway, I am sure you can get someone to provide some modifications ("mods" to those in the know) that will make up the difference in price. Who wants to be stuck with "stock" sound, when one can always pay for a custom upgrade?
Post Reply
Confused about what AV Gear to buy or how to set it up? Join our Exclusive Audioholics E-Book Membership Program!