Oppo BDP-103D Blu-ray Player with Darbee Visual Processing
Summary
Executive Overview
We made it over to the Darbee Visual Processing booth with the Oppo BDP-103D. The 'D' of course stands for Darbee Visual Processing. It will ship for $600, a $100 premium price over Oppo's BDP-103 player. Darbee is a brand new video processing system. What you have with Darbee (and this player) is a new way of processing video. So the BDP-103D will have three chips. It has a MediaTek chipset that handles deinterlacing and upconversion as well as basic video processing. Next is the Darbee processor that takes care of luminance-based processing to add more depth. It works similar to drop shadow effects that makes a 2D image appear more 3D without having to deal with actual 3D processing.
It's a new way of processing that's hard to explain because nobody's done before. It's a bit difficult to see on the show floor since you can dial it from 0 to 120% but it's likely, in the home, going to be set somewhere around 30 to 35%. Oppo is implementing it fully and so you'll be able to dial it up or down as desired for the effect you want. If you turn it up too much you'll start to see artifacts, but with moderate use it looks pretty awesome.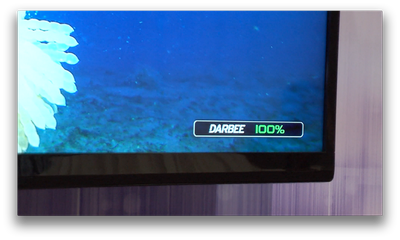 The BDP-103D doesn't lose anything. It still has 4K upconversion via the Silicon Image chipset so again, that's at the final stage after Darbee does its processing, The interesting thing is that Oppo does the Darbee conversion at 1080p. They checked all the other resolutions and found that 1080p was the sweet spot where there wasn't a lot of introduced artifacting.
You're going to start seeing Darby visual processing in a lot of products over the next few years. You can already get it in an outboard box where you feed it HDMI in and take an HDMI out with the processed video. So you don't have to have manufacturers buying into it just yet in order to experience it. You can get the outboard box and the system does all the processing in real-time.
The Oppo BDP-103D is going to be out around mid-October of this year (2013).
Confused about what AV Gear to buy or how to set it up? Join our Exclusive Audioholics E-Book Membership Program!
Recent Forum Posts:
jarrett baines posts on May 15, 2016 02:08
Thanks for your responce. I'm pretty new to all this so I did understand some of the Greek. Yea I'm lucky (I think) enough to have a new receiver a Marantz sr 6010. So it has hdmi which is what I'm using. And because of my apparent ignorance towards this new world I've joined of audio video (new to me anyhow) I'm playing catch up on everything. But I love the player it obviously is built like a tank and just the weight of that remote has to tell you something about quality. So as long as I'm getting all the sound quality through hdmi then I'm happy. And I'll try to figure out more of that Greek. Lol
Cheers
sterling shoote posts on May 14, 2016 19:57
Most of todays BD players only have HDMI, optical/coaxial, and stereo RCA audio output. This means even if the unit will play SACD it will not output multi-channel SACD from any output other than HDMI. Now, if you have a receiver or pre/pro which does not have HDMI inputs, you're out of luck if you want to enjoy multi-channel SACD. Since the OPPOs have multi-channel RCA output those with a receiver or pre/pro which does not have HDMI inputs can enjoy multi-channel SACD.
jarrett baines posts on May 14, 2016 14:55
sterling shoote, post: 1127905, member: 48878
There's only one player out there right now which is said to play 4K. It's from Samsung. Thing is there's no discs for it to play. The 103 will upscale 1080 to 4K resolution; but, the appeal for me and others with both the 103 and 105 are the 7.1 analog outputs. With such I can enjoy multi-channel SACD. These OPPO units are about the only players made today which allow playback of these SACD multi-channel discs from analog output.
Hi I'm a Newby to the world of hi fidelity. And digital is still a little confusing. Would you mind trying to explain how those (I think they're rca jacks) on the back of my oppo which have corresponding hook ups in the back of my Marantz 6010. Labeled as speaker connections up to 7 channels.
I'm sorry for my appealing lack of any knowledge about them even what to call them. But should I be using those connections to be able to play SACD'S properly through my oppo?
I hope the question makes sense. I've been trying to find some basic knowledge on the net but don't know a search term to find anything.
Please help me to not quite sound so ignorant on this topic. Lol.
Cos posts on May 13, 2016 19:52
TheWarrior, post: 1137509, member: 57254
Think about it this way: for $600 you can rest assured your movie play back will never be bested by your buddy/neighbor/fatherinlaw. And it's simply a disc player. Chances of a fault are pretty slim! There's not much to be sure of in the HT world, but you'd have to cover somebody's marketing budget to have a player of comparable performance. Period.
I am the only home audio buff of my pool of friends, and most have basic players and have not made the investment in gear like I have, so not worried about it. Game of Thrones and Movie Night will remain at my house for now LOL
As far as 103 vs 103D, I am very content with the unit I purchased.
jarrett baines posts on May 13, 2016 16:54
Well I figured it this way, sure I can wait and buy a 4k player but that means a new tv and that's not in the budget. So then I just looked for something with a great reputation and ran into the Oppo 103 and the 103d. It's been around for a long time and it's price has been quite high but the mass market blu ray player sucks and I've got 3 that don't work at all to prove it. And I don't see any reason to believe that the new 4k players are going to be any better. So I went with quality, durability and a great track record and a price that's not going to be reduced any time soon. And the streaming options are so good.
So I'm very happy with my choice.
Post Reply