Marantz UD7007 Universal Blu-ray Player Review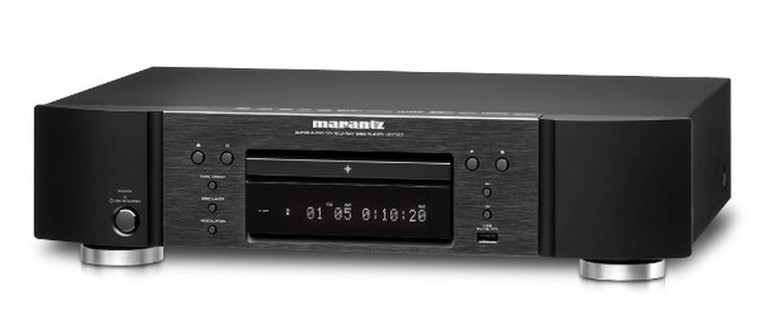 The Marantz UD7007
Summary
Features
Audio / Video streaming from network: Yes
Audio exclusive mode: Yes
Compatibility: CD / SACD / DVD / DVD-A / Blu-Ray Disc: Yes / Yes / Yes / Yes / Yes
Compressed Audio Compatibility: WMA / MP3: Yes / Yes
Internal memory for BD-Live (1Gb): Yes
Video Scaling on HDMI: up to 1080P: Yes

Multichannel Surround
Decoder: DD / DTS / DTS96/24 / SACD: Yes / Yes / Yes / Yes
Decoder: Dolby Digital Plus / Dolby TrueHD / DTS HD: Yes / Yes / Yes
DSD from SACD via HDMI: Yes
Multi Channel Down Mix: DD / DTS / SA-CD: Yes / Yes / Yes

Audio/Video Enhancements
Additional top cover sheet: Yes
AVCHD / DivX HD / DivX6 / DivX Ultra / DivX plus HD: Yes / Yes / Yes / - / Yes
Bass-Management (SA-CD / DVD-A): Yes
CD Compatibility: CD / CD-R/RW / HDCD / SA-CD: Yes / Yes / - / Yes
Double Layer Bottom Plate: Yes
HDMI video adjustments: Yes
Image Disc Compatibility: JPEG / JPEG HD / Picture CD: Yes / - / Yes
MP3 / WMA from: CD / DVD / USB: Yes / Yes / Yes
Selectable HDMI output level (normal / expand): Yes (RGB)
System block shielding: Copper plated / Metal / none: - / Yes / -
True 24 Frames Per Second (FPS): Yes

Network
DLNA Certified: Yes (v1.5)
Network Audio: MP3 / WMA / AAC / FLAC / WAV: Yes / Yes / Yes / Yes / Yes
Network static video (JPEG): Yes
Network Video: MPEG / DivX / H.264 / WMV: Yes / Yes / Yes / Yes
Online contents service: YouTube / Netflix: Yes / Yes/Vudu/Hulu

Inputs/Outputs
analog Out: 2ch / 5.1ch / 7.1ch (Cinch): 2 Ch (RCA & XLR)
Flasher IN / OUT: Yes / -
XLR analog out (L/R): Yes

Specifications
192kHz sampling: 2 Hz to 88 kHz
48kHz sampling: 2 Hz to 22 kHz
96kHz sampling: 2 Hz to 44 kHz
D/A converter chip (audio): PCM1795
D/A convertion (audio): 192 kHz / 32-bit
Dynamic Range: CD / DVD: 110 dB (BD)
Frequency response (SACD, DVD-A): 2 Hz - 40 kHz (SA-CD)
Frequency response CD (linear PCM): 2 Hz to 20 kHz
Signal to Noise Ratio: 125 dB (BD)
Video processing: Internal

General
Detachable Power Cable: Yes
Maximum Dimensions (W x D x H) in inches: 17.3 x 12.1 x 4.2
Power Consumption in W: 25
Standby Consumption in W: 0.3
Executive Overview
High end media players like the Marantz UD7007 get a lot of flak from within the A/V community. Many dismiss the idea of a high end Blu-ray player entirely, figuring you get the same digital stream from a $1,000 player as you do from a $100 Walmart special. The idea is that so long as the $100 player is doing its job properly in reading the disc, there's not a lot of damage it can do in the process of transmitting the digital stream via HDMI. Of course there are many practical and performance related reasons to look at a higher end player like the Marantz UD5007 ($599): quicker load times, quiet operation, SACD and DVD-A playback, and superior build quality which translates into better reliability and a relatively long three year warranty. Higher end players can also net you goodies like video upscaling (the quality of which can vary significantly), Darbee processing, outboard DAC functionality, and more. 

But wait, the UD5007 is $599, and the UD7007 we're looking at today is double that, at $1,199. Where's the extra $600 going? For starters, the UD7007 gains an upgraded disc loading mechanism for even smoother/quieter operation. The extra coin also nets you dual HDMI outputs, stereo balanced analog outputs, an upgraded DAC, improved analog circuitry with multi-layer construction, and a RS232 input for custom installers. Now for a lot of people, all of the above may not amount to a $600 difference. If you simply want to run a single HDMI cable from a player to your A/V receiver or pre/pro, save the cash and go with the cheaper UD5007. On the other hand, if you'd like a player that can offer top notch analog two-channel performance in addition to playing movies…keep reading.
 Marantz UD7007 Universal Blu-ray Player Video Review
Feature Set and Build Quality
Like it's less costly little brother, the UD7007 brings a lot to the table. Yes, it's a Blu-ray / DVD / CD / SACD / DVD-A player, but the UD7007 also features network and USB inputs for streaming content. The Marantz is DLNA 1.5 certified, and supports a wide variety of file formats including WAV, FLAC, MP3, AAC, WMA, PNG, JPEG, DivX, MPEG, and AVI. As you might imagine, the UD7007 also allows users to connect to a variety of internet streaming services including YouTube, Netflix, Hulu, and Vudu. However,  glancing at Marantz's product page will yield one notable omission: there is no upscaling to 4K on board (scaling to 1080p is supported). Is this a big problem? Not in our opinion. Upscaling 1080p content to 4K isn't going to result in a huge boost to image quality in the first place. Moreover, if you've got a current model Marantz A/V receiver or pre/pro, you can upscale video to 4K with the onboard video processor anyway.
Looking at the rear of the UD7007, one finds the balanced analog outputs, dual HDMI outputs, and network input.

Now while we all love features, it's what's under the hood that sets the UD7007 apart from its less costly sibling. The system is built on MediaTek's SOC platform, similar to the OPPO BDP-105, albeit with Marantz's own firmware, analog boards, DAC, and power supply. The UD7007 also utilizes the excellent TI PCM-1795 DAC, as well as Marantz's HDAM-SA2 circuitry for the analog stage. Last but not least, the upgraded transport mechanism and heavy duty chassis (which adds substantially to the player's 16 pound bulk) help to damp vibrations and keep extraneous noise to a minimum. It all sounds impressive, but the question is: how does it all perform? As this is Audioholics, we took a few measurements to find out.
Notice the discrete HDAM circuitry on the left, the very robust transport in the center and the power supply on its own isolated circuit card on the right.  These are all the hallmarks of a well-crafted Blu-ray player that justifies the higher price tag.
Measurements and Analysis

Using the industry's most advanced HDMI Audio Analyzer, the Audio Precision APx585, we proceeded to measure all of the various aspects of audio performance for the Marantz UD7007.
System frequency response from the HDMI output (top) and balanced analog outputs (bottom).

Using 192 kHz/ 24 bit test signals we measured a ruler flat frequency response via HDMI and via the analog balanced outputs.  This test was done at 0dBFS (digital full scale) and the analog outputs were free from clipping.  Notice the UD7007 was flat out to the bandwidth limitation of our test gear (80kHz) demonstrating that the player handled native 192kHz signals without downsampling as some of the lower end Blu-ray players often do. 
THD+N from the balanced analog outputs at -20dBFS (top) and 0dBFS (bottom).

Again using 192 kHz/24 bit signals we measured distortion (THD+N) at -20dBFs and 0dBFs.  Distortion results were generally excellent though we were a bit perplexed by the rising distortion at high frequencies.  However distortion still remained well below audible limits and we never noticed any audible artifacts during our critical listening tests.
Crosstalk (top) and SNR (bottom) from the analog outputs.

Channel to Channel crosstalk measured via the analog balanced outputs was excellent at -103dB at 10kHz.  Signal to Noise ratio using a standard Redbook 44.1kHz/16bit produced near theoretical results (96dB).  All are good measurements, which clearly correlated to why we enjoyed the sonic attributes of the analog output section of this player.
Visual and Listening Tests
Whether we were watching a Blu-ray or listening to an SACD, we found the UD7007 to offer exemplary performance.   Using some of the custom video settings to reduce video noise and sharpen the picture produced excellent results on older DVD's like the classic movie Gladiator staring Russell Crowe or Star Trek TNG TV Series.  We achieved state of the art picture for Blu-ray movies such as Iron Man 3 and Hunger Games: Catching Fire.  The UD7007 had impressively fast load times and instantly recalled where the movie left off during power cycles.  We would have to say this is the smoothest operating Marantz Blu-ray player we've had the fortune of evaluating. 

On music we really enjoyed SACD via the analog outputs.  Patricia Baber Café Blue sounded fabulous. The UD7007 made Patricia's voice sound like butter.  Bass was tight and pronounced.  In fact, we tried to directly compare the player to our reference Oppo BDP-105 and found both players to offer some of the highest fidelity we've heard on a Universal Blu-ray player.  We subjectively felt the Oppo may have had a tad more upper frequency detail but the Marantz had a warmer more pronounced bottom end.  However we were not able to instantaneously switch between players or do this test blind, so don't take our opinion as a biblical source. 
Conclusion

As implied earlier, priced at $1,199, the Marantz UD7007 appeals to a pretty limited market. Most folks looking to plug a Blu-ray player into their A/V receiver via a single HDMI cable would be best served by sticking with something like the UD5007 at half the cost. However, if you're ideal media player is one that can also serve up excellent two-channel sound, the UD7007 might be right up your alley. Measured performance is nothing short of excellent, with razor flat frequency response from 20Hz-20kHz, minimal distortion and noise, and nary a hint of crosstalk. Add in silent operation, playback of SACDs, DVD-A, as well as network content, and you've got a winner in our books. 
Based on visual and audio performance alone, we would say the UD7007 easily lives up to the prestige of the Marantz name. Owning a player like this may just inspire you search the web for places to buy  DVD-A and SACD discs to start or expand your existing collection of high res audio.
Confused about what AV Gear to buy or how to set it up? Join our Exclusive Audioholics E-Book Membership Program!
Recent Forum Posts:
slipperybidness posts on August 01, 2014 10:33
Goliath, post: 1043947
Why would a Blu-ray player require a beefy power supply? Please explain.
Yeah, a BRP doesn't really "need" a beefy power supply. However, I still "want" a beefy power supply.
Anyway, the P/S is typically the most expensive part of any component, and when you see the Marantz vs. the Oppo, you can see that Marantz saved a few bucks by comparison. Looks like Marantz chose the cheaper and more noisy E-I style transformer vs. the torroid in the Oppo.
Looking only at performance and measurements, I would suspect that there is not real difference between the 2. Looking at build quality and ruggedness, I would take the Oppo.
adk highlander posts on August 01, 2014 10:25
Also it looks very similar to the Denon 3313UDCI which I own and I will say I did not pay anywhere near $1200 bucks. The Denon does not have the balanced connections (which I don't need) but the internals look almost identical. I will say I have been very happy with the Denon and it was an upgrade over my Oppop BDP-83 but if I was going to drop close to a grand I probably would have bought an Oppo again. Denon had a special when I bought my 4520ci where it was too good to pass up.

With the weight of the Denon I was surprised how little is on the inside. They must have extra metal in the case or something because I think it weights more than my Marantz 1501 receiver.


Steve81 posts on August 01, 2014 08:19
Goliath, post: 1043947
Why would a Blu-ray player require a beefy power supply? Please explain.
In the case of the BDP-105, it's not just a Blu-ray player. As mentioned in this video review , unlike the UD7007, it has the capability of functioning as a multichannel preamplifer which does necessitate more circuitry and a beefier than average power supply.
Living Stereo posts on August 01, 2014 07:59
Why would a Blu-ray player require a beefy power supply? Please explain.
I do not have a good answer for this but here is Oppo's take on it.
"A toroidal power transformer offers superior power efficiency and much lower exterior magnetic fields over traditional laminated steel core transformers. The BDP-105's toroidal linear power supply provides a very clean and robust power source to the critical audio components. Power Supplies can have a huge impact on analog audio performance."
PENG posts on August 01, 2014 06:53
admin, post: 1043718
the UD7007 is built with two-channel performance in mind, and features the excellent TI PCM1795 DAC and Marantz's proprietary HDAM circuitry. How does the sum of these parts perform?


Isn't the PCM1795 DAC same as the one in the Denon AVR-4520 and Marantz AV-8801? So synergy is still in full force but of course Marantz has the HDAM and Denon still maintain its AL24 and some other proprietary stuff. And I suppose the UD7007 has better analog stages.
Post Reply