Audio Precision APx585 Audio Analyzer to Revolutionize A/V Measurements
Audio Precision APx585 Audio Analyzer to Revolutionize A/V Measurements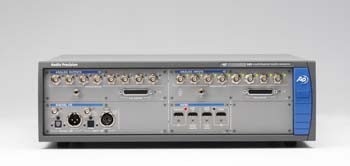 APx585
Ever so often something revolutionary happens in the A/V world that changes it forever. In the 80s, it was CD, the 90s followed with DVD, 2000's iPod and portable storage devices. These technologies changed how we view and listen to recording media.
Rarely do you ever hear an A/V publication pay homage to a test equipment company. After all, if it wasn't for them, manufacturers would find it impossible to test and analyzer their marvelously new inventions. Audioholics isn't your ordinary home theater publication. It was founded with passionate roots in Electrical Engineering and over the years we've brought in guest writers that are at the top of their field in this genre as well as hiring on reviewers with similarly technical backgrounds that provide a unique perspective on consumer A/V gear.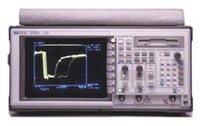 Back when I was a budding telecommunications engineer, I was given the task to analyze all the latest digital oscilloscopes. My comparison would be used corporate wide on our next equipment purchases for all of the engineering departments to do their product development and troubleshooting on. I narrowed it down to three units from HP, Tektronix and LeCroy. Of the three units, the LeCroy was the most powerful and feature packed but it was also the most complex to use. I found that if you weren't in front of it using it on a daily basis, the learning curve was brutal. The Tektronix was an all around great unit, slightly more powerful than the HP, but again not too intuitive. So I chose the least powerful of the three, the HP. It was the only one with a windows interface which was so easy to navigate through that I was making sophisticated measurements in no time. This scope revolutionized Digital Oscilloscope devices and it wasn't too long after that the others played catch up and offered similar functionality in their units.
In the A/V world, Audio Precision creates the industry standard Audio Analyzer devices that are unparalleled in performance and functionality. Unfortunately the functionality of these devices comes at a price, and complexity of usage. Until now.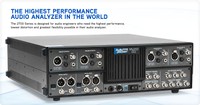 For the past 5 years the AP 2700 ~$25K Audio Analyzer was the center piece of our reference test equipment, empowering us to do the industry's most comprehensive measurements of audio amplifiers and A/V receivers. The only downside of this unit was its complexity. Walking away from it for a few months and coming back was, in kind words, an uncomfortable experience. Suffering through the trials of getting it to do what I wanted all the time was like trying to ignore a bad tooth ache. Don't get me wrong, this is still the industry's finest Audio Analyzer and a design engineer's dream machine. But it's not speedy for a neophyte or casual user to operate and its automation process leaves much to be desired in my book. Granted, as a former telecommunications engineer, I was quite familiar with their System One, Two and this unit all of which operated in similar platforms. So I wasn't just a casual user of these devices.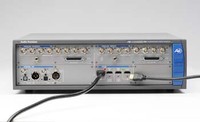 Enter the new APx585 8CH HDMI Audio Analyzer. Audio Precision was kind enough to bring down a test unit for demo at our Expo event in Orlando Florida. Along with the unit came their Director of Sales Jonathan Novick. Jonathan literally blew me away with the ease of use of this new wonder test machine. On several occasions I had to pause him to reaffirm that we were actually operating an Audio Precision device. How could it be this easy and yet retain the power of its more complex predecessor?
Gone was the PCMCIA interface which I had to keep an old Dell laptop around to connect to. Gone was the clunky user interface of trying to figure out where your source controls were, whether or not you had the I/O's set to balanced or unbalanced and having to write a custom test script to do even the simplest of tests like analog frequency response. Ok it wasn't that horrible. I mean if you operate the machine on a daily basis it becomes like old leather. But if you're like me, and only use it a couple of times per month when a hot new product comes on your test bench, than you can find it frustrating as I often did.
Welcome to the 21st century. The APx585 connects up to any modern PC via a USB cable. Unlike the 2722 which was limited to two channel audio testing, the APx585 can do up to eight simultaneous channels of testing. To minimize cable clutter, they even supply the unit with a DB25 to balanced breakout cable or if you wanna get slick, you can use their HDMI I/O facilities if your unit comes equipped with the optional HDMI module.
Imagine for the first time in the history of this industry, you can simply plug an AV receiver's HDMI input directly into this machine and test every aspect of its audio performance. This includes the ability of testing HDMI audio integrity, analyzing the receiver's bass management, or testing all 7 channels amplifiers and crosstalk performance (including LFE).
In addition, the APx585 comes armed with all the necessary test signals to analyze DVD and Blu-ray players HDMI audio performance. So now we can finally quantify measurable differences between that new sub-$500 Oppo Blu-ray player and the flagship $4k+ Denon Blu-ray player. Determining audibility of course is a whole other ball of wax which unfortunately no test gear can help us with.
So what can you expect from our A/V product reviews now?
For Amplifiers:
A lot more multi-channel analysis for sure.
Advanced Crosstalk Testing
Instead of only looking at pair to pair crosstalk between channels, we will be testing worse case scenarios (Crosstalk All to One) where all but the channel under test will be the noise source while we measure the bleed over to that channel under test.
Multi Channel Power Testing per CEA
Continuous 1 & 2 channels driven at full power bandwidth into 8 and 4 ohm loads
1 CH driven at full power while the other channels driven at 1/8th power at 1kHz
Power vs distortion testing
Editorial Note on Amplifier Power Measurements

CEA standard will test to 1% distortion. However, this is Audioholics and we set the standard a bit higher and always test to 0.1% distortion. This results in a slight reduction in measured power but ensures its clean, clipped free power that is being reported.
Signal to Noise Ratio
SNR of every channel at full power and at 1 watt
Interchannel Phase
Testing all channels simultaneously to make sure they are in phase relative to each other
Advanced Bass Management Testing
Testing all channels bass management circuitry to ensure the crossovers are operating correctly and that the bass is being properly recombined to the subwoofer channel.
And, we'll be looking at much more cool stuff such as frequency response deviation over power and frequency, THD + N over frequency, amplifier output impedance, etc, etc.
For Blu-ray players:
We will be looking very closely at HDMI audio integrity to ensure the bitstream is passing properly with no loss or alterations. This will also include the Blu-ray player's ability to properly decode dts-HD and Dolby TrueHD. Bass management capabilities will be tested in a similar fashion to A/V processors and receivers. This is an industry first that we are happy to bring to you as yet another perk of pursuing the truth with us.
So Why isn't Everyone Else Doing this?

The cost of the new APx585 is ~$30K when equipped with the HDMI module, so please understand it's a costly endeavor for most home theater publications to undertake. In addition, despite its simplicity of use, careful skill is still required in properly interpreting the test results to ensure accuracy. This is a commitment we make since our background is so heavily focused in Electrical Engineering and our goal is to cut through the marketing hyperbole and get to the real measurable results. We are looking forward to the improvements of our reviewing process thanks to the transformational tool that Audio Precision has designed for this very purpose.
Like HP did to the Digital O'Scope world so many years ago, AP has burst onto the scene with the easiest Audio Analyzer to use but they took it up a notch by also making it the most powerful. What am I loving about all of this? I've got my cake and I am eating it too!
For more information, visit Audio Precision.

See also:
Confused about what AV Gear to buy or how to set it up? Join our Exclusive Audioholics E-Book Membership Program!
Recent Forum Posts:
DanQ posts on June 23, 2009 14:57
Hi, I just joined because of this thread. Have you completed any reviews with the new test equipment?

I'm REALLY interested in follow up to your comment about finally quantifing differences between the bitstreamed HDMI audio out of a inexpensive Blu-Ray player compared to the bitstreamed HDMI audio out of an expensive player. (your example was $500 OPPO vs $4K Denon)

I believe that both players should be sending the exact same data stream to the AVR, but with this test equipment you can prove or disprove this.

Thanks
Dan
gene posts on March 06, 2009 22:30
yep using it now with a smile on my face every time I see how flexible and easy it is to operate. I still can't believe it. I haven't gotten this excited about a physical possession since I got my kbp 07 TL Type S
Djizasse posts on March 06, 2009 11:38
Biggiesized, post: 533604
So… you guys are upgrading to this new unit?
I would guess by this part that they already did:
So what can you expect from our A/V product reviews now?
I'm looking forward for the next review
Biggiesized posts on March 06, 2009 02:00
So… you guys are upgrading to this new unit?
Post Reply