What are the Best Loudspeakers in the World?
What are the Best Loudspeakers in the World?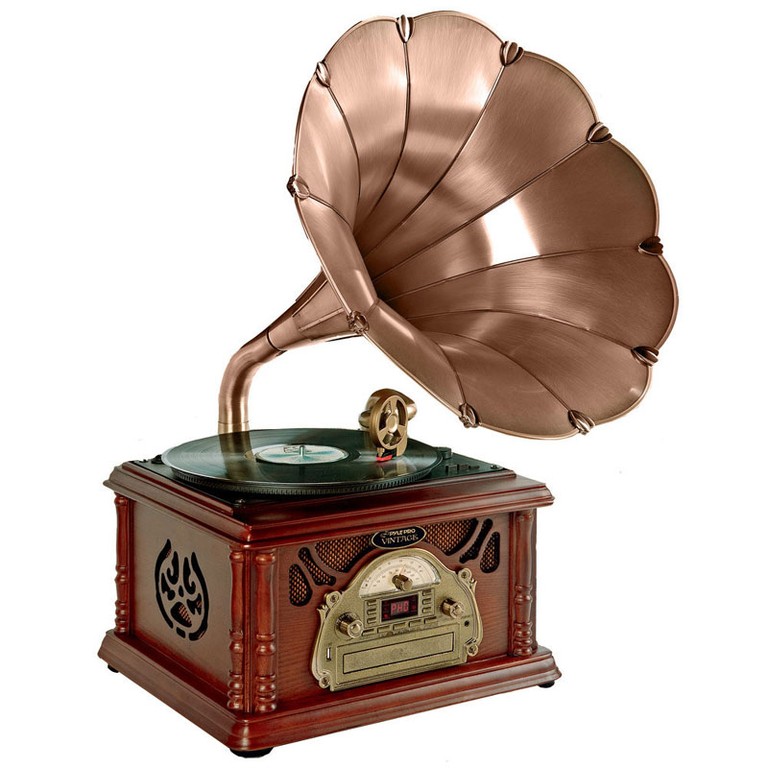 Phonograph with Horn
Loudspeaker science has made some incredible progressions since the days of the phonograph and quite frankly, we're living in a marvelous time to be an audioholic.  Professionally listening to and evaluating loudspeakers over the last 15 years or so has given me a perspective which isn't without its downside.  I often get the question "What are the best speakers in the World?" from fellow Audioholics and/or from family or friends.  I typically tell them that it really depends on the situation.  Of course, people that don't know audio are often surprised when I DON'T tell them Bose is the best.  I usually retort that "best" and "most popular" are often not synonymous, and a few analogies outside of audio often help them to understand the lack of relation such as:  Beer:Budweiser, Pizza:Dominos and Burgers:McDonalds, etc.  
I don't like to be boxed into a corner of declaring an absolute best, even when the type of speaker and the application are known.  Price is NOT always a contributing factor, but it usually correlates with sheer output capabilities, low end bass extension, and nicer build quality when comparing speakers from competent speaker brands. However, if you want it all, it's usually going to cost some serious coin.  Performance, aesthetics, budget, pick two.  That said, I've conjured up with a list of very notable designs for each category type that we've come to know, love and respect over the years.
Feel free to post your favorites or voice your complaints in the related forum thread on this site.
Bookshelf Speakers: Salk Silk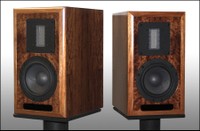 MSRP: $3,495/pair | more info
Who doesn't love a speaker that can throw off a life size image from a pint size box?  We were completely floored upon first listen of the Salk Silk bookshelf speakers at the Audioholics 2012 GTG Event.  Their ability to present a soundstage of a large tower speaker with the delicacy and precision inherent in a small speaker was most impressive.  The RAAL tweeter was silky smooth like the name implies, and anyone who has seen a Salk speaker up close knows that their fit and finish is second to none.   These are wonderful speakers for a nearfield monitor application, or used in conjunction with a high quality subwoofer for a 2.1 channel system.  If you want more output and bass extension, Salk has larger floorstanding models that are equally impressive in their performance and aesthetics. 
JBL M2 Master Reference Speakers

Horn Speakers: JBL M2 Master Reference Monitors
MSRP: $20k/pair | more info
The JBL M2 is a revolutionary new horn speaker design that is said to produce the best Frequency Response results on the 360 degree spinorama at Harman.  Their waveguide dubbed 'Image Control' provides neutral off-axis frequency response and is touted to be one of the world's most accurate loudspeakers. The D2 compression horn driver is crossed over at 800Hz, and everything on down is sent to their 15" woofer. Both the tweeter and woofer utilize dual voice coils for increased power handling and heat dissipation, which is why these babies are able to muster up a whopping 123dB output at 1 meter.  The system comes as an active solution with Crown amps and has enough SPL capability to make Grandpa Simpson's teeth explode with ease.  If you're a horn lover, it is doubtful you will find a speaker that can better the neutrality and dynamics of the M2 monitors.   If you can't manage the enormity of these speakers for your room, check out JBL's new 7-Series which feature the same horn technology and much of the trickle down technology developed for these speakers in a much more compact form factor.
Status Acoustics 8T Modular Speaker System


Modular Floorstanding Speaker System: Status Acoustics 8T
MSRP: $50k/pair | more info
It isn't often that I review a product that fundamentally changes the way I listen and experience audio. Status Acoustics, the premier line of RBH Sound, has managed to do just that with their flagship Titus 8T floorstanding loudspeaker system.  The sound of this speaker system transcends their physical cabinets, being grandiose and in your face when called to do so, yet delicate like the petals of a rose beckoning you to carefully listen, rewarding you with pure unadulterated audio perfection.  The bass response is epic thanks to the three 10" high excursion sub drivers in each cabinet, which allows these monsters to exceed the Audioholics Extreme Bassaholic rating.  The 8T's are truly what I consider to be "speakers for life" and why they are the reference speakers in the Audioholics Showcase Home.  Be warned, these speakers are huge and heavy, tipping the scale at over 350lbs each.  RBH Sound does offer a fabulous bookshelf version called the Status Voce Fina but it's uber expensive.
Point Source Speakers: KEF Blade
MSRP: $30k/pair | more info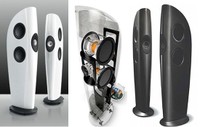 Billed as the world's first single apparent source loudspeaker, the KEF Blade is nothing short of a technical marvel. The key to the Blade is an advanced UniQ driver, a concentric design that places a 1" aluminum dome tweeter at the center of a 5" Li-Mg-Al/LCP hybrid cone. Covering the low end, the UniQ array is flanked by no less than 4 – 9" woofers in a dual-opposed, force-cancelling configuration. Then there's the unique cabinetry to discuss: suffice it to say, the Blade isn't just another boring box. The shape is unique, being optimized to minimize the effects of diffraction. We also note that there's no MDF here; instead, KEF utilizes a stiff glass-reinforced composite material to ensure you don't hear the cabinet humming along. If you don't happen to have $30,000 to spend, you can still rest assured that technology from the Blade has trickled down to KEF's Q, R, and Reference series speakers. 
MartinLogan Neolith Speaker System
Electrostatic:  MartinLogan Neolith
MSRP: $80k/pair | info

There is a cult following of audioholics that live and die by electrostatic speakers, and for good reason.  A really good ESL literally beams the sound into your head unlike a  typical conventional cone driver speaker system is capable of doing. Neolith is a bold new loudspeaker, the product of an ambitious 3-year-long development process that combines the very best technology MartinLogan has to offer.  Neolith features MartinLogan's largest-ever electrostatic radiating surface. Its proprietary curvilinear electrostatic transducer is allows the speaker to deliver an enveloping three-dimensional soundstage. Unique Controlled Dispersion Technology gives each transducer the ability to reproduce nearly the entire audio spectrum in any room. Neolith loudspeakers embody the MartinLogan ethos, and achieve "living sound"; revealing audio as it was originally performed.
What about Budget Designs?
Not everybody has thousands of dollars lying around to buy a high performance speaker system.  So what about the budget stuff?  Typically you can still get really good sound from budget gear if you use it within its design limitations.  It's usually a good idea to pick small speakers, bass manage them, and let a dedicated subwoofer handle everything 80Hz and below.  This is especially true if you're also integrating your speakers into a multi-channel surround system.  Well engineered budget products are a special breed because they give folks a taste of good audio in hopes they'll one day refine their palettes to upgrade to the next level and beyond.  As an avid beer enthusiast, I'd often give Bud drinkers a Samuel Adams Larger to get them started on the path to better beers.  It usually isn't too long before they develop a taste for a fine USA made microbrew beer or a Belgian Ale.
NHT 2.1 Super  Stereo System (left pic) ; Pioneer SP-FS52 Tower Speakers (right pic)

Affordable 2.1 Speaker System:  NHT Super Stereo
MSRP: $499/set | more info
What happens when you add NHT's Super 8 subwoofer to their legendary SuperZero bookshelf speakers? You get the Super Stereo system: a reasonably efficient, compact, high quality 2.1 setup perfect for small rooms. The best part is the price.  For under $500, you get a competently designed speaker system that is great for two-channel audio and/or building a modest surround system with high spousal acceptance factor.  Use these as an alternative to the popular cube speaker systems!
Affordable Towers:  SP-FS52 Tower
MSRP: $258/pair | more info
They're fugly, they don't hit your chest with thumping bass, or part the Red Sea.  Yet, I can comfortably say that I've never heard or measured a better balanced, better sounding tower speaker for under $500/pr than the Pioneer SP-FS52 speaker system.  This 2 ½ way tower speaker features (3) 5 ¼" mid bass drivers, a 1" silk dome tweeter flanked in a waveguide to improve dispersion and lower end efficiency all mated to an 8-element crossover.  Pioneer hired Andrew Jones (the same speaker designer of Pioneer's high end TAD brand) to squeeze out every ounce of performance on a shoestring budget. Mission accomplished!
Conclusion
Are these the "best" speakers out there?  I'm not sure anyone can answer that.  In my opinion, our selections do represent state of the art performance, and design from what we've seen.  However, we recognize there are so many other great speakers out there from the likes of Aerial Acoustics, Focal, Legacy Audio, Revel, etc etc.  Speakers have really evolved over the last 20-30 years.  There are more excellent brands and products today than ever thanks to the wealth of knowledge available on loudspeaker design philosophy, modern developmental tools via computer software, and established measurement techniques and practices; all of which help govern good design practices.  
No matter how much science one wishes to throw at quantifying the "best" speaker, one must also realize we aren't robots.  Even Spock would agree that logic is only the beginning of understanding, not the end.  We can't fully objectify our subjective preferences.  While accurate sound reproduction can to a large extent be quantified, there is also a highly emotional response to how we listen to and enjoy music.  What may be best for my needs and ears may be completely different for yours.  Pick the best speaker system you can afford but most importantly, pick the ones that sound right to you.  The "best" speaker system should elicit an emotional response that just begs for you to listen more intensely  to rediscover your music collection and even broaden your horizons to expand beyond those boundaries. 
Make sure to share your favorites and tell us why you think they are the "best in the world" or at the very minimum and most importantly, the best to suit your needs.